Ben & Jerry's are launching a low-calorie ice cream range
Our prayers have been answered...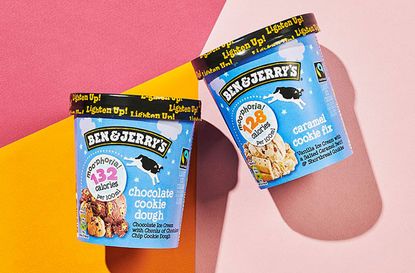 Ice cream lovers, our prayers have been answered - Ben & Jerry's are launching low-calorie ice cream, perfect for a healthy-ish Friday night in.
Wanting to be healthy but also eat your favourite treats is a constant struggle for most people - after all, what's life without a scoop of your favourite ice cream every once in a while?
If you don't like to compromise on your diet but also fancy a treat, you'll be thrilled to know that our pals at Ben & Jerry's are launching a new light ice cream range.
Called Moo-phoria, the new products range from 128-132 calories per serving, which is almost half of the calories in their normals flavours like Chocolate Fudge Brownie.
In the UK, Ben & Jerry's are launching two new flavours - Caramel Cookie Fix and Chocolate Cookie Dough.
The first is a combination of vanilla ice cream with salted caramel swirl and shortbread cookies, and contains 128 calories per 100ml.
The chocolatey one is made of chocolate ice cream with chunks of chocolate chip cookie dough (*drools*), and has a bit more calories than the caramel one - 132 calories per 100ml.
'To everyone who dunked their chocolate chip cookies in chocolate milk as a kid, this flavour is for you. All the yum of chocolate, vanilla, and cookies, in a light ice cream flavour that even your inner kid would go bananas for', the described the ice cream.
Fans of the famous ice cream took to social media to share how excited they are about the new launch. One said: 'Oh yumm!! Cannot wait to try the caramel cookie fix!! Sounds amaazing:)'.
While another one wrote: 'Now we can all smash a tub and feel slightly less guilty...'
Popular low calorie ice cream Halo Top arrived to the UK last month
The low-calorie launch follows the arrival of popular ice cream brand Halo Top to the UK (opens in new tab). The popular ice cream - which contains just 280-360 calories per PINT of ice-cream - was already a hit in the US and it was finally introduced here last month. According to rep for the ice cream brand, the new flavours will arrive to stores in the UK from mid-March, so keep your eyes peeled for the healthy-ish treats!
Are you excited to try Ben & Jerry's new low-calorie ice creams? Let us know the comments!