B&M is selling a shimmer candy cane gin liqueur - and it's under £10!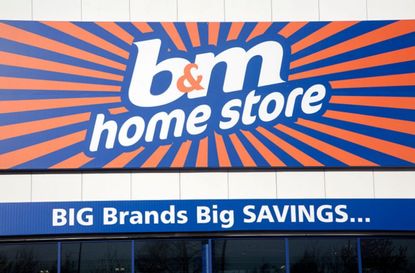 It's hard to picture Christmas without a festive tipple. And if your regular gin just won't cut it, how about a shimmery candy cane gin? Thanks to B&M you can have just that!
B&M is always bringing out exciting new products, and as we've not hit the festive season, our shelves are currently filled with Christmassy themed food, drink, and decorations. Hooray!
Well the newest launch from the high-street bargain store is just what we want on our drinks trolley this December.
Their new candy cane gin liqueur should be a favourite this season, and at just £9.99 for a 50cl bottle, it's one that we can see ourselves indulging in all month.
The bad news is that it's not currently available online, so you would need to head in-store to get some.
The candy red bottle of goodness is called 'What Lies Beneath', and is easily recognisable by its very festive red packaging, and candy cane stripes.
The gin is infused with a strawberry flavouring, and balanced with hints of peppermint for a truly refreshing drink.
If you're hosting a Christmas party, why not stock up on this gin liqueur to delight guests with your drink making skills? We're sure it'll go down a treat.
It's only half the percentage of regular gins, so you can drink it on its own, create your own cocktails, or mix it in with tonic and plenty of ice, or prosecco for a bubbly treat. The possibilities are endless!
Read more: Morrisons launches a Chocolate Orange Gin Liqueur in time for Christmas – and it's glittery! (opens in new tab)
If you're not able to get to B&M, or you simply want to stock up on booze, Aldi is also selling a glittery candy cane gin for the same price.
We don't know about you but we'll definitely be trying both!
Read more: ASDA has launched three new festive gins for Christmas 2019 (opens in new tab)
Gin seems to be the drink of the season; with supermarkets everywhere offering their own versions of the classic distilled drink. So if you're getting bored of classic London Dry Gin, you have an array of flavours to choose from.
Whether it's peppermint, orange, or even toasted marshmallow, there's plenty of gins to explore this Christmas time.
Will you be picking up any festive tipples? Let us know your thoughts on Facebook!