Cadbury has released a Caramel Spread and it's getting rave reviews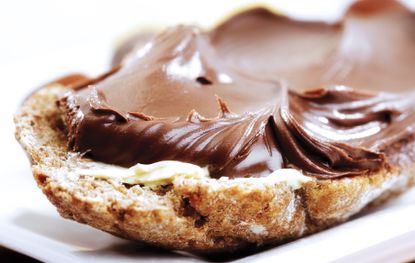 (Image credit: Creativ Studio Heinemann/REX/Shu)
Cadbury's Caramel Spread has been spotted in UK supermarkets – and shoppers are loving it!
If you missed Pancake Day (opens in new tab), this indulgent treat is the perfect excuse for a belated celebration, as chocolate fans are loving this new spread.
'Tastes exactly like the caramel bars. Lovely on pancakes,' one ASDA reviewer raved, while another recommended using it as a dip for breadsticks, spreading it on crumpets, toast or even stirring it through a bowl of Ready Brek on school mornings, revealing, 'I'm going through a jar a week'.
With swirling smooth chocolate and gooey caramel, the spread is inspired by the Cadbury Dairy Milk Caramel bar, which was first introduced in 1976. It's available to buy from Ocado and Morrisons for £2.50, but super-savvy shoppers can snap up a tub from ASDA for just £2.00.
The chocolatey treat joins a variety of luxurious chocolate spreads in Cadbury's collection, which also includes Cadbury's Double Decker Spread, Cadbury Crunchie Spread, and classic Cadbury Milk Chocolate Spread.
Sainsbury's and Tesco have also released their own versions of the spread inspired by the iconic chocolate bar. Sainsbury's Chocolate & Caramel Spread is available to buy for £1.60, while Tesco shoppers can treat themselves to a tub of Tesco Chocolate Caramel Swirl Spread, blended in Belgium, for just £1.50.
Eagle-eyed Instagram food-spotting account instafoodietwins drew chocolate lovers' attention to the Cadbury range's latest addition, sharing images of them digging into a jar and hinting at a new flavour they loved to see, posting: 'Cadbury Caramel Spread. Need a Crème Egg spread'.
This idea went down very well indeed, with one user commenting, 'Hahaha I literally said to myself they really should make a Crème Egg version and then I read the caption,' and another writing, 'Crème Egg spread would be unreal! Get on it @cadburyuk.'
Would you love to try Cadbury's Caramel spread? what other chocolatey treats would you like to see in the supermarket? Head over to Facebook page and let us know...
Samantha is a freelance writer at Goodto who has been with team since 2019. Initially trained in psychology, she specialises in health and wellbeing and has additionally written for magazines such as Women's Health, Health & Wellbeing, Top Santé, Healthy, Refinery29, Cosmopolitan, Yahoo, CelebsNow, Good Housekeeping and Woman&Home.