Fearne Cotton's cookbook recipes: Family meal ideas and more
Fearne Cotton cookbook recipes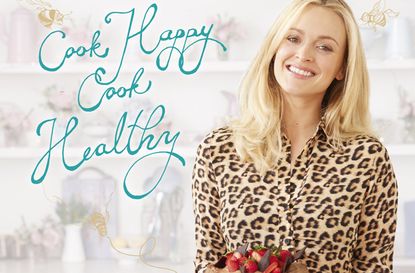 Fearne Cotton's cookbook is stuffed with recipes that are a delicious combination of hearty and healthy, perfect for jazzing up your midweek meals.
Fearne, who is mum to four-year-old Rex and one-year-old Honey Krissy, knows how important it is to be able to serve up tasty meals in a hurry. Her approach is a straightforward one, with a handful of ingredients, not too much prep time and a tasty finished product. Something we all need more of!
Sticking to healthy trends, Fearne plumps for more nutritious alternatives to everyday foods, like swapping white rice for brown or taking the refined sugar out of sweet treats. Keeping sweet things as healthy as possible means the kids can still get their treat fix without you having to feel guilty, and using nutritious ingredients enables a good few swaps when it comes to the usual freezer-food options too (we love her fish fingers!).
The mum of two is better known for her presenting roles than her cooking prowess, but had frequently expressed how much she loves cooking before releasing her first book, Cook Happy Cook Healthy, in 2016. With one in the bag there's a second Fearne Cotton cookbook on its way.
Fearne Cotton's book for 2017 will be released in June and cost £20. We can't wait to see what recipes she has in store for us! Fearne has said she's 'over the moon' about her exciting new project and added that 'there's so much to look forward to over the next 12 months.'
Fearne Cotton recipes: Family dinner ideas
Fearne Cotton's salmon fish fingers
These fish fingers are a great alternative to the shop-bought ones (although, don't get us wrong - those are a tasty treat sometimes too). The kids will love the familiar crunchy coating and you'll be glad to know they're getting some good essential fatty acid in their diet as well.
Get the recipe: Salmon fish fingers
Fearne Cotton's Sri Lankan vegetable curry
With a mellow flavour from coconut and sweet, tender vegetables this is the perfect choice to introduce your little ones to spice in a gentle way. They'll love the creamy sauce and if you serve it all up with some tasty brown rice it'll fill those little bellies up all evening long (which should mean no requests for snacks right before bedtime).
Get the recipe: Sri Lankan vegetable curry
Fearne Cotton recipes: Family pudding ideas
Fearne Cotton's mini coconut and cherry tarts
If you're after a guilt-free sweet treat then these mini tarts are perfect. Made with a hint of chocolate flavouring they're actually a lot healthier than they might look – thanks to a few clever swaps from mum Fearne.
Get the recipe: Fearne Cotton's mini coconut and cherry tarts
Will you be trying any of Fearne's recipes? Let us know in the comments below!
Rosie is an experienced food and drinks journalist who has spent over a decade writing about restaurants, cookery, and foodie products. Previously Content Editor at Goodto.com and Digital Food Editor on Woman&Home, Rosie is well used to covering everything from food news through to taste tests. Now, as well as heading up the team at SquareMeal - the UK's leading guide to restaurants and bars - she also runs a wedding floristry business in Scotland called Lavender and Rose.