The scary reason why fish and chips could become a thing of the past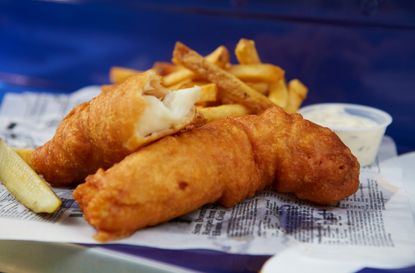 (Image credit: Tracey Kusiewicz/Foodie Photo)
The UK is known for its iconic fish and chips, enjoyed at numerous seaside spots across the country. But researchers say it could be at risk due to global warming.
Due to an increase in ocean temperature, we're seeing levels of harmful mercury in the fish that live there. A regulation of mercury emissions has reduced the amount found in fish, but high temperatures are driving levels back up - bad news for those who love tucking into fish and chips.
Scientists have simulated how different environmental factors can impact levels of the toxin, known as 'methylmercury' in fish. As a result, they want to protect ecosystems and human health by lowering both greenhouse gases and mercury emissions.
Dr Amina Schartup, who was part of the study, said: 'Being able to predict the future of mercury levels in fish is the holy grail of mercury research.
'That question has been so difficult to answer because, until now, we didn't have a good understanding of why methylmercury levels were so high in big fish.'
Creatures at the top of the food chain have higher mercury levels because they eat other species wit mercury inside of them. Researchers at Harvard T.H. Chan School of Public Health analysed 30 years of ecosystem data from the Gulf of Maine, looking at two marine predators.
By analysing the stomach contents of Atlantic cod and spiny dogfish between the 1970s to 2000s, they discovered that methylmercury levels were six to 20 per cent lower in 1970 than they were in 2000.
Read more: Traditional desserts are at risk of dying out because millennials no longer eat them (opens in new tab)
Similarly, the spiny dogfish levels were 33 to 61 per cent higher, despite being on a similar part of the same food web. Both species had to find different food to survive when the Gulf of Maine experienced a significant loss in herring due to over-fishing in the 1970s.
The cod started eating small fish such as sardines, low in methylmercury, whereas spiny dogfish chose food with higher levels such as squid.
As the herring population returned in 2002, cod reverted back to their high mercury diet, whereas spiny dogfish cut back on it.
Despite decreasing emissions of mercury, methylmercury levels in Atlantic Bluefin tuna has increased by 3.5 per cent each year between 2012 and 2017.
Researchers have predicted that a one degree Celsius increase in sweater relative to the year 2000 would trigger a 32 per cent increase in dangerous mercury levels in cod.
As a result, this could dramatically effect the amount of fish that are safe to consume, putting our much loved fish and chips at risk.
Lucy Buglass is a Digital Writer for What's on TV, Goodto.com, and Woman&Home. After finishing her degree in Film Studies at Oxford Brookes University she moved to London to begin her career. She's passionate about entertainment and spends most of her free time watching Netflix series, BBC dramas, or going to the cinema to catch the latest film releases.