Galaxy launches vegan chocolate bars - in three incredble flavours!
It's the first time a major high street chocolate brand has offered a delicious vegan alternative.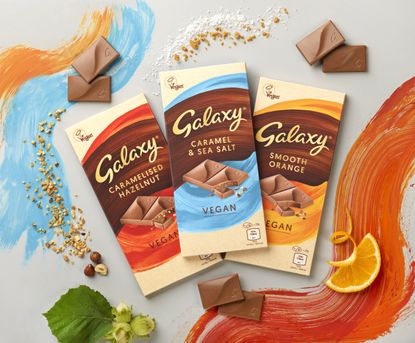 Galaxy is the first major milk chocolate brand to offer a vegan and eco-friendly alternative to its standard range - and we can't wait to try them!
The new chocolate bars, which will be available to purchase for £3 next week, come in three varieties: caramelised hazelnut, smooth orange and caramel and sea salt.
The classy-looking bars come in a recyclable paper sleeve with a compostable inner film made of wood fibres.
And - in a new look for the iconic brand - the classic Galaxy logo is emblazoned onto a hand-painted effect label, for an extra touch of luxury!
Kerry Cavanaugh, marketing director at Galaxy manufacturer Mars Wrigley UK, said everyone at the company was excited to introduce the vegan range using a recipe that: 'doesn't compromise on the brand's signature smooth and creamy characteristics'.
Building on the brand's mission to encourage everyone to 'choose pleasure', Galaxy's vegan recipe uses hazelnut paste to create the same smooth and creamy signature characteristics of the existing chocolate bars that we all know and love.
The new range offers something for all taste buds, and are the perfect foods for vegans (opens in new tab), veggie or flexitarian.
Galaxy has been working closely with The Vegan Society on the launch and their logo appears on the packs.
READ MORE: The tastiest vegan alternatives available in your local supermarket
Abigail Stevens, Trademark Marketing Manager at The Vegan Society says she is "delighted " the chocolate brand is offering more choice for vegans, adding that she is: 'even more excited that there are three delicious flavours to choose from!'
She added, 'The brand has demonstrated that dairy is not necessary to make great tasting chocolate, and that people can still enjoy their favourites without the use of animals.'
The 100g bars will go on sale in Tesco stores from Monday 18th November and online soon after via Ocado and Amazon.