Ginking is the summer drink you NEED in your life if you love wine and gin
And it's only £13 a bottle...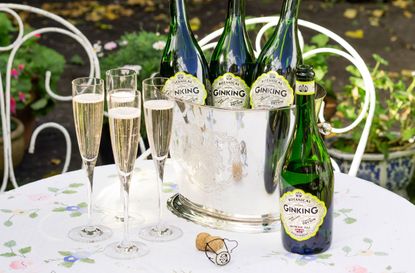 Ginking is possibly one of the best things we've ever heard of – a delectable combination of English sparkling wine and gin! Can you think of a better summer tipple?
Gin and wine lovers rejoice – you can now drink the two mixed together in perfect harmony.
With English sparkling wine continuing to grow in popularity and the nation's love of gin showing no signs of shifting, Marks & Spencer have hit it out the park this summer with the launch of Ginking.
And remember people, gin can help with your hay fever so increasing your in take might help with your allergies...
Although there's a lot to be said about a tumbler of cold Pimm's, a classic G&T or a crisp glass of white wine in the sun, if you're looking for a new summer tipple, you need to read on.
If you're looking for a change to Pimm's give Ginking a go...
Ginking is available in M&S stores, for £13 a bottle. Best served chilled on its own or with a twist of orange peel, Ginking is a tasty blend of citrusy white wine from award-winning winery Denbies in Surrey, and London Dry Gin from Langley Distillery.
A splash of spring water is also thrown into the mix, resulting in a lovely refreshing summer cocktail. You might think a sip of this concoction will result in a hefty hangover, but surprisingly the cocktail only has an alcohol percentage of 8.5.
Ginking was created by John Worontschak - a master winemaker and pioneer in English winemaking. Based at the Surrey winery Denbies, John discovered that the 'zesty nature of English wine worked brilliantly with the aromatics of London Dry Gin, adding complex layers of juniper and botanicals'.
And it's good news for vegetarians and vegans because Ginkings is free from all animal products!
We're pretty excited by the idea of drinking our two favourite tipples in one – will you be giving it a go?
Jessica currently works as a Senior Food Writer at Future. She writes food and drink-related news stories and features, curates product pages, tests, and reviews equipment, and also develops recipes that she styles on food shoots. An enthusiastic, self-taught cook Jess adores eating out and sharing great food and drink with friends and family. She has completed the Level 1 Associate course at the Academy of Cheese and is continually building on her knowledge of beers, wines, and spirits.