Greggs launch their 2019 Christmas menu – and it includes a tub of pigs in blankets!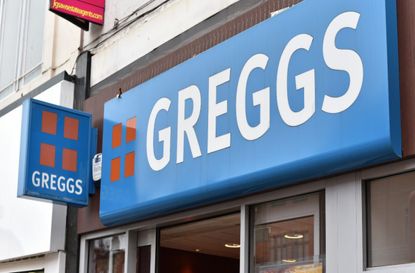 Arguably the best thing about Christmas is all the delicious food that's available this time of year. And Greggs have really upped their game with their 2019 Christmas menu!
Their newest addition is probably the most exciting, as you can now buy little tubs of pigs in blankets at select Greggs stores. If you've ever dreamed of eating the Christmas dinner essentials on the go, your wish has finally come true.
And best of all, they're on sale for just £2.25!
The pigs in blankets pot comes with a wooden fork to help you devour them wherever you are. We can't wait to try them...
They're said to be available at 600 stores across the country, so hopefully there's a pot available to pick up near you.
In terms of the rest of the Greggs festive menu, it wouldn't be Christmas without the high street bakery's iconic Festive Bake. So we're sure you'll be relieved to know that you'll find it in counters across the country from now.
Read more: Baileys bring back their incredible Chocolate Yule Log – and it's only £5! (opens in new tab)
The Festive Bake is a real must have this season. According to Greggs website, it's made up of 'succulent pieces of chicken breast, sage & onion stuffing and sweetcure bacon in a creamy sage and cranberry sauce. All encased in golden puff pastry with a crunchy crumb topping.' Delicious!
If you'd prefer a festive twist on the classic meal deal though, fear not, because Greggs' Pigs Under Blankets Baguette is here to satisfy your tastebuds.
It features cooked pork sausage, cooked sweetcure bacon, stuffing, and a port and cranberry sauce. Yum!
For those of you with a sweet tooth, Greggs are also offering Christmas tree biscuits that are ginger and chocolate, and penguin biscuits that are caramel flavoured.
The festive menu has been on sale since 7th November, and is expected to continue up until Christmas, so you've got just over a month to try out all these delicious goodies. The big question is, where do we start first?
Will you be trying any of Greggs' new festive treats? Let us know your thoughts on Facebook!