Gü have launched chocolate spread versions of their indulgent desserts
You can find them up in Waitrose...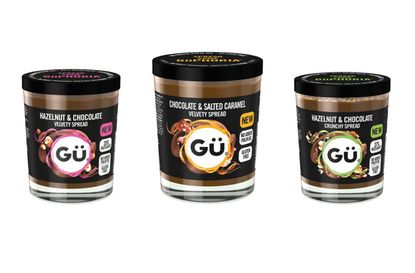 Gü have launched three new chocolate spreads and dessert lovers are going to go crazy for them!
If you love dessert, you might often dream about the idea of having dessert for breakfast.
Now those dreams can become a reality as Gü, who are known for their indulgent little dessert pots, have launched chocolate spreads in their signature flavours and they're perfect for your toast or bagel.
If you're looking for a change to peanut butter and want something a little sweeter and naughtier than jam or honey, these spreads are for you.
Available in store and online from Waitrose, the Gü chocolate spreads cost £2.50 for 200g jar.
Flavours include: Hazelnut and Chocolate Crunchy spread, Hazelnut and Chocolate Velvety spread, and Salted Caramel Velvety Spread.
Each jar is gluten free and has no added palm oil in the ingredients.
In a similar fashion to crunchy peanut butter, the crunchy hazelnut spread has pieces of roasted hazelnuts mixed in and is perfect if you like a bit of texture. It has two per cent more hazelnuts included at 37 per cent compared to 35 per cent in the velvety variation.
If you don't fancy making our hazelnut butter with chocolate the Gü spreads are a speedy alternative
If you don't fancy a big chocolate hit to start the day we think these spreads would work brilliantly on pancakes for an indulgent weekend brunch or even drizzled over some strawberries and ice cream for an easy pudding.
We're not opposed to diving in for a spoonful or two on its own either though... When your craving for chocolate kicks in, you need these spreads on hand!
However, be careful not to indulge too often as they are unsurprisingly high in calories. Per 100g of the Hazelnut and Chocolate Crunchy spread there are 622 calories and 48g of fat.
This is half a tub though and the recommended serving is around 15g so it's all about moderation!
Will you be trying to get your hands on a tub? Which flavour would you go for? Head over to our Facebook page to join the conversation and tag your friends...
Jessica currently works as a Senior Food Writer at Future. She writes food and drink-related news stories and features, curates product pages, tests, and reviews equipment, and also develops recipes that she styles on food shoots. An enthusiastic, self-taught cook Jess adores eating out and sharing great food and drink with friends and family. She has completed the Level 1 Associate course at the Academy of Cheese and is continually building on her knowledge of beers, wines, and spirits.