McDonald's are bringing back everyone's favourite McFlurry flavours
Finally…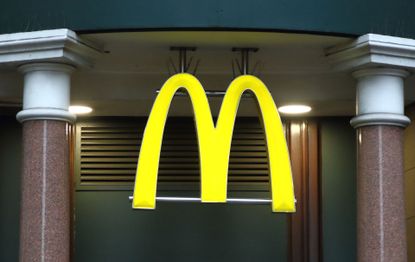 GoodTo newsletter
Sign up to the GoodTo Newsletter. You can unsubscribe at any time. For more information about how to do this, and how we hold your data, please see our privacy policy
Thank you for signing up to . You will receive a verification email shortly.
There was a problem. Please refresh the page and try again.
McDonald's are bringing back two of the nation's favourite McFlurry flavours and we couldn't be happier about it.
Every year it seems like Easter eggs start appearing on the supermarket shelves earlier and earlier but we're not complaining…
If like us, you need a Cadbury Crème egg fix all year round, you'll be thrilled to here that McDonald's aren't waiting until Easter for the return of the Crème egg McFlurry.
Yes, according to hotukdeals the popular fast food chain are bringing back the much loved Crème egg McFlurry from the 20 March and it will cost 99p for a small and £1.39 for a large.
Read more: McDonald's have introduced a healthier item to the kids Happy Meal menu (opens in new tab)
The return coincides with the re-launch of the hotly anticipated McDonald's Monopoly (opens in new tab), which every year sees friends and family members desperately cross referencing their stickers to see if they can piece together a full set.
There will be millions of instant wins available so you may even be able to grab one of the McFlurrys for free!
The bigger prizes haven't yet been confirmed but we'll still be looking out for the elusive Park Lane sticker in the hope of bagging the jackpot…
Also making an early and undoubtedly well-received return to the McDonald's menu is the Cadbury Caramel McFlurry.
Both flavours will be on the menu until the 30 April so you've got plenty of time to make the most of their return.
The news has proved very exciting for McDonald's fans online, with several exclaiming the 20 March cannot come soon enough!
One person wrote: 'McDonald's creme egg mcflurry is all I need in life'.
Another added: 'All I want is a creme egg McFlurry'.
A third said: 'When the McDonalds monopoly returns.. the creme egg McFlurry RETURNS YES'.
What McFlurry flavours are your favourite? Are there any combinations that haven't made a comeback that you'd love to see?
Perhaps your dream flavour combination hasn't been featured yet…
Head over to our Facebook page to join the conversation and share your ideas - we're dreaming of a Caramac-flavoured McFlurry…