Morrisons is now selling Jaffa Cake doughnuts – and they're just 50p each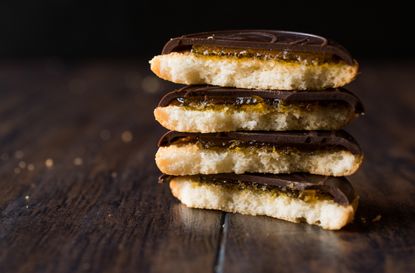 (Image credit: ABC)
Choosing snacks can be difficult. Do you want a Jaffa Cake, or do you want a doughnut? How do you possibly decide?
Well thanks to Morrisons, you don't have to now! Their new Jaffa Cake doughnut has arrived, and it sounds just as dreamy as you'd imagine.
The new doughnuts are filled with a chocolate and orange sauce, dipped in chocolate glaze, and topped with a Jaffa Cake. How perfect is that?
MORE: Morrisons launches a Chocolate Orange Gin Liqueur in time for Christmas – and it's glittery! (opens in new tab)
They're available in most Morrisons stores across the country - provided they have a cake shop in them - and come in a pack of 3 for £1.50, so you won't be breaking the bank if you fancy treating yourself.
Morrisons shared their newest creation on Facebook, in a post with two images that read 'What's better than a delicious Jaffa Cake? One with a Jaffa doughnut attached'.
We couldn't agree more!
https://www.facebook.com/Morrisons/posts/2639472092777622
Fans were quick to comment on the doughnut, with many people appearing delighted by the tasty news.
One shopper wrote, 'I bought these the other day and have to say they taste amazing! Definitely one of the best doughnuts I've ever had. Nearly as good as Krispy Kreme doughnuts. I'll be buying more for sure!'
Another added, 'Omg I am going there now!! After work treat 😂'
Read more: Morrisons are selling white chocolate Toblerone ice cream – perfect for the festive season! (opens in new tab)
And a third said, 'I need these in my life'.
As well as the Jaffa Cake doughnut, Morrisons are also offering a raspberry and white chocolate doughnut if you fancy another delicious mix of chocolate and fruit.
That one has raspberry jam, a raspberry glaze, and is topped with white chocolate curls. Yum!
We're not sure if the doughnuts are a permanent addition or limited, so you might want to get to your local supermarket ASAP to avoid disappointment.
Will you be trying the new doughnut? Let us know your thoughts on Facebook.