Study reveals what your wine preference says about your personality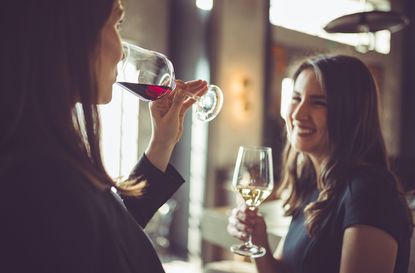 (Image credit: Getty Images)
Turns out your wine preference could say a lot about your personality, according to a new survey.
Are you a red wine or a white wine drinker? Because according to a new survey, it can actually say a lot about your personality.
We've all heard the claims that gin drinkers apparently have a lot of the same personality traits as psychopaths (and apparently it makes you cry too?), and of course the impact that certain beers can have on one's characteristics.
But when it comes to your favourite tipple being linked to your inherent personality, wine rarely comes into play.
Well, now a new survey has suggested that the red vs white preference might be more divisive than simply not being able to share a bottle with your other half.
Carried out for National Wine Day in the US, which will be taking place tomorrow, the survey looked at 2000 Americans over the age of 21 to see if there was a correlation between their personality and their chosen bottle of plonk.
Commissioned by Coravin and conducted by OnePoll, the survey found that white wine drinkers were more likely to be night owls and extroverts and red wine drinkers were more likely to be early birds and introverts.
It also found that those who preferred white wine were more likely to prefer cats to dogs and identify as curious, sarcastic and perfectionists.
The red wine drinkers category saw more dog people who were likely to identify themselves as adventurous, humble and organised.
And when it came to their wine habits, those who leaned towards red wine were more likely to be a 'wine aficionado' and willing to spend more on wine with $40 being the average price they were happy to spend while white wine drinkers spent slightly less at $37.
However, the two groups were relatively similar when it came to when and where they drank, as regardless of wine preference participants drank around four glasses a week and preferred to drink at home.
So which team do you fit into? Head over to our Facebook page and let us know!
Aleesha Badkar is a lifestyle writer who specialises in health, beauty - and the royals. After completing her MA in Magazine Journalism at the City, the University of London in 2017, she interned at Women's Health, Stylist, and Harper's Bazaar, creating features and news pieces on health, beauty, and fitness, wellbeing, and food. She loves to practice what she preaches in her everyday life with copious amounts of herbal tea, Pilates, and hyaluronic acid.