Slimming World fans left distraught as Muller Light Yoghurts deemed no longer syn free
Other items have also been dropped from the syn free list.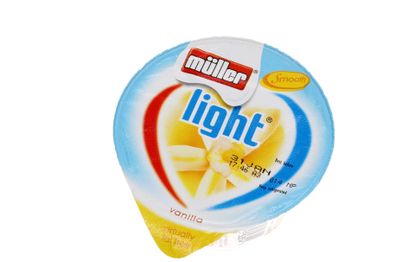 Slimming World fans have reacted with shock and dismay, after bosses at the popular weight loss programme announced that Muller Light yoghurt is no longer syn-free.
Followers of the plan have often relied on the low-calorie, yet satisfying yoghurt as a guilt-free treat.
Coming in at under 99 calories and in 10 moreish flavours, the yoghurt has previously been classified as syn free - food or drink that be consumed in unlimited quantities by Slimming World members.
The news that the Muller Light yoghurt no longer featured on the syn free list was posted by a Slimming World consultant on Facebook, before being re-posted on Twitter.
Responding to the revelation, a Slimming World spokesperson also outlined that tinned pasta shapes in tomato sauce and instant mashed potato had also failed to make the cut for the revamped syn free list.
They explained: 'Our nutrition team routinely review our Food Optimising eating plan to ensure it's up to date, in line with the latest guidance, and to take into account feedback from our 5,000 Consultants and 900,000 Slimming World members.
'As part of this process, we've been looking at how to give our vegan members more choice, and we're delighted that a number of vegan foods, including canned jackfruit and plain and unsmoked seitan, can now be enjoyed freely by slimmers following our plan.
In addition, a number of products – fat-free flavoured yogurts, tinned pasta shapes in tomato sauce and instant mashed potato – that were previously Free on our plan, meaning they could be eaten without weighing, counting or measuring, will now have a small Syn value (all food and drink that isn't Free has a Syn value and members enjoy between five and 15 Syns daily).'
Detailing the reason behind the change they continued: 'This is because some of these foods are often eaten in large amounts, as a 'snack' rather than being enjoyed as part of a meal, or because they're less satisfying than alternatives, such as mashed potato made with fresh potatoes.'
A 175g pot of Mullerlight will now be 1 Syn. Instant mashed potato has now changed to 3½ Syns per 100g (made up), while spaghetti loops, shapes and alphabet shapes have now changed to ½ Syn per 100g.
Reacting to the shake-up of the syn free list, Slimming World members didn't hold back, taking to Twitter to vent their frustration.
One wrote: 'Slimming World can jog on if they think I'm synning Muller lights!'
While another added: 'If it wasn't for muller light yoghurt I would of caved on the slimming world diet already.'
What do you think of the changes? Was Muller Light yoghurt your favourite syn free treat? Join the conversation on our Facebook page.
Freelance Lifestyle Writer
Miriam Habtesellasie is a freelance lifestyle writer who has contributed content to GoodTo, Woman&Home, Women and Idealhome.co.uk. Miriam is based in London and is a fan of everything interiors, she admits to being spoilt for choice living in the capital. From stunning architecture right the way through to eye-catching department store window displays, she believes there's always an angle to be found that can translate to our abodes.