Tesco has slashed prices of wine and spirits just in time for the bank holiday weekend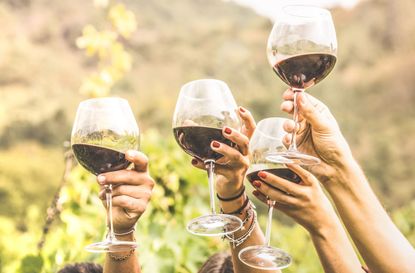 (Image credit: Getty)
Tesco has launched some amazing deals on their alcoholic beverages this week- just in time for the upcoming Bank Holiday weekend.
As part of their Weekly Little Helps offers, you can get your hands on six selected bottles of wine with a brilliant 25% discount until the end of the Bank Holiday.
Tesco Weekly Little Helps are select products – everything from food to home essentials – that are reduced and released every week to give customers the best money saving opportunities.
The prices of a range of one litre bottles of spirits including branded gin, whisky and rum have also been slashed. Cheers to that!
Read more: Red wine gin has arrived in the UK – here's where to buy it!
A selection of Chardonnay, Zinfandel, Prosecco, Chablis and Malbec will be reduced until the 26th of August, so you can spend the summer bank holiday weekend relaxing, sipping on a cool glass of vino.
You can choose from a Yellow Tail Chardonnay 75cl, Blossom Hill White Zinfandel 75cl, Casillero Del Diablo Cabernet Sauvignon, Trivento Reserve Malbec, or a Tesco Finest Chablis and Freixenet Prosecco Doc, in the 25% off wine deal.
Meanwhile, a range of gins as well as Bacardi Rum and Famous Grouse Whisky will also be discounted to a bargain £16 down from £19.50, for the same amount of time.
Read more : Over a third of wine drinkers don't know that you can drink red wine chilled
And save £3.50 on bottles of Famous Grouse Scotch Whisky, Bacardi Carta Blanca Rum, Greenalls Wild Berry Gin and Bombay Dry Gin.
So whether you're heading out for a boozy picnic, hosting a summer BBQ or plan to kick back in the garden with a glass in hand, you had better get down to Tesco quick if you're hoping to benefit from this deal- the offer is only available while stocks last.
Will you be making the most of the deal? Let us know!