Spoiler alert: Here's what they're making on episode three of The Great British Bake Off
It's bread week!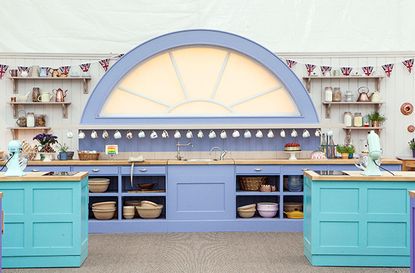 Bake Off is back with its third episode of the season and it's bread week! But what challenges will our bakers have to face?
The whole nation is relieved to have one of its favourite shows back, so we can an excuse to stay in and eat cake every week (if you needed one, that is...)
The third episode of this year's Bake Off bring us bread week, and Prue and Paul have been busy setting tricky tasks to the Britain's best amateur bakers.
Here are all of the recipes for episode three...
The Great British Bake Off week 3 Signature challenge: Tea cakes
To kickstart week three, bakers had to make a very classically English treat - tea cakes. Prue and Paul wanted to see 12 tea cakes, which had to be round, identical and with the fruit of their choice, from cranberries to sultanas, evenly distributed.
Tea cakes are made with an enriched dough that contains extra fats, eggs, sugar and fruit, all of which can inhibit the yeast, which prevents the all important rise. To make sure their dough had a good rise, bakers had to get to grips with proofing.
Talking about the trick behind perfect tea cakes, Prue said that because it's enriched dough, bakers 'have to prove it for a bit longer because it will rise more slowly'.
All bakers had a tough kneading workout, which is needed to create the gluten that gives the dough its strength and structure. Without enough kneading, the teacakes will be dense and flat. Another tricky part of the challenge was, as always, time - if bakers spent to much time in the first prove, they won't have much time for the second.
Bakers could also whip up their accompaniments, so two-time star baker Steven decided to make vodka butter - interesting...
The Great British Bake Off week 3 Technical challenge: Cottage loaf
Bake Off veteran Paul set the third technical challenge of the show, asking bakers to make a cottage loaf.
Speaking about his expectations for the challenge, which bakers had to make without mixers, Paul said he expected 'perfection' in the shape of honey coloured loaves with a crusty exterior and a rounded bottom.
Cottage loaves have been made in Britain for years, and consist of a smaller piece of dough on the top, but not too small, and larger on the bottom. Cottage loaves also have to have a good even colour and good slashes all around the loaf.
The smaller top has to be bonded to the bottom, which bakers could achieve by giving it Paul's 'finger treatment' - sticking fingers through the top and bottom dough to stick the two together.
One contestant who didn't give their loaf the 'finger treatment' saw the top falling to one side - heartbreaking.
The Great British Bake Off week 3 Showstopper challenge: Coloured bread sculptures
For the final challenge of the episode, Prue and Paul asked bakers to make coloured bread sculptures, but they could only use natural colourings.
Remember Paul's King of the Jungle bread lion?
Noel set the brief, saying they wanted 'eye catching designs using natural ingredients to create flavour and colour', and advising bakers to channel their inner Jackson Pollock.
Bakers could let their imagination run wild, but they had to showcase a minimum of three natural occurring colourings. Top choices for natural colourings included spinach, beetroot, turmeric, and chocolate.
Paul's advice to get the perfect bread sculpture was 'to add the colourings in proportion so it doesn't inhibit the yeast', which allows the dough to rise.
The toughest parts of the challenge for bakers was to make sure the bread held it shape with baking, otherwise the structures would collapse, as well assembling the structures.
Among the most impressive creations was Steven's handbag, which really impressed Paul - trust us, we've never seen a prouder look on Hollywood's face...
Will you be watching The Great British Bake Off on Tuesday? Let us know in the comments below!
Trusted, informative, and empathetic – GoodTo is the ultimate online destination for mums. Established in 2007, our 15-year-strong archive of content includes more than 18,000 articles, 1,500 how-to videos, and 7,000 recipes.