Chocolate fans thrilled to find out Twix Top bars are back at Home Bargains
Exciting!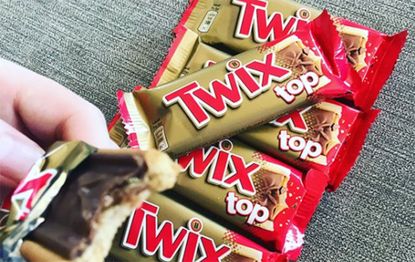 Twix fan? This news is sure to make your weak...


Cast your mind back to the early noughties. Remember Twix Top bars? Well, shoppers are getting into a frenzy after finding out the delicious treat is back on shop shelves all these years later.
Just when we thought the mouth-watering snack was gone for good, it turns out we were wrong as the discount store Home Bargains is fulfilling our cravings by stocking them again.
Spotted by Instagrammer NewFoodsUK, the return of the nostalgic delicacy has definitely gone down a treat with fans of the retro bar.
Unlike the traditional Twix version we know and love, Twix Top comes as one treat per wrapper, not two. It features all the best bits of its classic counterpart – tasty chocolate, delicious caramel and yummy biscuit – but as a flat offering instead.
Following numerous calls for classic chocolate treats of yesteryear to make a comeback, the news has delighted chocolate fans nationwide with one claiming 'I legit need to drive to a Home Bargains right now'.
'I forgot all about these! I loved them!' said another excited shopper.
The snap really took people down memory lane, with another adding: 'I used to have them in my packed lunch!'
Shoppers have spied the retro snack at Home Bargains stores
Others were quick to reminisce about the M&M and Bounty versions that also used to be available in stores, with one commenting: 'Does anyone else remember the M&M ones?! They were the BEST!'. There's been no sighting of these yet in 2018 but we live in hope!
Whether you remember them from the first time round or not, they're that good we can't see these staying on shelves long. It's time to stock up!
Will you be making a detour to Home Bargains to get some Twix Top bars for old times' sake? Head over to our Facebook page and let us know your thoughts on the retro treat!