Waitrose forced to pull 'offensive' Easter treats from their shelves
A 'small number' of customers have complained, but Twitter is divided…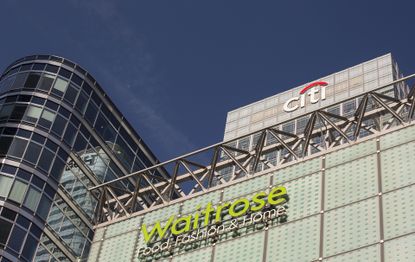 (Image credit: Global Warming Images/REX/Shutte)
A 'small number' of customers have complained to Waitrose about the Easter treats, but Twitter is divided…
Waitrose has pulled its Trio of Easter Ducklings from sale after customers called them out over the product's 'racist' labelling.
The £8 gift features three hollow chocolate ducklings moulded from different types of chocolate. The milk chocolate duckling was originally labelled 'Crispy', while the white chocolate duckling was labelled 'Fluffy' and a dark chocolate duckling decorated with pink splatters was labelled 'Ugly'.
'Crispy, Fluffy and Ugly – trio of Easter ducklings at #waitrose,' one shopper tweeted. 'Ugly is the dark one on the right. Overheard women saying "this is not right". I agree, doesn't look good at all. Thousands of other options… why #ugly?????'
'What a stupid name to call any piece of chocolate,' another user agreed.
But others pointed out that the name was most likely intended as a reference to Hans Christian Andersen's 1843 fairy tale The Ugly Duckling, which tells the story of a gosling who is bullied for being 'ugly' before he turns into a beautiful swan.
'It's great that there are companies who reinforce treasured old fairytale stories of wonder and happiness,' one man replied.
'The Ugly Duckling had scruffy brown feathers,' another pointed out. 'Grew into a swan. Not racist.'
TK Maxx pulls 'offensive' kitchenware range after complaints – can you spot why?
'Crispy Duck, Fluffy Duck, Ugly Duckling all legit duck names,' declared another.
Waitrose removed the boxes of ducklings from their shelves while they redesigned the packaging to remove the labels.
'We are very sorry for any upset caused by the name of this product,' said a spokesperson. 'It was absolutely not our intention to cause any offence. We removed the product from sale several weeks ago while we changed the labelling and our ducklings are now back on sale.'
The shopper who complained about the labelling on Twitter later thanked the supermarket for changing the packaging, saying: 'Ref to the 50s tale was a tad outdated. Thank you to those who contributed with comments: change happens when something is brought out into the open and discussed.'
Samantha is a freelance writer at Goodto who has been with team since 2019. Initially trained in psychology, she specialises in health and wellbeing and has additionally written for magazines such as Women's Health, Health & Wellbeing, Top Santé, Healthy, Refinery29, Cosmopolitan, Yahoo, CelebsNow, Good Housekeeping and Woman&Home.