Breakfast fan shares hack for cooking a full English overnight in a slow cooker
One woman was so committed to the classic she found an easy, all-in-one method to whip up her favourite meal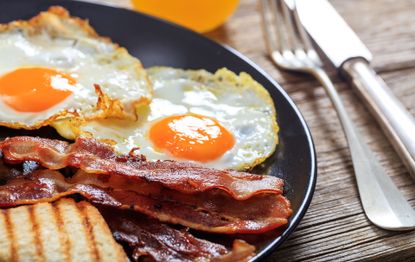 (Image credit: Getty)
When you wake up in the morning, nothing beats the smell of bacon in the kitchen.
But for most of us, indulging in a full English breakfast is a weekend treat.It may only take 15-20 minutes to cook, but the effort of coordinating the timings (because no one needs cold toast with burnt sausages), combined with the multiple pans and spatulas left in the sink afterward seems like too much for a weekday.
But one woman was so committed to the classic British brekkie that she found an easy, all-in-one method to whip up her favourite breakfast. Rose Bowler posted on her Facebook page an image that she came across on a group called Slow Cooker Wonders, which shows a full English breakfast being cooked in a top slow cooker. (opens in new tab)
The recipe in question was devised by mum Sonia Cheetham, who posted the picture in the group when she discovered this hack.
To make the slow cooker full English all you have to do is pop your tomatoes and beans into (separate) mugs, your eggs and mushrooms into mugs as well topped with a knob of butter and then your meat around the outside.
Wrap your bacon into rolls and position the rolls, along with your sausages, around the outside of the bowl so that they brown and crisp up.
Turn it on when you go to bed and voila – ready cooked full English breakfast as soon as you're up in the morning.
Or if you're trying to be healthy go for a healthy full English breakfast (opens in new tab) or a Slimming World full English breakfast (opens in new tab), which would both work perfectly in the slow cooker.
So that it turns out as good as the original, you'll probably need to leave it cooking for about nine hours.
But while it might take about eight and a half hours longer than usual, it does mean you can wake up to a fully cooked English breakfast without the wait and the washing up.
Of course if you wake up with hankering for eggs and don't want to wait nine hours, it won't work for you. But try out the multi-section frying pan (opens in new tab) that'll help you save on your washing up too!
The only problem with them both? You'll have to take time to cook your toast.
But you can just pop that it in while you're plating up and waiting for your tea to brew!
Aleesha Badkar is a lifestyle writer who specialises in health, beauty - and the royals. After completing her MA in Magazine Journalism at the City, the University of London in 2017, she interned at Women's Health, Stylist, and Harper's Bazaar, creating features and news pieces on health, beauty, and fitness, wellbeing, and food. She loves to practice what she preaches in her everyday life with copious amounts of herbal tea, Pilates, and hyaluronic acid.