We earn a commission for products purchased through some links in this article.
Struggling to reach your recommended 5-a-day? Finding it hard to get fruit and veggies into your child's diet? Don't worry, you're not the only one! We set mummy blogger Anneliese the challenge of feeding her family their 5-a-day every day for 30 days.
Her challenge was a tough one but she completed it with huge success and even managed to up the count to 7-a-day in her final week, in line with what is being talked about as the real recommendation for how many portions you need. Anneliese has learnt a lot from her challenge so we asked her to share what she's learnt – just in case you're struggling on the fruit and veg front too!
1. Use your grater to hide vegetables
If your kids are fussy eaters when it comes to dinnertime, your trusty cheese grater can become your new best friend. Use it to grate carrots, courgette, butternut squash – whatever veg takes your fancy – and hide it in a sauce, mashed potato mix or risotto. The kids will never know.
Thin slices of vegetable are much easier for kids to eat, plus you avoid the dreaded "eat your vegetables" talk.
2. Every meal counts
Don't just focus on getting some of your 5-a-day into dinner, spread it across all your meals. Have fruit on your cereal, have a salad with your sandwich and pack your lasagne for dinner with vegetables.
Swap readymade snacks for healthy nibbles like carrot sticks and hummus, and add a few fruit and veg options into your child's lunchbox. Make fruit and veg part of every meal so it doesn't become an alien things to kids and they'll (hopefully) be more likely to eat them!
3. Get creative with the kids!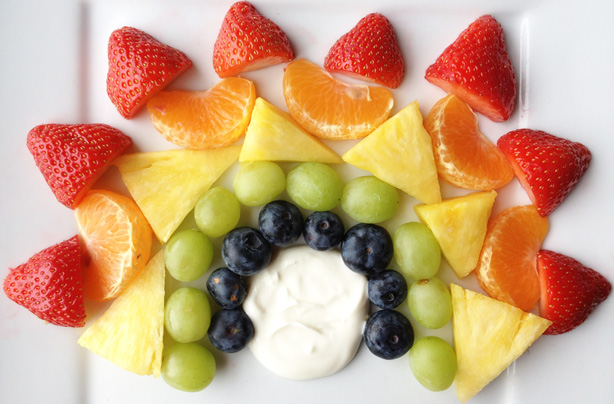 When it comes to encouraging your kids to eat their fruit and vegetables, it's all about getting creative. Make it a fun activity for you and your kids together – make fruit kebabs, make fun art with your veggies and really encourage the kids to play around with their food.
4. Try new fruit and veg
Have you cooked celeriac before? How about swede? If you've got a few fruit or vegetables on your list that you've never thought to make at home before, now is the time. Eating different fruit or vegetables from your usual choices will mean a different range of nutrients in your body and will have a surprisingly positive impact on your body.
5. If you have a blender, use it!
Just like a grater, a blender is a handy gadget to have in your kitchen when it comes to getting your 5-a-day. You can blend veggies and add to sauces or make your own so the kids will never know. You can make soups for lunch and smoothie for breakfast.
6. Plan, plan and plan some more
Upping your fruit and vegetable count can mean upping your food bill. Cut the cost and leftovers by planning your weekly meals in advance. It might sound boring to sit there putting pen to paper, but it'll really benefit you when it comes to doing the weekly food shop (especially if you've got the kids screaming in your ears).
7. Turn the regulars into irregulars
If your child loves mashed potato, add carrots or swede to the mix. If your child loves pasta bake, top it up with spinach or fresh tomatoes. Work with what they love first so you know you're going to have them hooked straight away.
They might have a favourite meal – so give it a veggie twist! Get excited when it comes to dinnertime but try not to draw attention to the fact that it's a different version of their favourite. Just cross your fingers and hope!