How to use Pinterest to save your favourite GoodtoKnow recipes!
Presenting your Pinterest one-stop shop...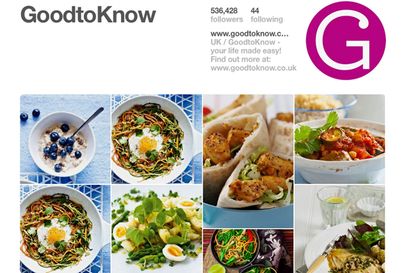 If you've spotted a recipe you like on GoodtoKnow then we have good news, we have the perfect place to save it. Simply add it to your own Pinterest board or pop over to ours to see it there. And if you're not sure how to get started then we've put together a quick guide on how to just that.
From saving boards and pins, to following your favourite foodies, here's how to make sure you're keeping all your favourite recipes, tips, tricks and ideas in one handy place so you can go back to them time and time again. Because, admit it. There's nothing better than making yourself a cuppa and grabbing five minutes of escapism.
Here's how to get started…
How to save a pin from GoodtoKnow on Pinterest
If you've landed on a recipe on GoodtoKnow that you think you might want to make later on, then simply pin it for later. You'll need to already have a Pinterest account to get started but then it couldn't be quicker.
You'll see some little social media buttons near the top of the page and the red one with a "P" in it is the one you're after. Simply click on that and a little pop up will appear to help you save the recipe right where you want it.
You can edit the description below the picture that pops up for your own reference and then choose a board for it to go on. These will appear on the right hand side of the generated picture and if you haven't yet made the perfect one then you can create a new board by clicking the plus button at the bottom of the page - easy.
How to follow GoodtoKnow on Pinterest
Everything you need in one place: Click here to see our Pinterest account
If you like what you're seeing then why not follow us on Pinterest to get all the latest updates? We have over half a million followers, so you know you'll be in good company. Simply head to our page and click the button on the right at the top that says "follow". Then you should see all our updates as and when they come in, so you can stay ahead of the crowds!
How to like our pins on Pinterest
If you already follow us on Pinterest and love something you see then you can also "like" it. Simply hover over a pin and click the little heart button that appears to let us know you like what you see!
How to share our page with a friend
If you think a friend would love GoodtoKnow's cheap, quick and easy recipes too then why not send them our Pinterest page to follow? All you have to do is click the little paper aeroplane icon at the top of our Pinterest page and search for their name in the box. Then the invite will be on its way to them in seconds (and you can wait for the praise to come pouring in)!