'Put some music into your food' Levi Roots' rise to fame and his favourite Caribbean recipes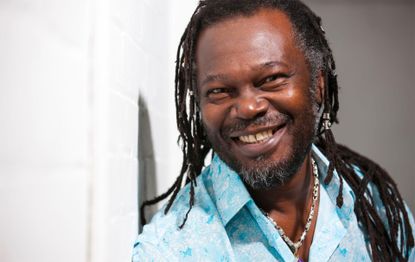 It's been 12 years since Levi Roots famously appeared on the BBC's Dragons' Den, clutching a guitar and serenading the panel with a song about his home made 'Reggae Reggae sauce'.
More than a decade later, he's still one of the most successful people ever to have appeared on the show. After securing a £50,000 investment from Peter Jones and Richard Farleigh, his tangy sauce went on to become Sainsbury's fastest-selling product ever, even outselling Heinz tomato ketchup at one point.
Aside from the sauce, British-Jamaican entrepreneur Levi has launched a range of other products - from chilled ready meals to soft drinks, pasties, snack pots and seasonings. And, keep an eye-out for his upcoming creation, 'Reggae-nnaise'. He's also released cookbooks, music albums, presented TV shows and opened his own restaurant.
GoodtoKnow was invited to the Levi Roots Caribbean Smokehouse in Straford, East London, for a cooking masterclass, to learn from the main man himself about how to prepare five of his favourite dishes - including ackee and saltfish, curried goat and jerk chicken. As he cooked for us, he also gave us some background about his transition from music man to condiment connoisseur, and shared his views on the recent Jamie Oliver jerk rice controversy.
Levi Roots Caribbean Cooking Masterclass tickets
'Put some music into your food'
'Put some music in your food' is the tagline for Levi Roots' products and that's because for him these two passions go hand-in-hand.
He joined the Coxsone Sound System in Notting Hill as a teenager, was nominated for a MOBO award in 1998 and even played for Nelson Mandela. But his musical career didn't take off as far as he had hoped. 'The only reason I existed was for music' he told us. 'It was hard for me to put that down because I loved it for so long, but one has to admit defeat.'
By 2004 he was working in a warehouse in Brixton. He'd been there for two years, doing the sauce on the side when he decided to make a real go of it. 'I was singing away, like I normally did and I just thought sod this, I'm going to start selling my grandmother's recipe - that's when I gave the sauce the name, Reggae Reggae Sauce.'
Just two years later, he sold 4,000 bottles at Notting Hill Carnival - and, he went on to promote it at food festivals around the country, but in some very specific areas. 'I didn't want to sell ice to the Eskimos, I didn't want to sell my sauce to just Caribbean people,' he explained.
'So, we went to food festivals in places that ended in the name 'Shire, places where people didn't know about jerk. Back then, it wasn't so common to see a Rasta man in these quiet places - but I was fearless, they liked my passion!'
It was during one of these events, while singing his Reggae Reggae sauce song, that he was approached by a BBC producer for Dragon's Den. Levi turned down her invitation to take part in the show three times. 'I didn't want to be embarrassed on TV, so I told her I wasn't interested. But, my daughter found her business card afterwards and convinced me.'
'I thought "this is great, this gives me a chance to sing my song!" But my kids, said "nooooo, you can't sing the song"', he laughed. Even his friends were against the idea of calling it Reggae Reggae Sauce 'They said it was too Jamaica and Rasta. But I thought "Lord mercy, that's me!" I had the conviction - maybe it was my greed for wanting to get back in the music business!'
'I went in for an audition on Dragons' Den just before Christmas 2006,' he added. 'I'd even never seen it. The rest is history!!'
'There is no such things as jerk rice'
Before cooking, talk turns to the 'elephant the room' as Levi puts it - the recent controversy around Jamie Oliver's jerk rice. The chef was accused of 'cultural appropriation' by MP Dawn Butler, who took offence at the celebrity chef making money from a product created in another culture. He was also wildly criticised for misunderstanding what jerk actually is...
'There is no such thing as 'jerk rice' because you have to do it on the smoke', Levi explained. 'Jerk is a sauce or marinade - and a process of cooking. It's like calling it BBQ rice.'
'Jamie made a mistake, he wasn't educated enough', added Levi. 'He didn't know the fear of Caribbean people... we've been there before remember, Marco Pierre White? A few years ago, he suggested making rice and peas with green peas [they're traditionally made with kidney beans], and the reaction was the same. Legions of people came out and said "'You can't do that"'.
'There are Italian, French Tex-Mex restaurants everywhere - but not Caribbean food. So, the vanguards of the cuisine are still not used to seeing change.'
The recipes Levi Roots' grandmother used to make
Ackee and saltfish
Ackee and saltfish is Jamaica's national dish. In fact, this is the meal served to the Queen when she visits, rather than the country's famous jerk chicken. 'I'm very proud to serve this in my restaurant', Levi told us. 'It's not so well-known as other Caribbean dishes, but I'm working on it.'
Levi Roots' ackee and saltfish recipe
An uncommon ingredient in the UK, ackee is a fruit that is used like a vegetable in traditional Caribbean and African dishes. 'It doesn't really have a taste, Levi explains. 'It looks like scrambled eggs and has a nutty kind of flavour but nothing jumps out at you - you have to mix things with it for it to come alive, and it cooks beautifully.'
Curry goat (not goat curry!)
First of all, you have to call this dish curried goat and not goat curry! 'I used to screw my face when people would say "goat curry"', says Levi. 'You can't change the language, it's a serious thing to many Caribbean people.'
This dish gets its vibrant colour from turmeric and curry powder. Ideally marinaded for 24 hours, or at least overnight, it contains some pretty robust flavours, including whole allspice berries, chillies and garlic. 'You can drop a whole Scotch bonnet in this dish,' Levi tells us. 'Have fun with how spicy you want to make it, but leave it in the fridge over night, so it take in all the flavours.'
Jerk Chicken
Jerk chicken is prepared in various ways throughout the Caribbean, with many people fiercely protective of their own methods. During Levi's visit to a remote island while filming the BBC TV series, Caribbean Food Made Easy, some locals went to extreme lengths to protect their recipe. 'They smashed up our equipment because they thought we were stealing their jerk recipe', he told us. 'They are very secretive.'
Levi Roots' jerk chicken recipe
Levi revealed there's one big difference between his jerk sauce and versions you'll find in the West Indies. 'When I began making the sauce, I had to tone it down, so it would be more appealing for the mainstream. Not everyone can handle it as hot as the Caribbean,' he says. 'If making this dish at home, you can thrown in some Scotch bonnet - but only leave the seeds in if you have friend coming around that you don't like!'
The next Levi Roots' Carribbean Cooking Masterclass will be held in June.
Anna Bailey is the editor of GoodTo. She joined the team in June 2018 but has been a lifestyle writer and online editor for more than 14 years. Anna graduated from Bournemouth University in 2004 with a degree in Multimedia Journalism and went on to gain her NCTJ and NCE journalism qualifications. She began her career in local journalism, working as a reporter for the Basingstoke Gazette in Hampshire. As Lifestyle Editor for ITV.com she managed the websites for the broadcaster's best-loved shows including This Morning, Loose Women, Coronation Street, Emmerdale, Coleen's Real Women, and Britain's Best Dish. Before joining Goodto.com she was also a Features Editor at MSN UK and Digital Lifestyle Editor for the broadcaster UKTV. She's also contributed to The Mirror, The Sun, LoveFood, LoveExploring, and TBSeen.