Okra recipes: the benefits of okra and cooking ideas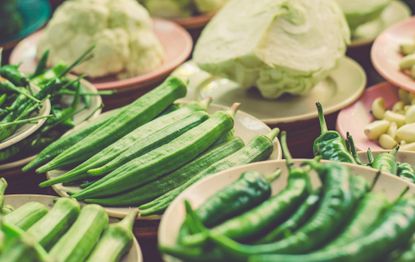 (Image credit: Getty)
Okra, also known as ladies' fingers because of their appearance, can be added to just about anything - including stews, curries and soups.
With more and more people resorting to a plant-based diet okra is slowly becoming the ingredient of choice to add substance to stews, curries and stir fry - and it can also be enjoyed as a simple, tasty snack. Okra is part of the marrow family and looks a little bit like a small courgette. It's produced mainly in West Africa and South Asia and is a staple in those cuisines.
What are the benefits of eating okra?
The benefits of adding ladies' fingers to your diet is massive. As well as being high in vitamins A and C it's also high in fibre and promotes healthy skin. In the long run it can reduce your risk of heart disease and help prevent diabetes.
What are the effects of eating okra?
Once you've scoffed down your favourite okra curry or soup, it gets to work straight away by alkalising the body and stabilising your blood sugar. Not only does it aid your vision, it also supports your colon health and prevents constipation.
Okra recipes
This superfood really does benefit you from head to toe, so check out these inspirational recipes.
Samharya bhinda
This Samharya bhinda recipe is great to have as a snack or goes perfectly as a side dish to any curry. Get the recipe here (opens in new tab).
Crispy Indian ladies' fingers
This recipe by My Heart Beets is said to taste a little like spicy green beans but better! Sprinkle on top of soup or salad for a crouton alternative. Get the recipe here (opens in new tab).
Okra with ginger and sesame seeds
Try this delicious recipe with roti as a main course. Any left overs can be easily stored in the fridge for a coupe of days and enjoyed as a light snack. Get the recipe here (opens in new tab).
Okra soup with assorted meats
This delicious warming soup recipe that's full of healthy ingredients. Get the recipe here (opens in new tab).
Okra stew
If you're a meat eater why not give this hearty stew a go. Get the recipe here (opens in new tab).
Okra corn fritters
There's nothing better than comfort food and these fritters are just that. A naughty (and slightly healthy) snack- just add your favourite dipping sauce. Get the recipe here (opens in new tab).
Fisherman's okra soup
Fisherman's soup is a traditional Nigerian soup, It takes less than half an hour to make and is so famous in Nigeria, books and poems have been written about how delicious this dish is. Get the recipe here (opens in new tab).
Coconut curry
This is probably the simplest recipes out there. Impress your dinner guests with this nutritious vegan meal. Follow the recipe written in the caption above, and serve with brown rice and naan.
Okra with soy and bonito flakes
Ladies' fingers are used a lot in Asian cooking too. Try this easy dish for an alternative snack to edamame beans. Get the recipe here (opens in new tab).
Words by Leanne Carr
Grace Walsh is a Features Writer for Goodto.com, covering breaking news health stories during the Covid-19 pandemic as well as lifestyle and entertainment topics. She has worked in media since graduating from the University of Warwick in 2019 with a degree in Classical Civilisation and a year spent abroad in Italy. It was here that Grace caught the bug for journalism, after becoming involved in the university's student newspaper and radio station.