We earn a commission for products purchased through some links in this article.
In this week's #KidsKitchen
 video, mummy vlogger Sarah shares 12 things she found in Poundland in her Halloween haul – and now her Halloween party is SORTED!
There's only one thing we love more than an excuse for fun with the family, and that's saving lots of pennies in the process! That's why our mummy blogger Sarah went straight to Poundland, where she found everything from trick-or-treat supplies to her own party accessories, including glow-in-the dark make-up!
'My favourite place for shopping for Halloween tat – sorry, decorations and treats, is Poundland – load of bargains, it's a great place to go for kids,' says Sarah.
'You don't need amazing quality for a short celebration.'
Take a look at Halloween buys she brought home, all at just £1 each!
1. Boo & Friends cupcake kit
'If you're going to do some Halloween cooking, this is one of my first little finds,' says Sarah. 'It's a cupcake baking kit for Halloween, with cupcake cases and cocktail stick with Halloweeny things on them.'
It's party-size too, as there's enough for 24 cupcakes! Can't wait for Halloween? Start planning with our Halloween recipes.
2. Maoam Halloween mix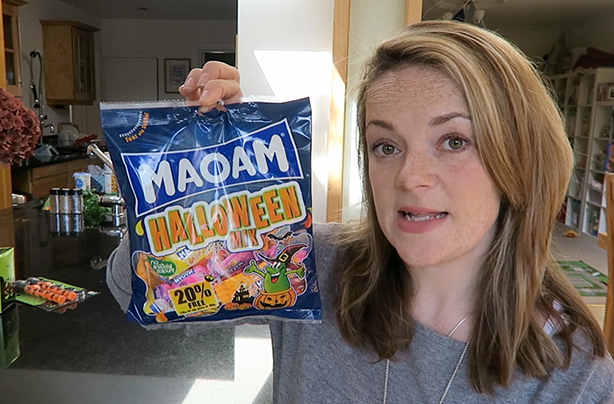 'I don't think there's anything Halloweeny about these – they are just in a Halloween bag,' says Sarah, but she isn't disappointed! 'But it's a nice little bag of sweets to keep in case you do have any kids visiting, or trick or treaters or anything like that.'
3. Chocolate eyeballs
'Chocolate eyeballs are ALWAYS good for Halloween,' says Sarah. Too right!
4. Fright Nite Gruesome Bodyparts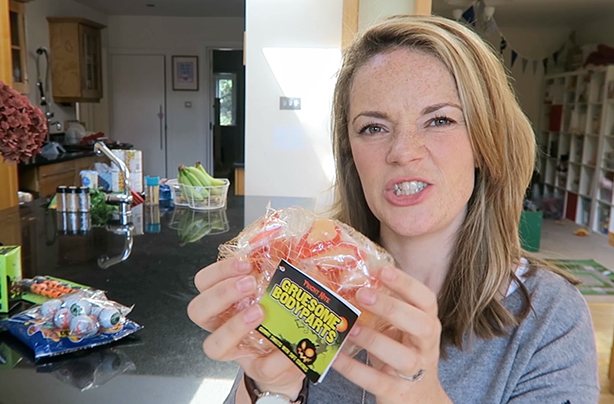 'These look actually a bit gruesome,' says Sarah. 'They are jelly body parts. I have no idea what's going on there… Jelly fingers and stuff.'
Judging by the look on Sarah's face, we can tell she feels the same way about them as we do.
5. Printed purple loot bucket
'I think these are supposed to be for trick or treaters to put treats into them,' says Sarah. 'They had quite a few of these and I spotted them in different colours.'
Good choice on the purple.
6. Skull and crossbone tights (for grown-ups)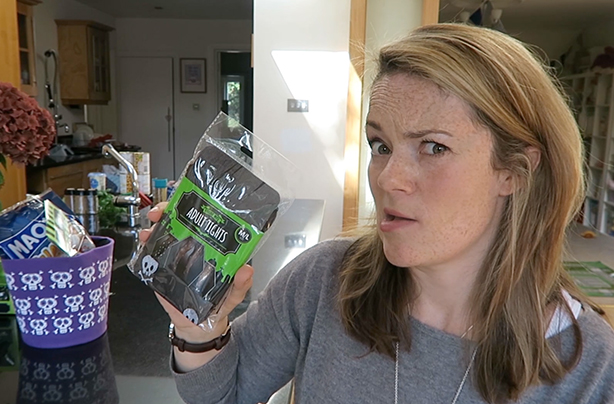 'Some bits for me,' says Sarah. 'Thought I'd treat myself. £1 for a pair of skull and crossbone tights! You never know when you're going to need a pair of skull and crossbone tights. My children will think I've lost the plot!'
No Sarah, they're going to love them! Watch more from Sarah and her twins in our video series, Kids Kitchen.
7. Fright Nite glow in the dark make-up kit
'Now this could go quite badly wrong and actually terrify the children!'
We can't wait to see the results.
8. Happy Halloween glitter banner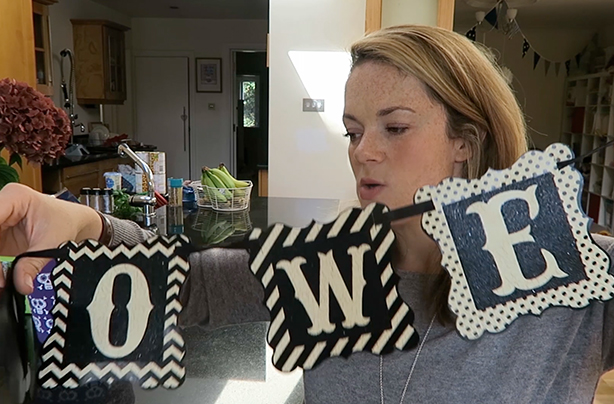 This glittery paper decoration is pretty simple but effective. 'It's like paper bunting,' says Sarah.
9. Boo & Friends Halloween party plates
'Some little tacky plates for Halloween celebrations,' says Sarah – and their perfect for a kids' party. A pack of 20 is £1. Planning a Halloween party? You've got to make some of our Halloween party food recipes.
10. Halloween black and white straws
'Everything is more exciting when you drink it with a spooky straw' says Sarah. We tend to agree.
11. Ceramic pumpkin and ghost tealight holders
'Slightly naff, but come on – it's Halloween, you have to embrace it,' says Sarah. She picked up four candle holders in two designs, pumpkin and boo! And for the inside she found…
12. Flickering LED tealights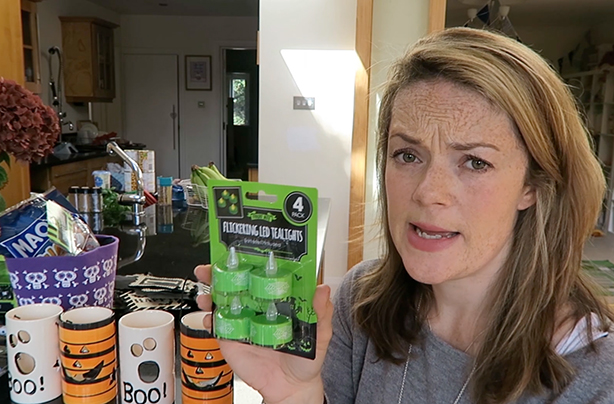 'These are really good for when you're having kids round, which you can put in the candle holders instead of candles' says Sarah.
Right, we know where we're off to. Happy Halloween everyone!