7 Slimming World-friendly foods to look out for on holiday
Here are 7 ways to stick to the Slimming World plan on holiday, from porridge on the plane to espresso in a sunny square. These ideas will keep you on track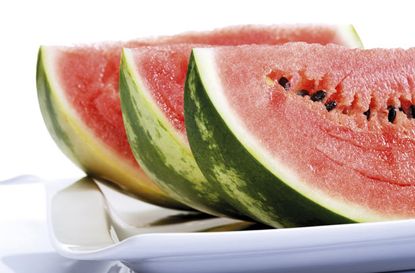 Going on holiday and no idea how you'll stick to the Slimming World plan?! There will be so many foodie temptations (pizza, ice cream, cocktails...) and of course, it will get that little bit harder to stay on track when you're on the Slimming World (opens in new tab) plan.
Never fear though, there are plenty of Slimming World-friendly foods that are going to keep you sane on holiday.
From opting for porridge on the plane to sipping an espresso in a sunny square, keep your eyes peeled for these 7 delicious foods that will keep you Syn-counting and target-focussed. Holidays just got easy!
1. Healthy extras
You never thought you'd be the one letting out a little whoop when you see that porridge is on the airplane menu! One in the bag for later.
2. Continental breakfasts
Free foods galore! Neat slices of ham, tiny wholemeal bread rolls, eggs, yogurt, fruit and your cheese allowance all laid out for you. Job done!
3. Mediterranean menus
You'll find plenty of pasta and rice dishes on holiday menus - that, and those yummy mini baked potatoes you see everywhere.
(Psst! If you like this, you're going to LOVE our round-up of 19 foods you'll only know on the Slimming World plan (opens in new tab))
4. Grilled meat and fish
Dig into large plates of freshly grilled meat and fish - heavenly and Syn-free!
5. Salads
Everywhere you go abroad does a mean salad. You'll find loads of interesting free foods hiding in the side salads, too. Order one with every meal to up your speed foods.
6. Espresso
Enjoy really good coffee that hits the spot without extra Syns. Forget trying to get a good cuppa, it ain't gonna happen.
7. Fruit
When the weather's good, you'll be surviving on watermelon and ices (and saving all those Slimming World Syns for the cocktail bar!). A couple of lengths in the pool will also sort the body magic!