The 10 best MasterChef quotes
Come and see the very best MasterChef quotes from our two favourite judges, John Torode and Gregg Wallace. Expect lots of silly sayings and quirky puns that are sure to make you giggle!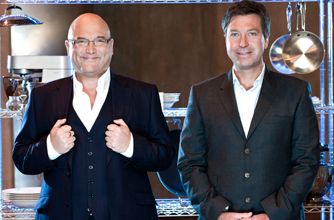 Come and see the very best MasterChef quotes from our two favourite judges, John Torode and Gregg Wallace. Expect lots of silly sayings and quirky puns that are sure to make you giggle!
The 10 best MasterChef quotes
We just love MasterChef here at goodtoknow and have rounded up some of our favourite MasterChef quotes from the legends that are Gregg Wallace and John Torode.
The pair have developed into quite the comedic duo over the years and we find ourselves hanging onto their every word.
British boy Gregg takes the biscuit when it comes to the strangest sayings but John isn't too far behind. If you're looking for a good old giggle, you've come to the right place!
Click through to see the whole comical collection...
The one we'll never forget
No round-up of MasterChef quotes would be complete without everyone's favourite catchphrase from the chief of puddings, Gregg Wallace.
This phrase actually has its own song (opens in new tab) dedicated to it as it is that good and was quite the YouTube sensation. It is of course:
'Buttery biscuit base.'
Did he really say that?
We love Gregg because sometimes we just can't explain what is going on in that brain of his!
This quote is definitely one of those moments...
'Ah mate that's the sort of thing I would dip my head in.'
Excuse me Gregg?
We love a whip of pink buttercream or a covering of peachy icing but apparently that wouldn't go down well with Gregg as he previously said:
'There's no place in Masterchef for pink food. There's no place in the world for pink food.'
Well, duh.
Stating the obvious is always a good way of getting a cheap laugh out of us lot and we find it's something the judges like to do often. MasterChef winner Shelina Permallo fell victim to Gregg's sharp tongue last year before her victory. If only he had known she would have the last laugh:
'She cooks. Unfortunately, so does everybody whose food we've eaten so far.'
Interesting approach
We sometimes wonder about Gregg's relationship with food as he always seems to want to submerge himself in it. Hmmm... there seems to be a theme going on here?!
'Its summery, its fruity ... I'd stick my face in it.'
What now?
We are not sure what exactly this means but we have a feeling it wasn't intended as a compliment for whoever it was aimed at. We really do enjoy Gregg's continued random phrases, keep up the good work!
'Chances are quite high... We're gonna nab a bone.'
Tough talk
We're back to Gregg and his love of puddings. Clearly he judges a man's worth on how much sugar he can eat in one sitting. He has been known to advise fellow judge John to:
'Get your pudding spoon out and man up.'
Not to be taken literally
Goodness, here we go again with Gregg and his fascination with getting overly involved with his dinner. We think he must go through an awful lot of costume changes if this is the way he is always thinking:
'I just want to take a running jump into it.'
Expert advice
Giving his buddy John a helpful heads up to not expect too much, Gregg feels like the challenges are pretty tough for us mere mortals. John doesn't look impressed and Gregg's wise words of wisdom this time are:
'It's gonna take more than a clever cook to get that right. It's gonna take a magician.'
That cannot possible actually be a word
Not to be outshone by his onscreen partner, John Torode has also had his fair share of strange sayings.
In recent episodes we've noticed his fondness for sounds over words making it very hard to quote him. A lot of his expert expression comes simply from his breath being expelled through his lips at varying speed, think 'pfffff' and 'fffff'. Another obscure favourite of ours is:
'It's all a bit flim flam...'
Where to next?
Celebrity MasterChef 2013 contestants