The 10 best Bake Off innuendos
The Great British Bake Off has become famous for its saucy sayings - here's 10 of the best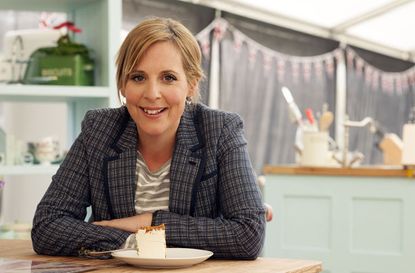 The Great British Bake Off has become famous for its saucy sayings - here's 10 of the best
The Great British Bake Off has become famous for its saucy sayings - here's 10 of the best.
Are you as addicted to The Great British Bake Off as we are at goodtoknow? If you're a fan, you can't help but notice the large amount of innuendos on the show. Phrases like "soggy bottom" and "perfectly moist" are now part of the Bake Off lingo - there's even an official Bake Off book called How to Avoid a Soggy Bottom.
Cheeky presenters Mel and Sue have a brilliant ability to say things like "keep an eye on your jugs" with a straight face. Judges Paul Hollywood and Mary Berry are just as bad. Mary Berry may be the queen of baking, but she's responsible for some of the naughtiest remarks on the show, with comments like "there it is looking perfectly stiff".
It's all part of what makes The Great British Bake Off so fun. Beautiful cakes and bakes, funny presenters and lots of saucy puns...no wonder everyone loves the Bake Off.
Read on for our pick of the 10 best Bake Off innuendos...
Mel's jugs
"Keep an eye on your jugs."
Mel kicks off the series 4 innuendo count with this saucy advice for the bakers.
"Irregular balls"
"That's how you get those irregular-shaped balls."
Paul's talking about pastry...of course.
Cheeky Rob
"I'm looking forward to giving you one!"
Mischievous season 2 contest Rob did not impress Mary when he offered her one of his bakes with this remark.
Soggy bottoms
Beware the "soggy bottom". This cheeky phrase is now a regular part of the Bake Off lingo, as contestants try to avoid damp undersides to their cakes and bakes.
Mary's naughty remark
"Your lovely sausage!"
Mary Berry might be a baking queen but she still slips in a few double entendres on the Bake Off, like this comment to season 3 winner, John Whaite.
Sue's baps
"Time to slap those baps down."
Co-presenter Sue Perkins loves a good innuendo, like this one from bread week in series 3.
Mary strikes again
"I've got the taste of nuts coming through."
We're not sure Mary realised what she was saying when she made this comment!
Mischievous Mel
"Bakers are doing their best to get an extra inch."
We love it when Mel (and Sue) make remarks like this with a completely straight face.
"Perfectly stiff"
"There it is looking perfectly stiff."
Mary shows Paul how to whisk his egg whites into peak condition.
Paul Hollywood
"There's a lot of moisture in there...that's why it wets the finger."