What's all the fuss about? Our mummy blogger trials latest obsession, the vegetable spiralizer
The vegetable sprializer has become the must-have gadget for 2015 and it's only the beginning of February! Our mummy blogger Anneliese finds out what all the fuss is about...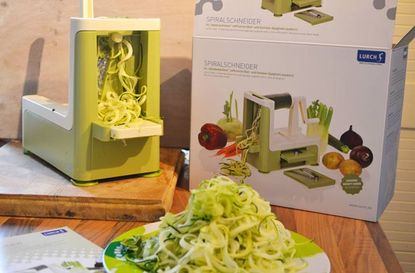 GoodTo newsletter
Sign up to the GoodTo Newsletter. You can unsubscribe at any time. For more information about how to do this, and how we hold your data, please see our privacy policy
Thank you for signing up to . You will receive a verification email shortly.
There was a problem. Please refresh the page and try again.
The vegetable sprializer has become the talk of the year, the must-have gadget for 2015 and it's only the beginning of February! This crazy little gadget will turn your courgettes, carrots and other veg into spirals or spaghetti-like strands.
Whether you're looking to turn your everyday meals into fancy restaurant-worthy dishes or you want to trick (ok, encourage!) your kids to start eating a little healthier, the spiralizer should do the trick.
We're determined to find out what all the fuss is about with a little help from our mummy blogger Anneliese. Over to you Anneliese...
The vegetable spiralizer: A way to up your 5-a-day count?
The World Health Organisation recommends that we should all eat our 5-a-day to lower the risk of serious health problems. We all know that fruit and vegetables are good for us. However, it's not always easy to reach the 5-a-day target, especially if you live with fussy eaters! Children are notorious for disliking fruit or vegetables and often both. It can be a struggle to provide a child with a healthy, varied diet if they refuse point blank to try it!
When I heard about the spiralizer, I was immediately drawn to it. A gadget that turns most fruit and vegetables into attractive spirals that resemble spaghetti, noodles and ribbons - how clever! Perhaps it would help me to hide vegetables from my picky eaters and in turn, encourage them to try new things. No doubt this would also be a handy device for those who are unable to eat gluten, or someone trying to cut back on carbohydrates. Vegetable 'spaghetti', such as courgetti, is certainly a healthy alternative to ordinary pasta and something I was keen to try.
My first thoughts
The spiralizer is compact and lightweight. It comes with a set of instructions and two recipes. At first I was disappointed by the brief instructions but as soon as I tried out my spiralizer, I knew why. The spiralizer is extremely easy to use, so a long list of instructions would be unnecessary. The step-by-step photographs fulfil their purpose perfectly. After my first attempt, I was hooked!
Neat and tidy does the trick
I like how the spiralizer has a storage compartment in the base where two of the three blades slot neatly into place. This means that I have no excuse to lose them! There was some resistance when I pulled the blades from the storage base. However, this is actually a good thing as the blades are unable to fall out when the spiralizer is picked up and moved around. It would also be difficult for very young hands to pull them free. The blades are, of course, very sharp so it's a good job to have two of the blades tucked away, though it's a shame there is not enough space for all three.
Like magic!
When I came to use the spiralizer, a blade was already slotted into the blade receptor so all I had to do was attach my vegetable of choice. I used a courgette as I'd heard it was a good starting point because they are quite soft and make a good spaghetti replacement as "courgetti". Following the simple step-by-step instructions, I was soon watching spirals of courgette tumble from the machine, like magic! It was an exciting moment!
Later on, my four-year-old helped me to finish the job and he giggled with delight! He is not a fan of courgette but he told me that it looked delicious and later enjoyed my carbonara. I'd used the spirals of courgette to replace the pasta and he ate the lot. I was amazed and delighted!
The after mess
I must admit that I was dreading cleaning the blade after use. However, it wasn't much different to cleaning a grater, though a lot sharper! Thankfully, the spiralizer just required a quick wipe and was soon ready to pack away. The spiralizer is a great gadget, but it will undoubtedly take up valuable storage space. It is, though, something I hope to use frequently; it is worth making room for it!
Once you spiralize, there's no going back
The next day I was keen to get it out again and on this occasion I made a simple salad. This was no ordinary salad as it was spiralized! I tried cucumber and carrots but unfortunately I couldn't do anything other than slice my tomato. The spiralizer is great for most vegetables and fruit but things such as tomatoes and berries are not suitable and would no doubt result in a disappointing mess. However, I was thrilled with my pretty spiralized cucumber and carrot. It definitely made my salad much more appealing; I munched away happily, dreaming about what I could spiralize next! The opportunities are surely endless...
What can you make with it?
From salads to pasta dishes, you can have plenty of fun creating new and exciting recipes with your spiralizer. My favourite recipe made with this nifty gadget is a delicious, creamy courgetti carbonara. Mmmm...
How to make courgetti carbonara
This is a carbonara with a difference. There will be no need to add pasta to your shopping list as courgettes are used in its place. A spiraliser transforms the courgettes into pretty spirals, which are then cooked in a creamy carbonara sauce. If you are looking to hide fruit and vegetables in your child's food, you could go one step further and peel the courgettes, then they will really be none the wiser! This is also a great recipe if you are looking to cut pasta from your diet. With the creamy sauce and crispy bacon, there's no chance of missing the pasta!
Ingredients
3 medium courgettes


1 tsp salt


6-8 rashers of bacon, sliced


1 garlic clove, crushed


2 large eggs, plus 1 extra egg yolk


125ml double cream


75g parmesan cheese, finely grated, plus a little extra for sprinkling
Method
First of all, slice the top and bottom from the courgettes, making sure that the cut edges are straight. If your courgette has a crooked edge, it will not attach properly to the spiralizer.

Following the manufacturer's instructions, attach a courgette into your spiralizer. Rotate the crank handle on your spiralizer, in a clockwise direction, without stopping and your courgette 'spaghetti' will start to appear; be sure to have a plate ready to catch it!

Gather up the courgette 'spaghetti' and place into a colander or sieve. Sprinkle the salt over the courgette and leave for at least half an hour. The salt will help to draw out any excess water.

Meanwhile, add the pieces of bacon to a large frying pan and cook over a medium heat for a few minutes, until the bacon starts to brown. Add the crushed garlic and continue to cook for another minute or two.

While the garlic is cooking with the bacon, use your hands to squeeze the excess water from the strands of courgette.

Add the courgette to the frying pan and cook for a further 2-3 minutes. Meanwhile, whisk together the eggs, egg yolk, double cream and grated parmesan. Pour the creamy sauce mixture into the frying pan and continue to cook for another 2 minutes, until the sauce begins to thicken and it coats the courgette 'spaghetti'. Serve with a little extra grated parmesan.