Is maternity pay going up in 2023?
Benefits are going up in April but will maternity pay be going up too?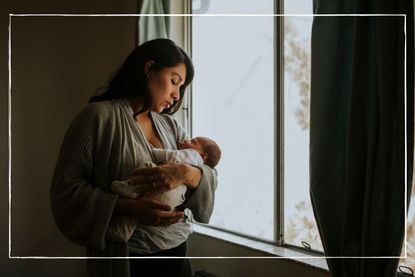 (Image credit: Getty Images)
After it was announced that benefits will rise with inflation, will maternity pay follow suit and go up in 2023? It's an important question to answer considering the impact the cost of living has had on family finances.
And understandably, the rising cost of living is especially concerning for those expanding their families. A key part of planning for your baby's arrival is understanding how much maternity pay you'll get (opens in new tab) and how that maternity pay is calculated (opens in new tab). You'll also need to understand who is going to be paying your maternity pay (opens in new tab).
Laura Suter (opens in new tab), head of personal finance at AJ Bell explains: "For lots of people on maternity leave, their maternity pay will be their only income, so it's important to know what you'll be getting and for how long, so you can budget for while you're off, but also work out how long you can afford to take off work."
Is maternity pay going up in 2023?
The good news is that statutory maternity pay will rise in 2023 to help new mums deal with rising costs. The weekly rate will be rising from the current level of £156.66 to £172.48 from April 2023.
Personal finance expert Laura Suter adds: "Maternity pay is one of the benefits increased by the Government each year, to help it keep pace with rising prices. Because the past year has seen such high inflation, the Government is increasing lots of benefits by 10.1% from April – including maternity pay. It means that the weekly rate is rising from £156.66 this year to £172.48 from 2nd April."
But Sarah Pennells (opens in new tab), consumer finance specialist at financial advisor Royal London, points out that it's also important to check whether you're eligible for statutory maternity pay. "To qualify for statutory maternity pay you need to earn at least £123-a-week and you will need to have been working for your employer for six months (26 weeks) before the 'qualifying week' - which is the 15th week before you're due to give birth."
You should also be aware that, even if you are eligible to statutory maternity pay, you may not get the full amount if you have lower earnings. Payments will be calculated as the lower of £172.48 or 90% of your gross average earnings each week.
Is maternity allowance also going up?
If you don't qualify for SMP at all, you may be able to claim maternity allowance, which is also going up by 10.1% in 2023. From April this year, the amount claimable will be the lower of £172.48, or 90% of average gross weekly earnings (up from £156.66 a week).
What about paternity pay or pay if I'm adopting?
AJ Bell's Laura Suter adds that paternity and adoption pay, as well as pay for shared parental leave will all go up at the same time. "So, anyone entitled to any of these benefits will see the rate increased by 10.1% from £156.66 to £172.48 from April," she explains.
What happens if I'm already claiming statutory maternity pay?
From 2nd April 2023 all statutory maternity payments will go up – it's not just for new claimants. That means if you are already receiving statutory maternity pay, you'll see your weekly payments go up by approximately £16 to the new rate of £172.48 for the rest of your maternity pay period.
If maternity pay is going up in 2023, does that mean my employer's maternity pay will go up too?
Unfortunately just because statutory maternity pay is going up, that doesn't mean any additional pay from your employer will also go up on 2nd April.
Finance expert Laura Suter explains: "There are often two parts of maternity pay: the money paid by the Government and the money from your employer. Lots of employers choose to offer more generous schemes than the Government statutory minimum, but this doesn't have to increase each year like the Government help.
"Instead, this is usually based on your own salary and the package your employer offers. However, lots of companies will offer enhanced pay for a certain period and then you'll fall back on to the Government's statutory pay. For example, they may offer higher maternity pay for six months and after then you just get the statutory minimum."
Am I entitled to maternity pay?
"If you're employed, check what your contract says about maternity pay, look on your employer's intranet or ask your HR department," says consumer finance expert, Sarah Pennells.
"If you want to find out how much statutory maternity pay you're entitled to, go to the Gov.uk website (opens in new tab) or Maternity Action (opens in new tab)."
Rachel Lacey is a freelance journalist with more than 20 years' experience writing about all areas of personal finance and retirement planning. After 17 years at Moneywise magazine as both writer and editor, Rachel now writes for a variety of websites and newspapers as well as corporate clients. She is passionate about financial education and simplifying money matters for all.