Should I set up a bank account for my baby?
Whether your new baby has been given money as a gift or you want to start saving on their behalf, should you set up a bank account for them?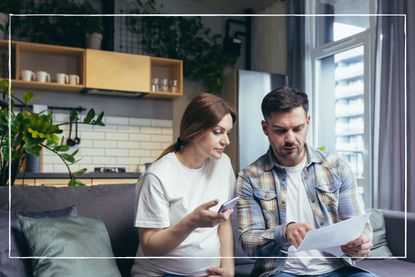 (Image credit: Getty Images)
If you want to start saving for your baby's future, you might be wondering whether you should open a bank account for them. But while some bank accounts for kids are only suitable when your child reaches a certain age, there are options for babies that are well worth considering.
Money.co.uk savings expert Lucinda O'Brien said: "It's never too early to start saving for your child, as you can set up a savings account in your name when they are born with the sole purpose of saving for your child's future.
"The bank will normally ask to see your child's birth certificate during the application process. Then, when your child turns 18, they can access the money and the account will transfer to their name."
Should I set up a bank account for my baby?
If you want to start regular putting money away for your child's future, then opening a bank account for them is a good idea - especially if you could be earning interest on it.
Opening a separate bank account will keep the money you put aside separate from other bank accounts you may have, such as your current account which you might use for paying your monthly bills. This can be really useful so you don't inadvertently spend any of the money you are trying to save.
If you want to save a little bit out of your income each month, it's a good idea to look at how much you have coming in each month and take away all your essential spending, like your mortgage or rent, council tax and bills, to see what you could afford to save. Then you could set up a standing order which will automatically move a set amount into your child's bank account each month.
If that's not an option right now, you could deposit any money that your child might be gifted from friends or family into the account, or just put a bit away as and when you have it.
What kind of bank account should I open?
Opening a bank account for your newborn might sound like a good idea – but it's important to realise that there are only certain types of account that can be opened for babies.
If your baby is very young, you can open a savings account, Junior ISA or pension for them. But you might have to wait until they are a bit older before you can open a current account in their name. With a current account, banks require the child to be aged 11 or over before they can have this type of account in their name. At this age, the child will normally need to be accompanied by a parent or guardian when they open an account themselves.
From birth, you can open the following types of account for your child:
Child's saving account
Junior ISA
Pension.
Child savings accounts
Children's savings accounts often pay higher interest than adult accounts. But, like adults, children have to pay tax on any interest they earn. However, like adults, they also benefit from the tax-free personal allowance for income tax (£12,570 for the tax year 2023/24).
"Children's savings accounts offer competitive interest rates in comparison to adult accounts, so it's definitely worth exploring the different types available," says personal finance expert Lucinda O'Brien.
For example, the Halifax Kid's Monthly Saver has a 12-month term and pays 5.50% interest. You can save between £10 and £100 each month – but withdrawals are not allowed during the term unless you close the account.
Junior ISA
With a Junior ISA, parents and other family members can pay in up to £9,000 a year and your child won't have to pay tax on the interest earned. But while your child can take over managing the account when they turn 16, they won't be able to withdraw any of the money until they are 18 years old.
Anna Bowes, co-founder of Savings Champion, adds: "The Junior ISA (JISA) is an obvious option as this is a tax-free savings account that can even be rolled over into an adult ISA from the age of 18 – maintaining the tax-free wrapper.
"The downside is that there is no access at all until 18 – and the child will then have unfettered access to the account at that point, so parents need to be aware of this."
Pension
Only a parent or guardian can open a pension for a newborn baby or child (there's no minimum age). You can pay a maximum of £2,880 per year into this, with 20% tax relief making this up to £3,600.
Is it ever too early to set up a bank account for your baby?
Although it's difficult to open a current account for your baby, it's never too early to open a savings account. A child's parent, grandparent or guardian can do this. You can open a savings account as soon as your child is born. Most children's savings accounts can be opened with a minimum balance of £1, although some require an opening balance of £10 or more.
While your child is under 7, the savings accounts must be held in trust, which means you retain control of the account and any withdrawals. When your child turns 7, they can manage the savings account themselves.
Savings Champion co-founder Anna Bowes adds: "By starting to save early, it's amazing just what sort of a next egg your child could have to give them a healthy financial future.
"And there are plenty of options as money can be saved into tax-efficient savings accounts or investments, or even a pension, from birth."
Contributions from
Contributions from
Sarah Handley
Sarah is Goodto.com's Money Editor. After segueing into the world of personal finance from the Homes sector, and acting as launch editor of Goodto's sister brand TheMoneyEdit.com, Sarah now focuses on family finance. She is passionate about cutting through confusing jargon to help people make sound financial decisions, avoid overspending and set themselves and their families up for a financially-stable future.
Emma Lunn is a multi-award-winning journalist who specialises in personal finance and consumer issues. With more than 18 years of experience in personal finance, Emma has covered topics including all aspects of energy - from the energy price cap to prepayment meter tricks, as well as mortgages, banking, debt, budgeting, broadband, pensions and investments. Emma's one of the most prolific freelance personal finance journalists with a back catalogue of work in newspapers such as The Guardian, The Independent, The Daily Telegraph, the Mail on Sunday and the Mirror.