How did Nadhim Zahawi make his money? Plus, his tax allegations explained
The MP has been under scrutiny due to his tax affairs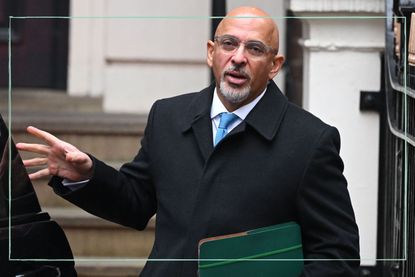 (Image credit: Getty Images)
The Conservative Party Chairman and his tax affairs have been in the headlines recently, leading many to ask how did Nadhim Zahawi make his money?
The finances of politicians are often a popular topic among members of the public. From what is Rishi Sunak's net worth (opens in new tab) when he became Prime Minister to how much do ex-Prime Ministers get paid (opens in new tab) when Liz Truss left office, there are many questions that people want answering. Now, the politician being scrutinised is Nadhim Zahawi, Chairman of the Conservative Party and former Chancellor of the Ex-Chequer.
The MP is facing allegations that he failed to pay his taxes by using an off-shore company, and amid the current cost of living (opens in new tab) crisis it's no surprise that the public are eager to know the truth of the issue. While Zahawi maintains that this was a "careless and not a deliberate error", it's not the first time that his finances have been the subject of scrutiny, and now many want to know how did Nadhim Zahawi make his money?
How did Nadhim Zahawi make his money?
Nadhim Zahawi has made his money through his career in politics and co-founding the polling company YouGov. Alongside Stephan Shakespeare, Zahawi grew the business and within five years of founding it floated on the London Stock Exchange valued at £18m.
In 2008, Nadhim Zahawi was named Entrepreneur of the year by Ernst & Young for his work on YouGov, but in January 2010 he stood down from the market research company to run for election as MP for Stratford-on-Avon, which he won. He has held the seat in the West Midlands ever since.
As an immigrant to the UK, I founded my own business, @YouGov, in a garden shed. Today, I spoke at a #BlackLivesMatter event @LDNTechWeek about business owners from underrepresented backgrounds, their challenges, and how government can help. pic.twitter.com/VL3kNSj7egSeptember 4, 2020
See more
Born in Baghdad in 1967, Zahawi comes from an influential family. His grandfather had been the governor of the Central Bank of Iraq, his father a businessman-entrepreneur and his mother a dentist.
However, he and his family was forced to flee the country in 1976 after Saddam Hussein came to power and the dictator began to target the Kurdish minority. They arrived in their new home in London when Zahawi was 11 years old.
He was privately educated at both Ibstock Place School and then King's College School, but his family lost everything except for their Vauxhall car following a failed investment by his father just before Zahawi was set to go to university.
His mother pawned jewellery to cover the cost of his fees, and Zahawi went to study chemical engineering at University College London.
After graduating in 1988 he reportedly set up a firm selling T-shirts and Teletubbies merchandise, before meeting former MP Lord Jeffrey Archer in 1991 at an event. Lord Archer recognised his skills as a "born organiser", and Zahawi became an aide to Archer, who helped him win a seat as a Conservative councillor Putney in the London Borough of Wandsworth.
After setting up YouGov in 2000 and working as the firm's CEO, Zahawi re-entered the world of politics in 2010 when he was elected as the MP for Stratford-upon-Avon.
Since then, Zahawi has held prominent positions in government, including Education Secretary and Chancellor of the Ex-Chequer. He is currently in the Cabinet as Minister without Portfolio and Conservative Party Chairman.
Nadhim Zahawi net worth
Nadhim's Zahawi's net worth is widely reported to be between £30million and £100million, and he is believed to be one of the richest MPs in the House of Commons.
The Mirror (opens in new tab) has previously reported that the Tory Party Chairman and his family have a £100million property portfolio, which includes a country home with stables, a £20m townhouse in London, a number of high-street properties and an industrial estate.
The Zahawi's personally own five residential properties worth at least £17m - three in London, one in Dubai and one in Warwickshire where his constituency is, which was reportedly bought for £875,000 in 2011.
Nadhim Zahawi: Tax allegations explained
In January 2023, The Sun On Sunday published a report claiming Nadhim Zahawi had paid a seven-figure sum to settle a dispute with HMRC over the sales of his YouGov shares.
The questions which have been raised concern whether or not the former Chancellor should have paid capital gains tax on his founding share in YouGov, and whether he tried to avoid paying tax by using an offshore company.
The Tory chairman said this was a "careless and not a deliberate error" and it is understood that he paid a penalty to HMRC.
This prompted Prime Minister Rishi Sunak to instruct his ethics adviser to investigate Zahawi's tax affairs, but so far he has resisted calls from Labour leader Keir Starmer to sack Zahawi.
Zahawi's tax affairs first hit headlines in July 2022, when it was reported that HMRC were investigating him, but at the time he said such stories were "inaccurate, unfair and […] clearly smears."
In light of the recent allegations from The Sun, Zahawi has said he is "confident I acted properly throughout" and that he looks forward to "explaining the facts of this issue" to the ethics adviser, Sir Laurie Magnus.
It's not the first time Zahawi has found himself in hot water over his finances. In 2013, he was caught up in an expenses scandal when it emerged he had claimed £5,822 to pay for the heating of the stables in which he kept his horses. He apologised for the error and repaid the money.
Video of the Week
Ellie joined Goodto as a Junior Features Writer in 2022 after finishing her Master's in Magazine Journalism at Nottingham Trent University. Previously, she completed successful work experience placements with BBC Good Food, The Big Issue and the Nottingham Post, and freelanced as an arts and entertainment writer alongside her studies. In 2021, Ellie graduated from Cardiff University with a first-class degree in Journalism.