Britain's biggest family welcomes new addition in adorable Instagram post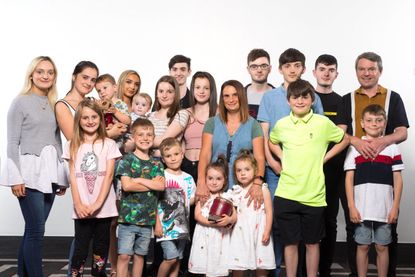 (Image credit: PA)
With 22 children, Sue Radford is mum to Britain's biggest brood - and has now celebrated the arrival of a new granddaughter.
Her daughter Millie, 19, gave birth Ophelia, and announced the news on The Radford Family Instagram this week.
Sue was quick to gush about the new arrival on Instagram, with a sweet black-and-white snap of her and her granddaughter's hands.
She wrote: 'Welcome to the family beautiful Ophelia. I can't even put into words how incredibly proud I am of @millieeradfordd you did AMAZING bringing this beautiful blessing into the world.
'We love you both so much.'
Other Radford family members were quick to follow, with Millie's sister Chloe, 24, writing, 'So happy and so bloody proud of you mil.'
Sibling Sophie, 25, added, 'I love you so so much my beautiful niece. So proud of you Millie.'
Following in her mum's footsteps, Sophie uploaded a black-and-white snap of her niece, with the caption:,'You are the most beautiful little blessing.'
Her brother Luke, 19, also commented, 'You've never been more ready mil.'
Fans followed suit by commenting on the positive news and sharing their well-wishes.
One follower commented: 'Absolutely amazing news!!! She is going to make an amazing mammy and will love every second!!!'
Another added: 'Congratulations to Millie and of course, all of the family. Enjoy your baby girl Ophelia Millie and welcome to motherhood.'
New mum Millie posted a snap of her daughter's feet on Instagram with news that Ophelia arrived at 7:05pm.
She said, 'The biggest chapter of our lives has begun.'
Ophelia is Millie's first baby, and she is no longer with the baby's father.
Her parents Sue and Noel, 49, other children include Chris, 31, Jack, 22, Daniel, 20, Luke, 19, Katie, 17, James, 16, Ellie, 15, Aimee, 14, Josh, 12, Max, 11, Tillie, nine, Oscar, eight, Casper, seven, Hallie, four, Phoebe, three, Archie, two, Bonnie, one, and Heidie - born in April.
The Radford family don't rely on state benefits, and get by with money from Noel's bakery business.
Hiya! I'm Emmie, Commissioning Editor and digital features writer for TI Media. I help plan your (hopefully!) favourite glossy magazines Chat, Woman and Woman's Own. All the stories that you read in these magazines have been hand-picked by me, just for you. I also contribute regular features to Goodtoknow.co.uk. I live in London with my bearded husband and whatever cat decides to come through my flat's cat-flap that day. Originally though, I'm a born and bred Geordie. Don't worry, I'll try my best to make sure that no Newcastle slang makes its way into my articles…areet, pet? Outside of work – surprise, surprise - I write! I'm a freelance lifestyle, culture and travel writer for national newspapers and online magazines, including Daily Mail, The Sun, The Mirror, Metro.co.uk, Glamour, Huff Post, Time Out London. I've written about everything from weight and mental health, to period sex and being a woman today. One of my career highlights was appearing on Channel 4's TV show 'Supershoppers' to talk about my great love affair with pasta. I'm also writing a book (pray for me!). Aside from pasta (and *maybe* my husband), writing is my greatest love. My dad often had his name appear in music magazines when I was growing up, and thankfully he kept them all for me. I remember sitting amongst these magazines skyscrapers as a kid, marvelling at the shiny covers, colourful pictures and bold words thinking 'My name will be in one of these one day'. My dream came true aged 23 when I officially graduated as an accredited journalist, and got my first ever magazine job. Feel free to follow my ramblings and mishaps on
Twitter
(opens in new tab)
– and please hit me up if you have any tips on how to write a book successfully without wailing every five minutes that I've only written 10 words in three weeks.