Vet issues warning about dangers of 'sweet tasting' antifreeze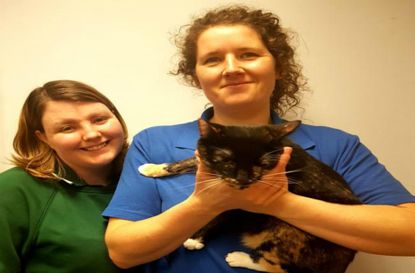 A vet has warned pet owners of the dangers of antifreeze after a cat is left fighting for its life due to drinking the poisonous liquid.
A cat owner is full of praise for the staff at Medivet, Heswall, as they work to save her beloved pet.
Liz le Gresley, said she first noticed something was wrong with her cat, Ella, when she began being sick.
She said, 'Ella hadn't been herself at all, and was completely off her food. When she started vomiting we rushed her straight to the vets.'
It was after examining her that vets at the Wirral vet's surgery identified what was wrong with Ella.
A series of blood tests confirmed Ella's condition was likely to be the result of antifreeze poisoning.
Now, branch partner and veterinary surgeon, Sharon Williams, has spoken out about the dangers of antifreeze.
She told the Wirral Globe, 'The chemicals in antifreeze, screen wash and brake fluid are sweet tasting to animals.
'This is why they're tempted to lick up any liquid that's been spilled.
'During the cold weather when people are using antifreeze on their windscreens there's a far greater risk to pets and wildlife.'
She advised that these types of liquids should always be stored in a safe, secure place.
Should there be any spillages they should be cleared up thoroughly and bottles disposed of properly, once finished.
READ MORE: Vet issues winter grit warning for dog owners as it can cause potential health problems (opens in new tab)
Thankfully the team at Heswall acted quickly to save Ella.
Though she is still fighting for her life, Liz said she is grateful for every member at the surgery.
She said, 'They have been brilliant from the start – showing compassion above and beyond the call of duty.
'They've given her a chance to fight - for that we can't thank them enough.'
If you suspect your pet has drunk antifreeze you should speak to a vet immediately.
Time is of the essence.
I'm Emma, a features writer for some of the nation's most popular women's magazines. Think Woman, Woman's Own and Chat Magazine. Now I'm expanding my remit and contributing regularly to GoodToKnow – aren't you excited? I'm a recent graduate from the University of Portsmouth where I obtained a first class degree and my gold standard NCTJ diploma. Since then I've worked exclusively in magazines starting on a luxury travel mag based in Dubai. (Though I worked from my sofa in Kent, so it was slightly less glam than you might imagine.) In 2018, I started working with TI Media and it's been amazing to finally see my name in print. Outside of work I enjoy the arts. I freelance for the theatre section of EntertainmentFocus.com and when I'm not writing I'm attending multiple dance lessons. Aside from writing and performing (a generous term perhaps, but just roll with it) you can find me binging the latest series' on Netflix, fan-girling over the latest Marvel movie or planning my next trip abroad. That's pretty much all you need to know about me, but if you'd like to know any more you can get a peek behind the curtain by following me on
Twitter
or
Instagram
.