This fun cola cake is infused with and inspired by the fizzy drink. Kids will love decorating this cake with their favourite sweets.
The method for this cake is the same as most sponge cakes. It involves creaming butter and sugar until fluffy and then folding in the remaining ingredients. We've flavoured the sponge with some orange zest to compliment the cola flavour but lemon, lime, vanilla and cherry would also work well.
Ingredients
175g (6oz) caster sugar
175g (6oz) softened butter
3 eggs
175g (6oz) self-raising flour
3/4 level tsp baking powder
Finely grated zest of 1 orange
For the drizzle:
For the decoration:
100g icing sugar
2tsp water
½ tsp vanilla extract
Colin the Caterpillar Cola Gums (42.5g)
Fizzy Cola bottles (21g)
1 tbsp Cola flavoured popping candy, optional
Method
Heat the oven to 180C (160C fan, Gas 4). Grease and line a loaf tin with a sheet of baking paper.
In a large bowl cream together the sugar and butter. Once light and fluffy and an egg, one at a time and beat well between each addition. Fold in the flour, baking powder and orange zest.
Pour the batter into the prepared cake tin and promptly place it on the middle shelf of the oven. Bake for 40 minutes or until golden brown, shrinking away from the sides of the tin and springy to touch.
Meanwhile, place the Coca-cola in a small saucepan and heat until reduced by half and thicker. Set aside.
Put the cake on a wire rack with a tray underneath to catch any excess drizzle. Poke several holes over the top and pour over the Coca-cola syrup and allow it to soak in.
Once the cake is completely cool, make the icing for the decoration. Mix the icing sugar in a small bowl with the water and vanilla extract until smooth. Pipe or pour over the cake then top with a selection of cola-flavoured sweets.
Top tips for making Cola cake
This cake is easy to make with the kids and can be adapted to use your favourite fizzy pop. You could make the cake into cupcakes for a children's party and let the little ones decorate their own cake with a selection of pick and mix sweets for a fun activity. Read our tips below to find out exactly how to get children involved and also how to store the cake once baked.
How can kids help make cola cake?
You can let the children weigh out the ingredients and put them into small bowls. This helps to teach them about the different quantities of ingredients that go into making a cake. It also teaches them the importance of weighing ingredients accurately. If the butter is still a little hard, let the kids beat it a little in the bowl on its own. This can be done with a wooden spoon or electric whisk.
Supervise them while they cream the butter and sugar together and then let them fold in the remaining ingredients. Let them pour the batter into the cake tin and level with the back of a spoon.
The syrup may splutter so it's best you do this part but once it has cooled down a little and the cake it out of the oven they can spoon it over. The decorating stage will likely be the most enjoyable stage for kids. You may notice a few sweets don't make it on top of the cake!
Can you freeze cola cake?
Our cola cake is based on a classic drizzle sponge cake. Therefore it is perfect to freeze as long as it is not iced.
What Cola sweets should you use to decorate this cake?
We think a selection of fizzy and regular cola bottle sweets would look effective. You can also buy cola flavoured laces which could be twisted and layered up. You could also twist the laces to spell a name or happy birthday if you like.
You can also buy cola flavoured snakes or caterpillar sweets from the supermarket and popping candy is always a fun decoration as it looks unremarkable but brings an exciting eating experience.
For this recipe you need to make Coca-cola syrup for the cake soak. We like to use a small non-stick saucepan for this task as it's lightweight and easy to clean.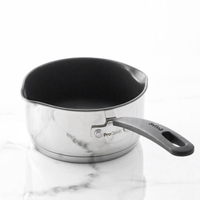 Gourmet Stainless Steel Milk Pan - View at ProCook
This 14cm saucepan has a capacity of 1.1 litres. It has two lips for pouring which is very useful when making the Coca-cola syrup but will be good for other recipes too. The non-stick coating makes it easy to clean and useful for things like caramel. The pan is oven-safe to 260C and can also be cleaned in the dishwasher if you want. It's compatible with most hob-types including induction.
For more fizzy pop inspired and infused bakes, you have to try our chocolate cola cake. Our coke float cupcakes are perfect for picnics and parties. For something less adventurous but undeniably easy and tasty, our lemon cake is the perfect bake.