Our lemon cupcakes are easy and delicious to make. They have a lemon curd centre and you can omit the icing if you want to keep them simple.
This cupcake recipe includes buttermilk in the cake batter which gives a wonderful light finish to the baked sponge. Although we have decorated the cakes with icing flowers, you could also simply dust the cupcakes with icing sugar for a delicious but simple finish. The recipe makes 12 cupcakes but you could easily half the ingredients and make six if you have fewer people to bake for.
Ingredients
Zest of 1 lemon
2 tbsp of fresh lemon juice
80ml buttermilk
115g unsalted butter at room temperature
150g golden caster sugar
150g self-raising flour
¼ tsp baking powder
2 eggs
½ tsp vanilla extract
For the toppings:
150g fondant
150g icing sugar
2 tbsp lemon juice
Yellow food colour
Sprinkles of your choice, optional
Method
Heat the oven to 160C (140C fan, Gas 3). Line two deep hole muffin trays with 12 paper cases.
Add the zest and lemon juice to the buttermilk and leave to one side.
Cream the butter and sugar until light in colour and fluffy.
Combine the flour with the baking powder. Add the eggs one at a time to the butter mixture with a third of the flour mix and stir until just combined. Repeat until all the flour and eggs have been added.
Add the buttermilk mixture and vanilla extract then fold with a metal spoon until everything is combined.
Fill the cases to 2/3rds full (this will leave you enough room for the icing) and bake for 25 minutes until golden brown and spring back to the touch. Remove and cool on a wire rack
When the cakes are cooled, cut out a piece of cake in the middle of the cake and pop a teaspoon of lemon curd in the hole then replace the piece of sponge to fill the hole.
For the topping: Roll the fondant and cut 12 large flowers using a large flower cutter. Using a small flower cutter or a round cutter, cut the centres out of the large flowers. Leave to dry on parchment paper.
Mix the lemon juice into the icing sugar a little at a time until you have a thick shiny paste. Add the yellow colouring and mix again.
Spread a thin layer over the tops of the cooled cupcakes and pop a flower on top – do this straight after icing each cake otherwise the surface will crack once it's set.
Add sprinkles to the centres of each flower and leave to set.
Top tips for making lemon cupcakes
If your lemon icing is too thick, add a dash of water to make it thinner. You could also opt to add more lemon juice for a zinger flavour.
You could also top these classic lemon cupcakes with lemon buttercream instead. Lemon buttercream can be easily smoothed over the top of the cupcakes with a palette knife or can be piped on using a piping bag.
What is buttermilk and is it essential?
Buttermilk is slightly soured or fermented milk. It's thicker than milk with a distinctive tangy taste and it really improves the texture of sponge cakes. You can buy it readymade in shops but the great thing is, it's really easy to make your own.
How do I make my own buttermilk?
Simple pour the milk into a large mug and add a scant teaspoon of lemon or lime juice. (You can also use vinegar, but with this recipe, you will already have lemons to hand). Stir it in and leave it to ferment at room temperature for about 10 minutes. It's that simple.
Alternative decoration ideas for lemon cupcakes
Instead of cutting out flowers from fondant icing, you could use wafer flowers instead. You could also use fresh or dried edible flowers which look very elegant. You could scrap the flower theme altogether and simply top the cupcakes with the thin icing made from icing sugar and lemon juice. Or make a buttercream and pipe it on top.
For a lighter option, simply dust the cupcakes with a little icing sugar. Instead of cutting a hole in the cakes you could also put the lemon curd on top of the cake and top with a fresh raspberry. The combination of yellow and pink is very attractive and it will taste fantastic together too.
For this recipe you'll need a deep muffin tin tray. You can use two six-hole trays or consider buying this 12 hole one from Wilton for ease.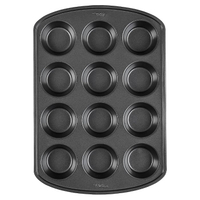 Wilton Muffin and Cupcake Tin - View at Amazon
This non-stick, heavy-weight tin is perfect when making our lemon cupcakes but can be used for many other recipes too. You could make Yorkshire puddings in the tin or some classic blueberry muffins for an indulgent afternoon snack or breakfast on the go.
For another classic bake you must try Mary Berry's foolproof lemon drizzle cake. Although if you'd prefer to stick to cupcake size these mini lemon cakes are super cute and tasty. Those looking for a sophisticated twist on lemon drizzle should try out lemon pound cake which has cream cheese in the batter for a rich finish.
Parenting advice, hot topics, best buys and family finance tips delivered straight to your inbox.