This classic lemon traybake is the ultimate crowd-pleaser and makes for a wonderful afternoon treat when enjoyed with a cup of tea.
If you love the flavour of our lemon drizzle cake we're confident you'll enjoy this cake too. It requires seven ingredients and takes around an hour to prepare and bake. It's a simple recipe that kids can help make too so be sure to read our tips if you want some help involving them in the process.
Ingredients
175g (6oz) butter, softened
175g (6oz) caster sugar
175g (6oz) self-raising flour
Finely zested rind and juice of 1 lemon
3 medium eggs
For the topping:
3-4 level tbsp lemon curd
250g (8oz) icing sugar
Method
Heat the oven to 180C (160C fan, Gas 4). Grease and line a 26 x 16.5cm (10¼ x 6½in) oblong tin. Ensure there is a little overhang as this will make it easier to lift out once baked.
To make the cake batter, beat together the butter, sugar, flour, lemon zest and juice and the eggs until smooth.
Pour into the prepared tin and bake in the centre of the oven for 40 - 50 minutes or until the cake is risen, golden in colour and springs back when lightly pressed with your hand.
Remove the cake from the oven and leave it to cool for 10-15 minutes, then transfer it to a wire rack to cool completely.
In the meantime, make the topping. Spoon the lemon curd into a piping bag and cut off the end of the bag to make a small hole.
Tip the icing sugar into a bowl and stir in enough water to give it a soft consistency. Working quickly, spread the icing over the top of the cake, then pipe parallel lines of lemon curd widthways across the top of the cake, at about 2cm (¾ in) intervals.
To get the slightly zig-zag design, drag the tip of a cocktail stick or the point of a knife across the lines lengthways across. Work quickly before the icing sets. Leave the icing to set before trimming away the edges of the cake and then cut it into 15 cubes.
Top tips for making lemon traybake
Looking for a boozy twist to this lemon traybake recipe? Perhaps you want to understand exactly how kids could help bake it. Follow our tips below and your baking experience will go as smooth as possible.
Can I freeze lemon traybake?
Yes you can freeze the un-iced cake once it is baked and cooled. It will freeze better if you wrap it whole but you could also cut into portions and wrap and freeze those. Defrost then decorate according to the recipe or your preference.
How can kids make lemon traybake?
This is an easy all-in-one cake making method. You can let the kids weigh out the ingredients and pour into the mixing bowl. If they are big enough to hold the electric hand mixer you can let them do this or help them by holding on top of their hand. Start on a low speed and then gradually increase to avoid ingredients spilling out.
Kids can help level out the raw cake batter in the tin using the back of a spoon. They can also help with the decoration, though if they are very young, expect the finish to be a little more rustic. If you still want to attempt the feathered affect you could pipe the lemon curd lines and let them drag the fork or cocktail skewer through to create the iconic pattern.
Can you put gin in icing?
Yes! If you would like an extra burst of flavour, instead of making the icing with water, use a combination of gin and lemon juice. You could also use other spirits if you prefer but lemon and gin is a classic combination.
To work quickly and efficiently we recommend using an electric hand mixer in step two of this recipe. If you don't have a set, consider investing in this cordless mixer from Cuisinart.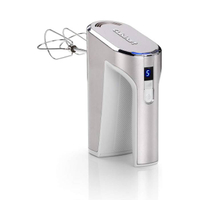 Cuisinart Cordless Power Hand Mixer - View at Amazon
This rechargeable cordless hand mixer is a great piece of kitchen equipment. By ditching the cord you say goodbye to dragging a cord through your cake batter or being restricted as to where you can do your cake prep because you need to be by a plug. This mixer has five power settings and a full charge will enable 20 minutes of continuous use.
If you prefer cakes without an iced topping, our lemon cake with olive oil is a wonderful option and it is incredibly moist. You could also try our lemon pound cake which has a denser texture compared to this sponge. For something simple but impressive, make our lemon cake with poppy seeds.
Parenting advice, hot topics, best buys and family finance tips delivered straight to your inbox.