How to make a paper-plate sun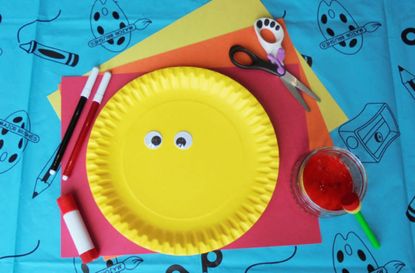 This sunny paper plate craft will brighten up your day with its beaming smile and warming rays.
You can't go wrong with this simple but effective craft. All you need is a paper plate, sugar paper, enough felt tips to draw on a happy face and you're laughing.
If you can't get hold of a coloured paper plate just get the kids to paint one, then let them have fun creating their own sunny face with a toothy grin, arching eyebrows or even a moustache - it's up to them.
Stick their paper-plate sun on the fridge or on a beanpole in the garden for a smile a day.
Age group: Kids as young as three can make this craft. They might just need help cutting out the sun rays. Follow our step-by-step instructions on how to make a paper-plate sun...
What you will need
1 yellow paper plate
1 yellow A4 sheet of sugar paper
1 orange A4 sheet of sugar paper
1 red A4 sheet of sugar paper
1 pair of googly eyes
1 red felt pen
1 black felt pen
Red paint
Round sponge brush
Scissors
Glue stick
Step 1
Paper-plate sun craft equipment...
Find a flat surface to work on and gather together all the craft materials you need to make a paper-plate sun.
Step 2
How to make a paper-plate sun...
Start off by cutting out the coloured sugar-paper triangles for the sun's rays.

Psst! If you want nice, equal-sized paper triangles...
1. Fold each of the coloured sugar paper sheets four times, like a fan
2. Press the fan flat
3. Then fold the fan in half (see the numbered diagram above)

Step 3
With the fold at the top, draw a triangle on the front, then using scissors cut out the triangle and you'll be left with lots of lovely, equal-sized triangles.

Step 4
Stick the sun rays on to the back of the paper plate using glue stick.

Step 5
For the paper-plate sun's happy face...
Turn the sun over, stick on the googly eyes, then using felt pens draw on black eyelashes and a red smile. To make your paper-plate sun really beam from ear to ear, print on two rosy cheeks using the round sponge brush dipped into the red paint.

Step 6
Stick your paper-plate sun to the fridge door or on the end of a beanpole in the garden and that's it! Your beaming paper-plate sun is ready to brighten up your day.

Design created by Jennifer Shepherd for goodtoknow.co.uk.

For crafts materials such as coloured paper plates, sugar paper, googly eyes etc. visit Baker Ross, a family run craft business who are the leading suppliers of arts and crafts to schools and other organisations across the UK and abroad, based in Walthamstow, London.

Where to next?