A Night In With Marilyn Monroe by Lucy Holliday book review
Read our review of the hilarious follow up to A Night in With Audrey Hepburn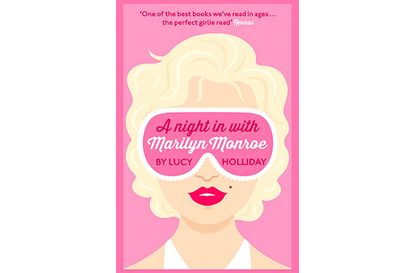 GoodTo newsletter
Sign up to the GoodTo Newsletter. You can unsubscribe at any time. For more information about how to do this, and how we hold your data, please see our privacy policy
Thank you for signing up to . You will receive a verification email shortly.
There was a problem. Please refresh the page and try again.
What is A Night In With Marilyn Monroe about?
If you're a Sophie Kinsella fan, say hello to your new best friend in the form of Lucy Holliday's fun, heartwarming and laugh-out-loud read!
Libby Lomax, like many of us, is struggling to be a good sister, daughter and friend, especially when the craziness of her life seems to be getting in the way. Determined to get over her hot, good-for-nothing ex-boyfriend Dillon O'Hara, Libby throws herself into dating and helping out best pal Olly as he opens a new restaurant.
When her life is further disrupted by the unwelcome arrival of her ex, and a surprising house guest in the form of Marilyn Monroe, Libby is dealt another blow - will she be strong enough to resist his charms and take Marilyn's advice while she still can?
GoodtoKnow says...
The value of friendship is something we all need reminding of now and again. As Libby balances her feelings for her ex Dillon with a successful career and supporting her self-obsessed (and equally hilarious) sister Cass, her focus on being a good friend to Olly falls by the wayside. But when Libby finds herself replaced by someone new in Olly's life, it becomes clear that she could be about to lose something she didn't know she had in the first place.
When Marilyn turns up on an old antique sofa offering up life advice, Libby isn't sure how her words of wisdom and guidance (particularly when they involve a spritz of Chanel No. 5) can be at all relevant to her life complications. But there's a lesson to be learnt in what the starlet is staying - it's time for Libby to stop acting like the 'graham cracker' nobody wants, and channel her inner 'snickerdoodle' before it's too late...
If you love a bit of chicklit, then this will definitely fall into one of your top reads of the year - just make sure you set aside enough time to read it cover to cover in one go! Preferably with a Marilyn-inspired Manhattan cocktail to hand...
Rating: 8/10 Publisher: HarperCollins Publish Date: 3rd December 2015