Adele highlights incredible seven stone weight loss in gorgeous makeup-free selfie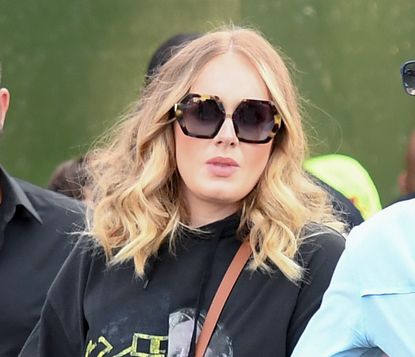 Adele delighted fans on Saturday by returning to social media with a gorgeous makeup-free selfie.
Adele highlighted her seven-stone weight loss in a tight brown top as she paid homage to Beyonce, whose Already music video she was watching on her TV.
As well as her slimline figure, the singer radiated beauty as she showed off a new curly hairstyle.
Gushing about Beyonce's latest release, Adele wrote, 'Thank you Queen for always making us all feel so loved through your art.'
Adele's weight loss has not come overnight. Since 2010 the singer has undergone an lifestyle overhaul – and her new look is a million miles away from when she first entered the music scene.
However, it was on her 32nd birthday in May that her dramatic transformation was really highlighted as she posed in a little black dress on Instagram.
Adele's former personal trainer, Camila Goodis, previously told Lorraine Kelly how the star reduced her calorie intake and did daily workouts. "She's working out but I think 90 per cent of it is diet," said Camila.
MORE: Adele's weight loss secret revealed: the diet and exercise plan the singer used to shed 7st (opens in new tab)
"It's a good diet to shed the weight. The first week is intense, green juices and only 1,000 calories. She doesn't look too thin – she looks amazing."
Adele reportedly adopted the Sirtfood diet alongside her workouts. As well as ditching ten daily cups of tea (with two spoonfuls of sugar in each!), the singer cut out caffeine, alcohol, cigarettes, and all "spicy, citrusy, and tangy" foods.
Speaking to Vogue in 2016, Adele admitted that after she started making lifestyle changes, it was soon easy to see the benefits.
'I was trying to get some stamina for my tour, so I lost a bit of weight,' she explained. 'Now I fit into normal, off-the-shelf clothes, which is a really big problem for me!'
A Freelance Writer and Content Editor, Jenni has been working on the women's lifestyle team at TI-Media on and off for over three years. She writes about your favourite celebrities and TV shows so you never miss an update. Jenni also writes beauty news and features - so for all of your skincare and make-up needs, drop her a line.