Adele's weight loss journey: How the singer lost 100 pounds
Adele looks absolutely incredible, and we just can't stop looking at pictures of her!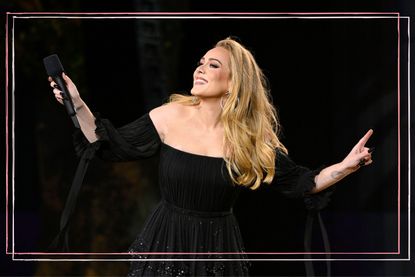 (Image credit: Getty Images)
Adele's incredible weight loss has been the subject of headlines since the singer first wowed fans with her new figure, so it's no surprised that everyone wants to know how did Adele lose weight?
Adele has always looked amazing, but the Grammy Award-winning singer made headlines when fans noticed that she'd lost around seven stone. The star reportedly first started her weight loss journey before her mammoth 13-month '25' album tour in 2016, and what started as a fitness journey to meet the demands of touring turned into a dramatic transformation.
She looks so good that its no surprise everyone wants to know how she did it. Those who have previously followed diets that work fast (opens in new tab) - promising to lose two stone in eight weeks (opens in new tab) or lose a pound a day (opens in new tab) - may have found the results disappointing, so lets take a look at Adele's tried and tested method...
How did Adele lose weight?
Adele credits her weight loss transformation to working out and has dismissed any ideas that she'd taken on a rigorous diet plan. She told British Vogue (opens in new tab): "No intermittent fasting. Nothing. If anything I eat more than I used to because I work out so hard."
When Adele's weight loss first came to public attention, many speculated that she had adopted the Sirtfood Diet (opens in new tab), after she revealed that she had cut out caffeine, alcohol, cigarettes, and all "spicy, citrusy, and tangy" foods for a time. But Adele has discredited the claim that she tried this diet and has instead shared the exercise routine she adopted.
Speaking to Vogue, the singer described her lockdown workout routine: "So I do my weights in the morning, then I normally hike or I box in the afternoon, and then I go and do my cardio at night," she said.
Adele also mentioned that she'd gotten into deadlifting, starting with just 10 pounds and training her way up to 170 pounds, which she now lifts regularly. She said in the same interview, "I'm an athlete. I love it."
The singer did make some other lifestyle changes over the years, however, like quitting sugar (opens in new tab). In 2015, she admitted to drinking about 10 cups of tea a day, each of them with two sugars in.
"Now I don't drink it and I have more energy than ever," she said.
Adele also told Vogue in 2016 that she had started making some changes to her lifestyle when preparing to go on tour. "I was trying to get some stamina for my tour, so I lost a bit of weight," she explained. "Now I fit into normal, off-the-shelf clothes, which is a really big problem for me!"
As fans noticed that Adele has lost weight, rumours of extreme diets (opens in new tab) and exercise regimes surfaced. The star's personal trainer for the tour, Pete Geracimo, took to Instagram to set the record straight, revealing that weight loss wasn't the reason Adele started her fitness journey, but rather to get back into exercise after giving birth (opens in new tab), improve her overall health and boost her immune system (opens in new tab), alongside other goals.
He said in his post: "When Adele and I started our journey together, it was never about getting super skinny. It was about getting her healthy. Especially post pregnancy and post surgery.
"When 25 dropped and the tour announced, we had to get ready for a 13 month gruelling schedule. In that time, she warmed to training and made better food choices. As a result, she lost considerable weight and people took notice."
Adele's weight loss journey so far
Experts estimate that Adele has lost an incredible 7st since her music career first took off in 2010. The transformation didn't happen overnight, and the singer's new look is a million miles away from when she first entered the music scene.
But it's only in the last couple of years that Adele has spoken personally about her weight loss, and she explained to British Vogue why she didn't share more on social media at the time.
"I did it for myself and not anyone else. So why would I ever share it? I don't find it fascinating. It's my body," she said.
"People have been talking about my body for 12 years. They used to talk about it before I lost weight. But yeah, whatever, I don't care," she said. "You don't need to be overweight to be body positive, you can be any shape or size."
The singer has also said that her workout routine, which she credits for her transformation, wasn't just about changing how she looked physically.
"It was because of my anxiety. Working out, I would just feel better," she told British Vogue, adding that it was "never about losing weight, it was always about becoming stronger and giving myself as much time every day without my phone. I got quite addicted to it."
The singer revealed that she placed trust in her trainer to help her feel more at ease working out and exercising every day gave her "discipline", and helped to fill her blank schedule.
Although, Adele's schedule is not so blank anymore. Following the release of the first single from her newest album (opens in new tab), Easy On Me, in October 2021, the star has been pretty busy and has had a Las Vegas residency at The Colosseum at Caesars Palace since November 2022.
Adele only acknowledged her weight loss in public for the first time in 2020, when she appeared on Saturday Night Live.
"I know I look really, really different since you last saw me," the singer said to the audience, referring to her last live public appearance as a headliner at Glastonbury Festival.
"But actually, because of all the Covid restrictions...I had to travel light and I could only bring half of me, and this is the half I chose," she quipped.
Before the SNL set, which saw a massive 5 million viewers tune in, Adele's posts on Instagram (opens in new tab) have shown the star slowly slimming down as she continues her weight loss journey.
Adele's weight loss regime
Reformer Pilates
Adele is reportedly a fan of Reformer Pilates to strengthen her body, which helped aid the singer's weight loss. And she's not the only celeb fan of the exercise - Meghan Markle (opens in new tab) reportedly swears by it too and the musician also went along to classes with close friend Ayda Field, X Factor judge and wife of singer Robbie Williams.
Reformer Pilates involves doing pilates moves on special machines and reportedly improves posture, flexibility and balance. It's also great for weight loss.
Gym sessions
Adele has clearly been working hard, and although recently she's described how much she loves working out, you'll be pleased to hear that, just like the rest of us, sometimes her attitude is less than enthusiastic.
"I mainly moan. I'm not, like, skipping to the f****** gym. I don't enjoy it," the star told Rolling Stone magazine, "I do like doing weights. I don't like looking in the mirror."
She took to her Instagram to share a behind the scenes snap picturing just how she feels about working out sometimes.
The North London singer has also explained how heavy lifting can be damaging to her complexion. "Blood vessels burst on my face really easily, so I'm so conscious when I'm lifting weights not to let them burst in my face. And if I don't tour, you'll catch me back down at the Chinese."
A girl after our own hearts!
Focusing on health and happiness
Adele has gone through a big weight loss journey, but she refuses to be defined by her weight, and we love that her life mantra has always been about happiness first and looks second.
Some call her a body positive role model, and she's previously said "I think no matter what you look like, the key is to first of all be happy with yourself.
"And then you know if you want to try to improve things that you don't like about yourself, then do it after you appreciate yourself."
Recently, Adele credited the self-help book Untamed by Glennon Doyle (opens in new tab) for helping her transform her life, after her amazing seven stone weight loss.
She told her 51.2 million followers on Instagram, "If you're ready - this book will shake your brain and make your soul scream. I am so ready for myself after reading this book! It's as if I just flew into my body for the very first time. Whew! Anyone who has any kind of capacity to truly let go and give into yourself with any kind of desire to hold on for dear life - Do it. Read it. Live it. Practice it."
She continued, "We are a lot! But we are meant to be a lot! 'A good life is a hard life!' Read this book and have a highlighter on hand to make notes because you'll want to refer back to it trust me! I never knew that I am solely responsible for my own joy, happiness and freedom!! Who knew our own liberation liberates those around us? Cause I didn't!! I thought we were meant to be stressed and disheveled, confused and selfless like a Disney character! ProBloodyFound!! You're an absolute don Glennon ♥️"
Related features:
Video of the Week
Grace Walsh is a Features Writer for Goodto.com, covering breaking news health stories during the Covid-19 pandemic as well as lifestyle and entertainment topics. She has worked in media since graduating from the University of Warwick in 2019 with a degree in Classical Civilisation and a year spent abroad in Italy. It was here that Grace caught the bug for journalism, after becoming involved in the university's student newspaper and radio station.