Mum's hilarious 'wine workout' routine video goes viral
Finally, an exercise routine we can get on board with!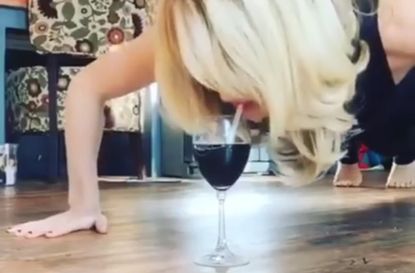 A mum-of-one's workout video has gone viral after demonstrating a unique exercise routine involving wine.
The short clip, which was originally posted on New Year's Eve on April Storey's personal page, and later shared on the 'Once Upon A Wine' Facebook page, shows the fitness coach performing a series of stretches, press-ups and bicep curls, using bottles of her favourite beverage as weights.
'Once Upon A Wine's post has since been shared almost 240,000 times, and has had over 18 million views, with commenters exclaiming 'That's my kind of workout!!!', and 'Why isn't there a workout DVD yet?!'
https://www.facebook.com/onceuponawine/videos/759275657540355/
Of course, there were critics who pointed out the fact that drinking while exercising might not actually be the healthiest choice, to which April, 24, responded:
'Kinda cool to see a fun wine workout video I made has over 13million views. That's a lot of fitness and wine lovers! I had to laugh at some of the comments. Most people got the humor but some legitimately thought I drank while working out so disclaimer: do not drink and exercise. Always drink responsibly and in moderation'.
When she's not indulging in a tipple, April is actually a cycling coach and fitness guru who shares motivational health posts with her followers. And while she's keen on a wine workout on special occasions...
https://www.facebook.com/coachaprilstorey/videos/vb.1634967133439955/1679531232316878/?type=2&theater
... she also offers the people on her page valuable advice on nutrition and non-alcoholic exercises, as well of snippets of her life as a mum to adorable daughter Brielle.
https://www.facebook.com/coachaprilstorey/videos/vb.1634967133439955/1679177789018889/?type=2&theater
https://www.facebook.com/coachaprilstorey/photos/a.1634985420104793.1073741828.1634967133439955/1678803159056352/?type=3&theater
In an interview with KRCR News about the success of her wine workout, April explained, 'I was getting ready to do a workout and I saw the wine there and I thought, you know, that would be kind of funny, to incorporate wine into this workout video.'
'That's what Facebook is for, right? Just sharing all the things we're doing every day', she added. 'It makes fitness fun. [People] were making their own videos, they were doing different things with it.'
And while she doesn't condone drinking and working out simultaneously, she adds, 'What I want to show people with my videos is that fitness is something that you can do every day, you can do it anywhere and you can use anything.'
Wine workouts you can do at home
On average, a standard 750ml wine bottle weighs around 2lb, making it a useful replacement for a light exercise weight.
Just be careful to hold the bottle tightly and ensure your grip is secure before you embark on your exercise, and no drinking while you sweat (unless it's water, that is!). You could also use other household items like water bottles or tinned food.
Biceps curls Hold a bottle of wine in each hand and use it in the same way you would a dumbell, lifting each one up to your chest and slowly lowering it again. Repeat for 20 reps, or more if you feel you can manage it!
Shoulder shapers Copying April's last exercise in the video, hold the bottles vertically and then lift them behind you to target your back and shoulder muscles.
Squats Grip the bottles firmly, place your feet apart and gently squat - the weight of the bottles will give you extra resistance and tone your thighs and bum in no time!
Wall sits Lean your back against a wall, bending your legs in front of you as though you are sitting in an invisible chair. Hold the wine bottles out in front of you, and maintain the position for as long as you can...
Parenting advice, hot topics, best buys and family finance tips delivered straight to your inbox.
Trusted, informative, and empathetic – GoodTo is the ultimate online destination for mums. Established in 2007, our 15-year-strong archive of content includes more than 18,000 articles, 1,500 how-to videos, and 7,000 recipes.