Bargain beauty secrets of the stars
Looking like an A-list celebrity may be a lot cheaper than you think. We reveal their high street beauty bargains they can't live without.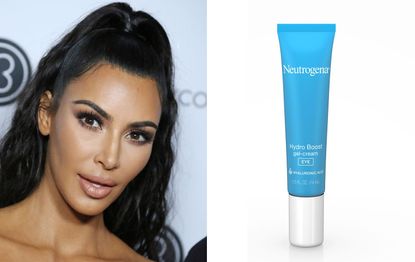 Looking like an A-list celebrity may be a lot cheaper than you think. We reveal their high street beauty bargains they can't live without.
Think looking like an A-list celebrity means spending lots of money on pricey hair cuts, new teeth and a bathroom full of posh beauty products? Not if these bargain beauty secrets of the stars are anything to go by...
Looking like Victoria Beckham, Cheryl Cole, Holly Willoughby or even Meghan Markle doesn't have to mean spending a small fortune on a Hollywood make-up bag full of potions and lotions. Nope, lots of our favourite celebs swear by natural or cheap beauty products that you can pick up for a few pounds from your local chemist or supermarket.
The bargain beauty secrets of the stars are out - and we've got them all right here, from the £2.99 nail polish Christina Aguilera loves to the moisturiser that Kylie can't live without.
Kim Kardashian
According to Kim Kardashian a good eye-cream is an essential part of your beauty bag - and thankfully her favourite product is very reasonably priced!
In fact, Neutrogena's Hydro Boost Eye Awakening Gel-Cream is currently on promotion in Tesco and costs just £6.66!
The cream usually retails at around £13 which is still very good given it has the backing of beauty-queen Kim!
Buy it from Tesco (opens in new tab)
Victoria Beckham
Victoria Beckham's flawless photo-ready skin isn't just down to good luck – hurray!
The mum-of-four is said to love This Works In Transit Camera Close Up cream which works as a moisturiser and primer.
Priced at the reasonable sum of £25, you can pick this cream up easily online or from your local Boots.
Victoria first tweeted about the cream back in 2014 and said: 'This does work!'
We're surprised it's still in stock but can imagine it won't be for long...
Buy it from Beauty Bay (opens in new tab)
Victoria Beckham
Victoria Beckham's bargain moisturiser could transform your skin and she's not the only celeb who raves about it.
Julia Roberts and Rihanna are also said to be huge fans of Weleda's Skin Food moisturiser.
Speaking to The Gloss, Victoria said: 'What I love about it is that it's not particularly expensive and you can find it anywhere. The formula is so thick and buttery.'
She added: 'When I have a tan, I'll mix it with coconut oil—the same you use to cook with—and cover my entire body with it.'
According to the Weleda website you can use the cream as a face mask, lip bam, make-up primer and even a treatment for split ends.
Convinced? Buy it from Weleda
Meghan Markle the Duchess of Sussex
At Meghan and Prince Harry's wedding, the bride-to-be opted for a subtle nude nail polish from Essie.
This brand is loved by the royal family and the shade 'Ballet Slippers' is listed on Essie's website as the only shade the Queen will wear.
It is also thought to be the shade worn by Kate Middleton on her wedding day to Prince William.
At just £7.99 from Boots, it's hard to find a reason why you wouldn't want to invest...
Buy it fromBoots (opens in new tab)
Victoria Beckham
Victoria Beckham has been a beauty and fashion icon since the 90s but we always assumed high street products weren't a part of her beauty regime - turns out we were very wrong!
Speaking to beauty website Into the Gloss, Posh Spice revealed Bioderma's Sensibio H20 wipes are the only product she uses to remove make-up from her face.
'The only face wipes that actually take off all my makeup are the Bioderma ones. I always use a cleanser after, but these wipes really get everything off,' Victoria said.
Bioderma's Sensibio H20 wipes, which are infused with micellar solution and are ideal for people with sensitive skin, cost £7.10 in most UK high street stores so we reckon they're worth a try!
Alesha Dixon
Who would have guessed that the secret to Britain's Got Talent star Alesha Dixon's gorgeously glowy skin was under a fiver?
Celebrity make up artist Francesca Neill says that she uses COLLECTION's Speedy Highlighter on the judge's cheek and brow bones to give her some extra 'luminosity' - and judging from her recent appearances on the ITV show, we'd say it's definitely done the trick!
If you want to recreate Alesha's look for yourself, pick up a COLLECTION stick for just £3.99 at Boots or Superdrug and give it a swipe over the areas you want to light up - blend using your fingers or a soft, small brush and you'll be good to glow!
Britney Spears
Britney's makeup artisit, Mélanie Inglessis, shared a video on Instagram showing the foundation she used on the beloved pop queen's face before her performance at the Apple Music Festival.
Not only does this foundation last through hours of hot, intense and physically demanding shows, it's also such a steal and is available to buy in the UK!
At £12.50, in a great range of shades, the EX1 Cosmetics Invisiwear Liquid Foundation is perfect for skin tones with a yellow undertone, such as golden or olive.
Buy it from lookfantastic.com (opens in new tab)
Kate Middleton
We're not sure we know a woman alive that wouldn't happily swap her own tresses for Kate's stunning head of hair. And now, thanks to her hairdresser, we're one step closer to achieving her look with this amazing tip!
Hairdresser to the stars Richard Ward, who Kate has been visiting for years, has revealed that the secret to her incredible locks is using the right brush.
He swears by the Tangle Angel, which costs just £10.95. Although it looks a little more suitable for one of the kids than on a grown up's dressing table, Richard explained to People magazine that it's great for 'lifting the hair from the roots to really get to the cuticle'.
Kate has been visiting Richard for over 10 years, so we're inclined to trust this advice!
Khloe Kardashian
As a known lover of luxury, who would have guessed that Khloe Kardashian was a fan of Maybelline?
The 31-year-old shared her love for the budget brand as part of her 'Beauty Breakdown' segment on her app, saying that their The Falsies Volum' Express mascara - which she uses in the shade 'extra black' - 'gives her life!'
She was introduced to the product by her make up artist, Joyce Bonelli, who 'beat her lashes' with the wand, and hasn't looked back since.
Want to get Khloe's fluttery look yourself? Head down to your local with £7.99 in your pocket and we think you'll be pleasantly surprised...
Michelle Keegan
Finally, the secret to arguably the best head of hair in celeb land is out, and you'll be thrilled to hear it won't break the bank!
Michelle Keegan's locks are the envy of most women, and it's hardly surprising considering how long, thick and shiny they look at all times. But now it seems the Corrie star has let us in on her healthy-hair secret, and it costs as little as £3.99!
The Beauty Works Miracle Spray, which the website describes as being a 'ten in one spray with a combination of Argan, Linen Seeds and Macadamia' is said to leave hair nourished and conditioned while protecting from heat. Starting from just £3.99 for a 50ml bottle, Michelle has confessed she can't get enough of the stuff.
'It gives the hair ultimate nourishment and conditioning. It is also a heat protector spray and helps to prevent those pesky split ends!' she told Look magazine. That's good enough for us!
Kylie Jenner
As part of a sisterhood known for their flawless make up, we were very interested to hear that the primer Kylie uses isn't from a fancy make up brand, but in fact from good old Nivea - and it's traditionally formulated for men!
The youngest Jenner sister let her fans in on her secret in a Snapchat post, in which her make up artist used a sponge to apply Nivea Men's Post Shave Balm to her face, noting that it needs to dry fully before applying foundation.
YouTube blogger Nikkie Tutorials, who is credited with first bringing the discovery to the Internet after borrowing the product from her boyfriend, explains, 'I looked up the ingredients and the second most-used ingredient in the balm is glycerin. What does glycerin do? It?s going to make whatever you put on your face stick to it.'
And the best news of all? The balm retails for just £5.29 at Superdrug, so it'll cost you next to nothing to give it a try!
Joanna Lumley
We love a retro beauty product here at GoodtoKnow, which is why we were just so excited to discover Joanna's bargain must-have!
Astra, an all-over moisturiser that's been around since the 1950s, is a beauty staple for many celebs including Kate Beckinsale, Patsy Kensit, TOWIE star Sam Faiers and, of course, the lovely Ms Lumley! She says:
'It comes in a little blue pot, cheap as chips - adore! It has never been tested on animals, and is about the only thing I've never developed an allergy to.'
This isn't the first time the Ab Fab star has been caught raving about the little pot of cream. In the past she said: 'I'm thrilled to try all sorts of face firmers and wrinkle-reduction creams, but the one I always come back to is plain, simple Astral cream.
'I've used it for over 35 years and it just works for me. I also use lashings of Astral moisturiser to take off make-up. I travel everywhere with a little pot of Astral in my bag.'
With a 200ml pot of the cream starting at as little as £1.94, you'll have to fight us for it!
Dawn French
We're used to celebs endorsing all kinds of fancy products, so we were pleasantly surprised to see the lovely Dawn sharing this snap of a pot of Nivea moisturiser on her Twitter account.
'No one paying me to say this, but in answer to all 'skin' enquires, please don't spend tons, this is it for me,' the 58 year old wrote.
It's not the first time she's spoken of her love for the brand. 'I can't bring myself to buy expensive creams as I have my mother in my ear saying "It's exactly the same as Nivea"' Dawn admitted previously.
She added that she prefers to stick to the same beauty regime as her mother and grandmother, admitting that she only spends 13 minutes on her hair and 13 minutes on her face before leaving the house.
Dawn's other family beauty secret is to use a muslin cloth to clean her skin, which she says 'is the best way to get any rubbish off your face'.
A tub of the Nivea Q10 Energising Day Cream pictured costs around £10.50, while a multipack of muslin cloths works out at less than £1 per piece.
Thanks Dawn, we can certainly get on board with these two beauty bargains!
Melanie Sykes
Melanie Sykes might be 45 on her birth certificate, but we reckon her face tells a much younger story - and it could all be down to an £8.99 eye product.
The mum-of-two has previously stated that 'I always try to use natural/organic products, especially on my face', so it should come as no surprise that she's a big fan of Dr Organic's range of beauty products, and in particular, their Virgin Coconut Oil Eye Perfect.
Coconut oil is known for its moisturing properties; this gentle treatment is applied under the eyes in a light tapping motion to smooth and hydrate the skin and minimise the appearance of fine lines. Judging by Melanie's incredible complexion, we'd say it's doing the trick.
Want to give it a try? Dr Organic's Virgin Coconut Oil Eye Perfect is available from Holland and Barrett (opens in new tab), priced £8.99.
Katy Perry
Red carpet glam isn't easy to recreate at home, but thanks to a tip-off from none other than Katy Perry, there is one aspect that might not be so far out of reach.
Katy looked groomed to perfection on the Golden Globes carpet in January 2016, accessorising her Prada dress with a half-up half-down beehive hairdo, but she couldn't resist sharing the root of her lifted locks - a good-old fashioned Bump It.
Speaking to actress Jennifer Lawrence on the red carpet, the 31-year-old singer pointed to her bouffant, exclaiming 'as seen on TV!' (a reference to the Bump It's TV advert). Shocked that such a basic tool could create a look so sleek, Jennifer even felt the hairstyle to confirm for herself, and the secret was out - Katy's 'do was indeed held up with a trusty plastic arch.
If you want to try the look for yourself, Bump Its are available on Amazon (opens in new tab) for as little as £2.99. Well, if it's good enough for an A-lister...
Kelly Brook
Kelly's hair always looks glossy and groomed - and now we know the secret to getting ours that way too!
The model and presenter has been going to hairdresser Daniel Galvin Jr for over 12 years - 'I trust no one else,' she says. 'His salon is a home from home.'
But when she's between appointments? She uses his Organic Head Detox Mask, which sells for a bargain £6 a pop.
Apparently, the intensive treatment revives colour and adds shine, whilst simultaneously boosting volume by removing product build-up from the scalp.
Sounds like a little miracle in a tube to us - and at the cost of a couple of coffee-shop lattes, one that we can actually afford!
Miranda Kerr
It might not seem like much of a luxurious beauty treatment, but apparently the secret to supermodel Miranda Kerr's fresh face is taking ice-cold showers.
The Victoria's Secret angel, who is mum to 4-year-old Flynn, told lifestyle website Beauticate that 'I have it on really nice and warm, then you go super cold. Even if you only do it on your neck downwards that's good enough. It feels so invigorating and is so good for your scalp and your face, it really wakes you up.'
Miranda also revealed that she's a fan of starting the day with a drink of warm water and lemon, followed by a green juice, and that she 'swears' by dry body brushing.
If habits this achievable give you a look this gorgeous, we might just have to start following in her footsteps...
Jennifer Lopez
Hands up who wants skin as incredible as J-Lo?
Okay, that'll be all of us of us then - which is why we're sure you'll be thrilled to hear that at least part of the secret to the 46-year-old's amazing complexion can be found in your kitchen cupboards.
The mum-of-two told TV show Watch What Happens Live that the two key factors to achieving her look are sleep (of course), and good old-fashioned porridge: 'That?s something that?s really good for your skin, they say,' she explained.
Jennifer is also said to be a fan of Dr. Hauschka Rose Day Cream, which comes in at around £30 a tube, but hey, if oats and milk can get us even halfway to that glow, we know what we'll be having for breakfast tomorrow...
Gabby Logan
This isn't the first time that 'wonder product' Bio-Oil has made its way into our bargain beauty round-up (model Abbey Clancy is also a huge fan) - and there's a reason why!
The 'cures everything' oil, which was launched in 2002, has become a staple amongst women everywhere thanks to its stretch mark, cellulite (opens in new tab) and scar-reducing properties, not to mention it's reasonable £8.95 price tag. Derived from calendula, lavender, rosemary and chamomile oil, it also has a light texture that leaves a dry feel rather than being too greasy.
The latest star to jump on the Bio-Oil bandwagon is television presenter Gabby Logan, who says: 'I used Bio-Oil a lot this summer. I like the way it makes my skin feel and it's good for nourishing your skin after exfoliating.'
Gabby, 42, also has one other great beauty tip that we can all try, which she shared with the Express: 'Sleep. You always look better after a good night?s rest.'
Victoria Beckham
When talking bargain beauty (or anything bargain, for that matter) Victoria Beckham isn't exactly the first person you might think of. But it seems when it comes to looking after her skin, the 41-year-old mum of four is happy to shun the more expensive products when she finds cheaper ones that work.
The designer can't get enough of 'Weleda Skin Food' (£9.95 for 75ml) - a nourishing and hydrating treatment for the whole body but particularly for hands, feet and elbows. It's been around since 1926, and Victoria can't get enough of it! She says: 'I carry a little tube of this to use on my hands throughout the day'.
VB has even been known to Tweet her love for the wonder product, posting a pic with the caption: 'This skin food from @wholefoods is amazing!!'.
Emma Bunton
She was known as Baby Spice for being the youngest member of the Spice Girls, and now that she's fast approaching her 40th birthday next year, Emma Bunton has kept her youthful glow - all thanks, it seems, to an absolute bargain of a beauty product!
Mother-of-two Emma has been sharing her makeup must-haves, revealing to Mail Online that she grabs any beauty products with 'anti-ageing on the label' to keep pesky wrinkles at bay.
'I like anything with anti-ageing written on it!' she said. 'Rodial are doing lovely things at the moment, I love their products. But sometimes I'm a Palmer's Cocoa Butter girl and I slather that all over me. It's great and it keeps my skin soft.'
She also revealed how her beauty regime has changed over the years since being a Spice Girl. 'I definitely take more time with my beauty regime now than when I was younger,' she said. 'I make sure I take my makeup off before bed and take care of my hair and skin. I'm going to be 40 in January and I want to keep my skin as supple as possible and my hair glossy!'
We've been huge fans of Palmer's delicious-smelling Cocoa Butter for years, and we're in good company! Plus, at £1.99 for a 60g tube, it's a skin-softening steal!
Kate Middleton
If this little red and brown bottle holds the secret to Kate Middleton's permanent glow, then ladies, get in line!
Kate is said to be a huge fan of natural oils, and Trilogy's Organic Rosehip Oil, £16.50 - known for its moisturising, softening and brightening properties - is reportedly one of the Duchess' absolute favourites. In fact, she loves it so much that, according to US Weekly, she used it throughout her second pregnancy - even converting mum Carole.
'Kate is very cautious of products and treatments,' a source told the magazine back when Kate was expecting Charlotte. 'Baby's health comes first. Kate continues to use rosehip oil in her daily skincare regiment. She loves the effect is has on her skin.'
Deborah Mitchell, Kate Middleton?s facialist, explains why the mum of two is such a devoted fan: 'Rosehip is perfect for all ages and skin types, including those with sensitive skin conditions like rosacea and acne. I add a drop to moisturiser to boost the results - Kate loves it because it gives skin a luminous glow'.
Natalie Portman
If the secret to 34-year-old Natalie's stunning beauty costs as little as £3.99, then we might have to start stockpiling the stuff. Because that's exactly how much Dr Bronner's Magic Soaps cost, and the star is said to be a huge fan!
'I like these fair-trade liquid all over body soaps. The lavender is a good one', she says.
The wonder product, which contains lavender, coconut oil and jojoba oil, is 100% organic and has a multitude of uses - 18 to be precise. You can use the soap for your face, hair and body, in fact you can even use it to clean the dishes and wash your make-up brushes!
Dr Bronner's soaps are the number one selling soap brand in the US, and is available from their website starting at £3.99.
Catherine Zeta-Jones
This is an odd one, so bear with us. But apparently, Catherine is a fan of using strawberries (yes, strawberries) to clean and whiten her teeth!
'The juice or pulp of strawberries contains malic acid which serves as an astringent and can lighten surface stains,' she said in an interview.
Want to try the Welsh beauty's teeth-whitening tip? Simply mash up a strawberry, dip your toothbrush in it and start brushing - just be sure to rinse your pearly whites thoroughly afterwards with warm water and a pinch of bicarb of soda (to reduce the acidity).
Gwyneth Paltrow
No stranger to a bargain beauty product, it's thought that Ms Paltrow is a huge fan of applying olive oil to her tresses!
'I often recommend that people use a half cup of olive oil and work it through dry hair, concentrating on the driest parts, combing it through but avoiding the roots,' Stylist reported.
And she's not alone, even Spiderman actress Emma Stone and beauty icon Sophia Loren are said to be fans of the hidden beauty properties in olive oil. 'I'm allergic to everything so I'm pretty limited. Anything that's oil, I want it all over my entire body,' Emma says. Ladies, get to the kitchen and start applying!
Jennifer Aniston
Ms Aniston looks incredible for her age (46 - we know, we couldn't believe it either!). It would be easy to put it down to expensive treatments and pricey products, but in fact, her beauty staple is a LOT cheaper than you'd think...
Jennifer has revealed she's a huge fan of Aveeno products (their £5.10 Daily Moisturising Lotion in particular), due to their natural, oat-based ingredients.
'Oats are very healthy. We eat oatmeal because it is a well-balanced breakfast thanks to the ingredients in the oat - it has antioxidants, it has lipids, it has vitamins. All things that are great for your skin,' Jen explains.
'My mum told me to moisturise constantly so I?ve taken care of my skin since high school and used Aveeno Daily Moisturising Lotion ever since I was a teenager.'
Well they do say mums know best... And if Aveeno is the secret to Jen's flawless skin we'll be bulk-buying some!
Amanda Holden
There's no denying that the 44-year-old Britain's Got Talent judge is looking more youthful than ever! But rather than putting it down to botox injections, which Amanda revealed she hasn't used since 2012, it's all to do with a product that costs as little as £6 a bottle.
'I gave up Botox after I had Hollie - for the last three years I haven't bothered', the star told Now magazine. Instead it seems she's the latest celeb to discover the benefits of soap-free Cetaphil Gentle Skin Cleanser (£6) - the go-to product for Hollywood stars such as Charlize Theron and Zoe Saldana.
'I swear by Cetaphil. It isn't fancy or expensive but does what I need it to do'.
See you in the queue at Boots, ladies!
Fearne Cotton
To be honest, if we looked this good without make-up, we're not sure we'd bother with the eye make up in the first place! But it's great to know that even stars like Fearne, who has beautifully flawless skin, aren't piling on the expensive products and going for budget beauty staples that really work instead.
Enter Simple's Kind To Eyes eye make-up remover, which the 33-year-old mum-to-be has said she's a huge fan of. 'This liquid makes removing my make-up easy and doesn't sting.'
It's not often you find an effective make-up remover that can even get rid of waterproof mascara and still be kind to sensitive skin, but this might just be it. And at a bargain price of £3.49 too!
Arlene Phillips
It's hard to believe that the outspoken former Strictly judge is 71 years old! And it could have a little something to do with her favourite day cream...
Arlene is said to be a huge fan of Urban Veda's Reviving Day Cream, an anti-ageing, anti-inflammatory cream with collagen production properties. She even took to Twitter to declare her love for the natural skincare brand:
'Roses and pomegranates on my skin morning & night make it glow. Thank you @urbanveda'
At £15.99 a tub, it could be worth the investment to look as glowing as Arlene at 71!
Holly Willoughby
Gorgeous Holly has been revealing her beauty secrets. The star told the Daily Mail that she swears by body exfoliators to keep her skin glowing, and one of her favourites is this 2 day shower oil, by Sanctuary Spa. She said, 'I think it keeps your skin more even-toned, especially in the summer.'
You can buy Sanctuary Spa's shower oil (opens in new tab) from Boots, for just £7!
Gwyneth Paltrow
If you've ever seen a picture of 42-year-old Gwynnie in a bikini, you'll know that she's got a fabulous figure - and after two kids, no less.
However, whilst the starlet is known for her love of healthy eating, apparently she also has another little trick up her sleeve to keep her looking slim - Epsom salts!
'I take an Epsom salt bath every night to wind down,' she explains - but there's more to these genius little flakes than destressing. Soaking in an Epsom bath is said to detoxify, relieve aches and pains, and help reduce bloating, leading to a flatter tum in less than half an hour.
And the best thing about this beauty saviour? You can get 200g of Epsom salts for just £1.49 in your local Boots!
Who knew Ms Paltrow was such a bargainista?
Myleene Klass
We can't imagine busy single-mum Myleene has much time to get ready in
the morning, so she sticks to products that make her feel gorgeous in a
flash. SteamCream is a moisturiser that you can use all over - that
means no faffing around with different products.
Buy it from SteamCream.co.uk (opens in new tab) for £12.95
Scarlett Johansson
Having the beauty world at her fingertips clearly doesn't impress Scarlett Johansson. Instead of paying out for pricey trips to the salon, she keeps her skin looking gorgeous at home by smearing on a mask made from honey. She's not the only one who thinks the stuff is the bees knees - Kate Middleton apparently has bee sting facials costing more than £100 a time!
Pick up a jar of honey from your local supermarket.
Emma Watson
Emma Watson's glowing complexion could be something to do with her love of organic skincare products.
Emma's make-up artist revealed that the product she loved the most was this Rambling Rose Lip, Face and Body balm - which costs just £2.99! Buy Rambling Rose balm now (opens in new tab).
Holly Willoughby
Busy mum-of-threeHolly Willoughy says that, without a doubt, Batiste Dry Shampoo is her number one beauty item.
It's perfect for when you're in a rush by giving your hair a quick refresh and volume boost without the hassle of washing it.
It's available in a range of scents at a bargain price of £2.35, which will last for ages! Buy Batiste Dry Shampoo now. (opens in new tab)
Kylie Minogue
Kylie Minogue has revealed her number one beauty product is Ponds Cold Cream.
She said: 'If there's one must-buy product then Pond's Cold Cream Cleanser is it.'
The moisturiser also works as a make-up remover and deep cleanser and is available at £4.07. Buy Pond's Cold Cream now.
Cat Deeley
Television host Cat Deeley hardly puts a foot wrong when it comes to beauty and she's revealed she loves Jergens Natural moisturiser.
It's available at £6.49. Buy Jergens Natural moisturiser now.
Kimberly Walsh
Glamorous Kimberley Walsh has revealed her beauty secret item is in fact, Sudocrem.
Traditionally
used for nappy rash and eczema, Kimberley and Cheryl would reportedly
use the cream during their Girls Aloud days to dry out spots overnight.
Small pots start from £2.80. Buy Sudocrem now. (opens in new tab)
Lorraine Kelly
Just by looking at Lorraine Kelly, you'd never guess the presenter was in her fifties!
She swears by using Dove pro-age nourishment body butter to keep youthful looking skin - not bad for £7.49. Buy Dove pro-age nourishment now. (opens in new tab)
Victoria Beckham
Ever wondered what Victoria Beckham keeps in that huge handbag? Well she's revealed that she's a fan of good old baby oil. And not for baby Harper, or treating hubby, David to a quick massage. Vic tweeted: 'Travel tip...put a layer of baby oil over face. Protects skin on plane, locks in moisture.'
Snap up some Johnson's Baby Oil (opens in new tab) for just £1!
Buy Johnson's Baby Oil (opens in new tab), £1
See David Beckham topless-->
Kate Moss
As one of the faces of Rimmel, it's no surprise Kate Moss is a fan of their range.
Her favourite product is the Kohl Eyeliner pencil - another staple for the make-up bag at the bargain price of £2.99. Buy Rimmel Kohl Eyeliner now.
Sienna Miller
Rather than heading to the salon after a nasty experience with a henna home-dye kit, Sienna Miller doused her tresses with ketchup to get rid of the green tinge.
If you are blonde and want a home dye back up, you can find tomato ketchup in all local supermarkets.
See our 50 simple hair tips to help keep your locks in prime condition.
Gwyneth Paltrow
After being recommended by a friend, Gwyneth Paltrow has revealed that her favourite thing about the UK is Boots and most importantly the store's No7 Face Cream.
You can reap the benefits of No7's Face Cream for £21 from Boots.com (opens in new tab).
Abbey Clancy
New mum Abbey Clancy is a massive fan of Palmer's Cocoa Butter, so much so she once said 'It's so cheap, I can just cake my body in it!' Beyonce is a huge fan too.
Bottles start at £3.77. Buy Palmer's Cocoa Butter now.
Abbey Clancy
It turns out Abbey Clancy suffers from dry skin just like the rest of us. She's revealed she's a big fan of Bio-Oil on her twitter page. The model tweeted: 'Covered my face in Bio-Oil last night, my skin feels amazing this morning #goodbyedehydration.'
Buy Bio-Oil for £8.99 from Boots (opens in new tab).
Sarah Harding
Girls Aloud star Sarah Harding like to shake up her style often, but she always starts the day by using Tisserand all-over wash.
The cleanser is great for blemish-tone skin types and is available for £6.75. Buy Tisserand all-over wash now.
Cheryl Cole
Cheryl Cole swears by E45 cream to get the smoothest skin.
She told a magazine: 'My skin can get very dry so I use E45 moisturiser. You don't have to use mega-expensive products, you just need to find the right products for your skin type.'
At £3.87 it's an absolute steal. Buy E45 now. (opens in new tab)
Kate Beckinsale
British actress Kate Beckinsale always looks flawless on the red carpet. The model's favourite mascara is Maybelline's Great Lash - a high street fave of many stars including Davina McCall, Alexa Chung and Rachel Bilson.
Kate
said: 'A lot of fancy mascaras flake and get cakey. Maybelline Great
Lash mascara is really cheap and you can get it anywhere.'
And at £5.19, it's one of the cheapest on the high-street. Buy Maybelline Great Lash now.
Scarlett Johansson
Red carpet hair needs to stay in place when all eyes are on you - and Scarlett Johansson has said on numerous occasions that Elnett is her first choice of hairspray.
It's another beauty product purchase that'll keep your bank balance happy too, at a price of £3.57. Buy Elnett Extra Strength now. (opens in new tab)
Emma Stone
We couldn't believe it either! Spider-Man actress Emma Stone recently revealed to French Elle magazine that she uses Bicarbonate of Soda as an exfoliating scrub.
As bizarre as it may sound, there are plenty of articles online deeming the baking product as a miracle for getting rid of dry patches and revealing glowing, radiant skin.
Well, if it works for Emma... Dr. Oetker's Bicarb of Soda costs a mere £1.09, making it one of our cheapest celeb beauty bargains to date!
Jessica Alba
Johnson's Baby Oil is a beauty must-have for a whole host of celebrities including Jessica Alba and Beyonce.Jessica told a magazine: 'I use a pea-sized amount with my usual moisturiser to create a subtle shimmer.'You can re-create the shimmer look too for just £2.85. Buy Johnson's Baby Oil now.
Christina Aguliera
Christina Aguilera is a massive fan of British cosmetic company Barry M, saying: 'Barry M cosmetics are fabulous, they're the only way to glam up an outfit!'
Their nail varnishes come in every colour you can think of and are available from £2.99 - a bargain fit enough even for a Hollywood star! Buy Barry M Nail Polish now.
Madonna
Madonna's in her early fifties but she definitely doesn't look it! Along with lots of yoga and dancing, the singer keeps her body orange-peel free with a little help from Dr Organic's Organic Royal Jelly Cellulite Cream. And she's not the only celeb who swears by the £9.29 cream - actress, Kate Hudson is a big fan too.
Buy it from HollandandBarrett.com (opens in new tab)
Sort your orange-peel with our cellulite-busting exercises (opens in new tab)
Rihanna
No matter how much partying she does, Rhianna always manages to look fresh-faced. How? Well her make-up artist has revealed that the singer can't get enough of American skincare brand, Per-fekt's hardworking products, especially their 3-in-1 Lip Perfection Gel. It's a primer, balm and plumper in one - not bad for £18!
Buy it from Beautybay.com (opens in new tab)
Trusted, informative, and empathetic – GoodTo is the ultimate online destination for mums. Established in 2007, our 15-year-strong archive of content includes more than 18,000 articles, 1,500 how-to videos, and 7,000 recipes.