How to get rid of neck wrinkles: 8 at-home treatments to try
It deserves the same care and attention as your face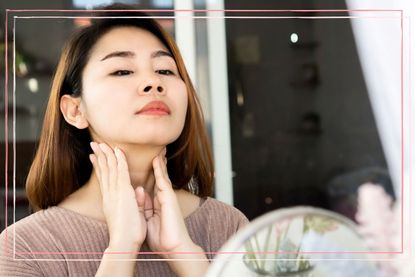 (Image credit: Future/Getty)
You're not the only one Googling 'how to get rid of neck wrinkles'. The neck is one of those neglected areas that immediately gives the age game away, but horizontal creases, crinkles and crepey skin below the chin are a natural, unavoidable part of the ageing process.
"As we age, skin loses its elasticity, due to a drop in collagen production," explains Faye Purcell (opens in new tab), Q+A's Skincare Expert & Development Chemist. "Posture and weight loss can also lead to sagging. Combined with the fact that our neck has fewer oil glands, this area of the skin is more vulnerable to dryness, sun damage, and over time, wrinkles." Let's be clear - unless you're going down the tweakment or plastic surgery route, nothing is going to get rid of neck wrinkles completely. Choosing dermal fillers, a thread lift or full neck lift are all perfectly justifiable and arguably more efficient ways of treating wrinkles across the neck - but for many of us, they may be too extreme and expensive. That's where a good skincare regime comes in.
Extend every product, from cleanser to skin toner (opens in new tab), down your neck too, then follow with a targeted treatment. No topical cream is going to funnel volume back into deep creases the way an injectable will, but a solid skincare routine with the right active ingredients can help to prevent wrinkles (opens in new tab) and make creases look less obvious. Neck lines are totally normal, but if you're self-conscious about yours that's okay. There are ways to soften their appearance and delay new ones from forming. Here's how to get rid of neck wrinkles, from simple lifestyle changes to the latest lifting creams and at-home treatments.
How to get rid of neck wrinkles:
1. Use a targeted neck cream
No topical product is going to magic away wrinkles, and conquering slack skin around the neck and jawline is no mean feat, but according to Dr Maryam Zamani (opens in new tab), Oculoplastic Surgeon & Facial Aesthetics Doctor, and Founder of MZ Skin, skincare and lifestyle can absolutely support "graceful ageing".
"As we age, the skin cycle elongates, and it takes longer for the production of collagen, elastin and skin regrowth," she tells us. "Often the effects of volume loss appear cumulatively later in life and therefore we are trying to reverse the impact. It is hugely important to use good skincare as early as possible to minimise and prevent the skin changes we have control over."
Your regular face cream will impart moisture, providing a temporary plumping effect but to make a real dent in the wrinkles across your neck and decolletage, choose elasticity-boosting creams designed for this delicate area. If you're wondering how to get rid of neck wrinkles the simple way, this would be our suggestion.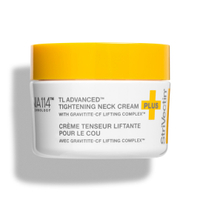 (opens in new tab)
StriVectin TL Advanced™ Tightening Plus Neck Cream - RRP £49 | Boots (opens in new tab)
This gravity-fighting formula tightens skin and pads out lines. At eight weeks, 90% showed tighter, more lifted skin on the neck & décolleté. As one reviewer said, "I like how my neck appeared both tighter and smoother. Wearing blouses that expose my neck is something I feel more confident in now" – Glorim, Age 46.
---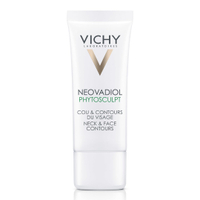 (opens in new tab)
---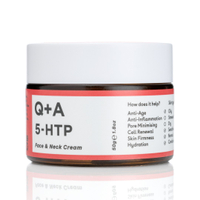 (opens in new tab)
Q+A 5-HTP Face & Neck Cream - RRP £12 | Amazon (opens in new tab)
Just like your face, the neck and chest are exposed to external aggressors like UV exposure and pollution. This pot contains a special ingredient from Griffonia seeds, which makes the skin more supple and protects against pollution. Apply daily to keep the neck plumped with moisture and eliminate crepiness.
---
2. Sort smartphone sag
Whether you're in the office or working from home, if you sit at a desk for eight hours a day, five days a week, pay attention to how you sit. Slouching and slumping increases the gravitational pull on your face, which will advance the onset of jowls, while glancing down towards a laptop, phone or tablet will shorten your neck muscles and lead to horizontal wrinkles across your neck. This is what professionals have dubbed 'tech neck'.
"A great way to prevent cases of tech neck is to be conscious of your posture when using technology," advises Dr. Dev Patel (opens in new tab), aesthetic doctor and founder of Perfect Skin Solutions. "Try using a laptop stand to elevate your device whilst at work and adjust your computer chair to the correct height to avoid subconsciously angling your neck to see the screen.
"Also try to hold electronic devices, such as your phone or tablet, upwards and in front of your face, rather than looking downwards. This will also benefit the health of your spine."
3. Tone with microcurrent
There are more high-tech ways that you can investigate when you're looking into how to get rid of neck wrinkles. Remember the ads for Slendertone, the pack that zaps your tummy muscles to tone them? Well, there are a host of new tools that do the same to your neck using microcurrent stimulation to re-educate muscles that have lost tone.
"Microcurrent therapy is a type of treatment that uses low-level electrical currents to stimulate the muscles and tissues in the face," explains Dr Maryam, who warns that the efficacy of microcurrent on sagging is not well established and requires further research.
"I do not think microcurrent helps sagging skin long term," she says, "however, any treatment that helps with lymphatic drainage and improved circulation can temporarily make the area look better."
Microcurrent has actually been around for hundreds of years. The first documented account dates back to 1748 when Swiss professor Jean Jallabert used a series of electric shocks to regenerate muscles in the paralyzed arm of a locksmith. Used across the neck and face, microcurrent stimulates the muscles and encourages collagen production.
"I've made the Foreo Bear part of my nighttime routine," says Beauty Editor, Stephanie Maylor (opens in new tab). "You download the app and select the 'workout' you want, then just follow along with the movements in the video. It's quick and easy, and doesn't hurt one jot."
Wrinkles aren't going to disappear overnight - you'll need to keep it up for 2 minutes per day for 30-60 days to see the full results.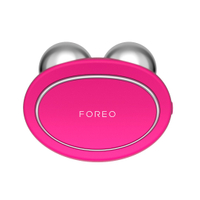 (opens in new tab)
FOREO Bear Facial Toning Device - RRP £319 | Look Fantastic (opens in new tab)
This palm-sized gadget sends electrical currents into the skin to stimulate the 69 muscles in the face and neck and train skin to produce more collagen and elastin. It's the first FDA-cleared medical microcurrent device with an Anti-Shock System, which means it adjusts the current to match your skin's own conductivity for maximum safety.
---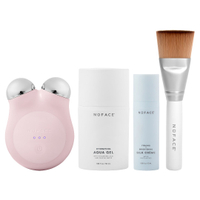 (opens in new tab)
NuFace Mini+ - RRP £240 | Current Body (opens in new tab)
This microcurrent devise allows you to customise your treatment using a dedicated app, sending personalised microcurrent waves to exercise your muscles and enhance facial contours. It comes in a starter kit with everything you need to perform the treatment.
4. Wear sunscreen
Prevention is better than cure, and you may not need to consider how to get rid of neck wrinkles if you've kept up good habits.
Recently, a shot of a woman's neck went viral - originally published in The Journal of the European Academy of Dermatology and Venereology (opens in new tab), it was used to demonstrate the importance of wearing sunscreen (if you haven't seen it, google 'woman sunscreen face and neck'). The 92 year old's face, protected by an unwavering dedication to sunscreen is flawless - unblemished and taut. Her neck, however, wasn't afforded the same due diligence, and appears crepey, slack and wrinkled. The take away? Using the best sunscreen for your face (opens in new tab), with an SPF of at least 30, on your neck and decolletage will help keep wrinkles at bay.
It might not have a smoothing effect on current lines and wrinkles but the act of applying sunscreen below the chin is proven to slow the breakdown of collagen and keep the skin looking younger for longer.
Apply around ½ tsp of sunscreen to the face and neck as the last step in your morning regimen before makeup, and reapply every 2 hours if out in the sun.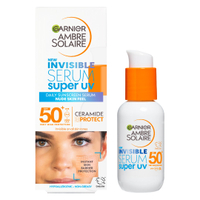 (opens in new tab)
---
5. Don't forget to exfoliate
If your neck doesn't usually get a look in on your regular facial exfoliation, give it some love - it's important to slough dead skin from below the chin, too.
"Dead skin cells make the skin look dull and dry," explains skincare expert and chemist Faye Purcell. Physical exfoliators with beads that scrub can be too harsh for the delicate skin across the neck and chest.
Purcell recommends using a liquid or chemical exfoliant instead. "Use a gentle exfoliator containing acids such as glycolic, lactic or salicylic. Remember, chemical exfoliation can make your skin more sensitive to UV, so ensure you protect any exposed skin with SPF, including your neck."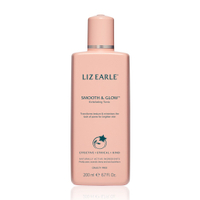 (opens in new tab)
---
6. Exercise your neck daily
Treating your neck to a daily workout has multiple benefits, including getting rid of neck wrinkles. By isolating and working each muscle, you can smooth lines and redefine your bone structure.
Carme Farré (opens in new tab) is a Pilates teacher and founder of the FaceToned® method, an on-demand facial fitness programme. It works like an online gym - once you download the app, you can log on for live and on-demand workouts.
"With FaceToned® you can achieve your best self by combining lotions – to improve the skin, exercises – the most important part of the method to tone and increase muscle volume, and massages – to increase blood circulation," explains Farré. You can download the app on the Apple (opens in new tab) or Google app store (opens in new tab), with a Facelift membership offering access to all content as well as live classes priced at £24.99 a month.
Farré has a particular routine that works like a lower facelift, to tone the neck, cheeks and jowls. If you're thinking about how to get rid of neck wrinkles, make this routine a daily habit.
Carme Farré's neck toning technique - step by step:
Before you begin, cleanse your skin and apply a serum to condition the skin and at the end, apply oil to massage.
For the massage, I recommend using a Gua Sha or Face Roller as it helps to increase the blood circulation and improve the results of the exercises.
Lengthen the neck upwards and bring the chin up slightly holding your collarbones with your hands, and slightly pulling down.
Now bring the chin forward and slightly up to hold the top lip with lower teeth, then try to touch the tip of the nose with your lower lip.
Now, lift up the corners of the mouth and pulse up and slightly down as if smiling for eight counts. Hold this position for eight counts and then relax.
Perform three times.
7. Try LED therapy
Once restricted to the salon, LED gadgets have hit the mainstream so you can treat skin from the comfort of your own home. These light therapy tools vary from handbag-sized wands to robotic-looking masks.
The LED part stands for 'light emitting diode', and involves sending different wavelengths of light into the skin to alter cellular function. Many devices offer different light colours to target your skin's specific needs. Blue light kills acne-causing bacteria to treat spots and blemishes, while yellow light targets hyperpigmentation and uneven skin tone. For neck wrinkles, choose red light, which stimulates the production of collagen and elastin to improve skin firmness and reduce wrinkles.
"LED light therapy (notably red light LED) does have some anti-ageing effects on the skin, by encouraging the body to produce more collagen, thus improving skin health," says Dr. Patel. "Red LED light stimulates fibroblast growth factors and also reduces inflammation."
Don't expect dramatic results, warns Dr. Patel. "Many devices, especially those for home use, will just not be powerful enough to deliver great results but used regularly, may still give benefit. In clinic we use both red light and near-infared light (NIR) in the form of Dermalux Triwave MD, for a more powerful anti-ageing result," he explains.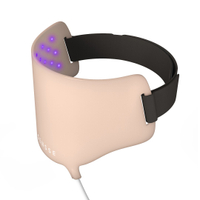 (opens in new tab)
Sensse Silhouette LED Neck Mask - RRP £129.99 | Amazon (opens in new tab)
Lie and back and relax with this hands-free LED collar for 10 minutes a day. It has a number of light therapy options but the red LED technology encourages collagen production to improve neck texture.
---
8. Master a massage
The way you apply products is a key part of how to get rid of neck wrinkles. Lifting your skin, toning your jawline and smoothing out neck wrinkles is as much to do with application as it is about ingredients.
Apply your creams using upwards sweeping motions to encourage lift and keep your muscles strong. "Neck lines are a natural process of ageing, but using regular massage movements to work your skincare products in for a more efficacious delivery can help to reduce the depth of lines and wrinkles," explains facialist and skincare expert, Michaella Bolder (opens in new tab). Here she shares her special massage technique to help smooth the neck.
Michaella Bolder neck massage - step by step:
After cleansing, apply a rich, nourishing moisturiser, neck cream or facial oil across your face and neck to perform the massage.
Stretching the neck to one side and working with the opposite hand, slide underneath and along the jaw finishing around the back of the neck using a firm pressure. Take the hand off and place at the beginning again, repeating the same move 8-10 times on each side.
Next bending the fingers, glide your finger knuckles down the sides of the neck at the same time finishing deep in the clavicle bone to stimulate the Lymphatic system. Repeat this move 10 times using a soft pressure.
To finish, bend both your index and middle fingers. Using the opposite hand to the face side pinch your chin between the fingers and move across the jaw with a firm pressure slowly out to the ear lobe. Repeating 6-10 times on each side.
What causes a very wrinkled neck?
Neck wrinkles are also compounded by lifestyle choices - and these are the things you CAN control. Constantly looking down at our phones, tablets and laptops will speed up ageing below the chin.
Sagging jowls, marionette lines (the vertical creases that run from the corners of the mouth down to the chin), and horizontal wrinkles across the neck could be down to overzealous screen time.
"The skin on our neck is particularly delicate and is constantly fighting against gravity as we move our heads around in daily life," explains aesthetician Kimberley Medd (opens in new tab), who is Head of Clinic at online beauty retailer Face The Future.
It's not just the irresistible effect of gravity that causes a wrinkly neck. Lower oestrogen levels and the cumulative effect of years of sun exposure deplete collagen, affecting the skin's bounce and elasticity. Too much sugar, smoking, yo-yo dieting and regular jogging (AKA 'runner's face') are also said to have a negative impact on jawline and neck definition.
"There are two types of neck wrinkles," explains Medd, "horizontal and vertical. Vertical neck creases are usually caused by sleeping in certain positions for a long period of time and are mostly genetic, while horizontal creases usually occur from a myriad of factors including loss of collagen production, sun and environmental damage, and keeping the neck flexed forwards for long periods of time, for example, while looking at your phone, or laptop screen."
What age do neck wrinkles start?
"Neck wrinkles and bands typically begin to develop in our 20s and 30s, as active collagen production ceases and current levels begin to deplete," says Dr. Patel.
"Neck wrinkles often appear before we start to notice them on our faces, due to how often we move our necks. They're becoming increasingly common in younger people in today's society, owing to how ingrained mobile phones and computer screens are in our lives."
We spoke to the following skincare experts:
Faye is a Skincare Scientist & Product Development Chemist at British beauty brands Q+A and The Elements. A self-confessed skincare science geek, she has always had a passion for Faye Purcell is 25 and cosmetics and skincare, paired with an interest in chemistry.
Dr Maryam Zamani is an Oculoplastic Surgeon and leading facial Aesthetics Doctor with over 15 years of Board-Certified, clinical experience. She has gained an international reputation for her pioneering rejuvenation techniques, and is particularly sought-after for the treatment of dark circles, hooded eyes, loss of volume and pigmentation.
Dr. Patel qualified from Guy's & St Thomas' Hospitals in London, in 2000, with a Bachelor of Medicine, Bachelor of Surgery, and an Honours degree in Genetics. Dr. Patel is a certified advanced aesthetics practitioner and by combining his dermatology and aesthetics knowledge, he is able to provide a truly holistic and patient-tailored approach to skincare. Dr. Patel was the proud winner of The Cosmetic Therapist of the Year Award 2013 and 2015.
Carme Farré is the founder of the FaceToned® method. In 2011, aged 39, she became a teacher of Face Fitness and Pilates and trained with Alan Herdman, Rael Isacowitz from BASI (Body Arts and Science International) and Eva Fraser in London. In 2013, she opened her own private studio, Studio Carme in London, and has been teaching facial exercises to hundreds of private clients ever since.
With over 10 years experience in the beauty industry, Michaella has gained a reputation as a truly iconic facialist and tanning expert. She is the go-to person for many celebrities including Dame Helen Mirren, Naomie Harris and Olivia Munn to name a few.
Kimberley Medd is a highly qualified aesthetician with over 22 years' experience working in the beauty, cosmetics, and aesthetics industries. She has been Head of Clinic at online beauty retailer, Face The Future, for the past 5 years.
Video of the Week
Stephanie is a Beauty Editor across five national women's magazine titles, with more than fifteen years' experience working within the beauty industry. She has been shortlisted for multiple awards at the J&J Beauty Journalism Awards, and was the runner-up at the Wella Hair Journalism Awards in 2009. She has written for many brands, including Grazia, Now, More!, Fabulous, Woman & Home, NW, Woman, Woman's Own, Woman's Weekly, Essentials, Best, Chat, Pick Me Up and OK! Online. In 2010 she launched her own beauty blog, which was also shortlisted for Best Beauty Blog in the 2011 and 2012 J&J Beauty Journalism Awards.