I've been sober for a year and these are the best non-alcoholic wines that don't make me feel like I'm missing out
The best non-alcoholic wines aren't just for Christmas - you'll want to sip these booze-free options all year round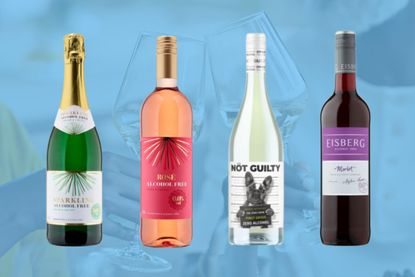 (Image credit: Future)
From whites, red and rosé to bubbles and mulled options, we've sampled the best non-alcoholic wines out there - and these are our favourites.
The festive season is almost upon us, and for many of us, that means our weekends are about to be filled with Christmas parties, family gatherings and more seasonal social occasions. Alcohol is a often common denominator in these events, but given the benefits of not drinking - not to mention the effects of alcohol on your skin - it's no surprise that one in seven adults in the UK choose to never drink alcohol, according to Drinkaware. And for the parents among us, giving up alcohol can be a practical life choice too, whether that's because you're breastfeeding or simply because you can't bear the thought of dealing with a toddler when you're hungover.
Laura Willoughby MBE, founder of the world's largest mindful drinking movement, Club Soda, explains, "Ultimately, we all know alcohol is not great for us. Cutting down won't do us any harm and finding a nice drink to fill that gap helps with your moderation targets." She adds, "Alcoholic wine is different to other alcohol because it is still, meaning we can drink it quicker, and once a bottle is open it is easy to finish. With a much higher ABV than beer (often near the 15% mark), we can end drunker than we realise. When it's time to change, many people find wine the most challenging drink to cut down or quit."
But non-alcoholic wine isn't just for those who've decided to give up the booze for good. Sometimes drinking every weekend just isn't practical for a busy parent, which is why you might want to consider trying some low and no options this festive season. We've tested 12 of the best alcoholic wines on offer - including sparkling and mulled options - and rated them by their taste, smell and appearance, so you know which booze-free bottle to take to your next festive gathering.
How we tested the best non-alcoholic wine
We handpicked all of the non-alcoholic wines included in this list and conducted our own taste tests, to make sure every product is one that we would choose to drink ourselves.
Just like we would if we were testing alcoholic wine, we served each of these drinks at their recommended temperatures too, and took into account not only the taste, but the smell, colour and ingredients as well.
And each pick has the seal of approval from Goodto Family Editor, Stephanie Lowe, who's been sober for over a year now. "I'm a mum-of-one and I've been sober for 18 months now. In that time I've nervously navigated big celebrations (Hello 40!), boring social situations and the long old festive period all with the help of alcohol-free drinks," she explains.
"I've tried the majority so you don't have to, read this tried and tested and avoid wasting your money while declaring 'it's just fruit juice really'. Plus, I know it's annoying but even in the world of alcohol-free you get what you pay for, and yes it stings when 0% 'wine' costs the same as 14% wine, but trust me when I say it's worth it."
15 best non-alcoholic wines, tried and tested
Best non-alcoholic red wines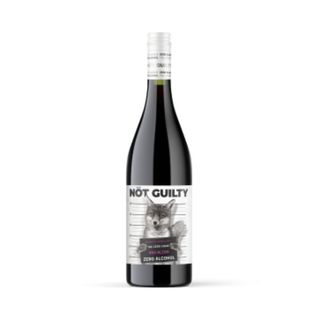 Best non-alcoholic red wine overall
Pair with: Cheeses and charcuterie
Unlike some of the non-alcoholic reds on our list, this drink is a 'red blend', rather than made with specific grape. And thought red wine is notoriously hard to mimic with non-alcoholic options, this full-bodied booze-free option has enough dryness to give it a convincing taste.
Our tester said, "Of all the non-alcoholic wine options, I usually find red the most disappointing, as it usually just tastes like grape juice. However, I was pleasantly surprised by this option. It's still pretty sweet, but you can taste the tannins and it gives you that slight cotton mouth feel of real red wine."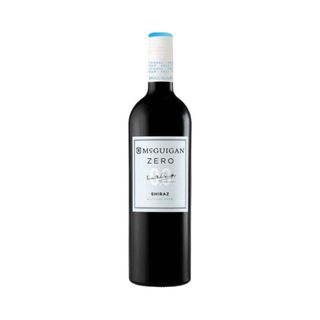 Best sweet red
Pair with: Red meat dishes and pizza
Australian winemakers are perhaps best known for Shiraz, so if there was anyone best placed to make an alcohol-free version it would be Aussie company McGuigan. Their 0% Shiraz is full-flavoured, and our tester gave it a very respectable four and a half stars.
"This non-alcoholic red didn't have the dryness that I liked about its Not Guilty counterpart - it was sweeter and sharper, and definitely felt more like a soft drink - though it was still very tasty."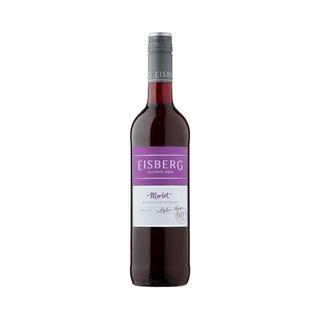 Eisberg Alcohol Free Merlot
Best dry red
Pair with: Grilled meat
This fruity, aromatic merlot is full-bodied, lush and velvety with intense plum and blackberry flavours. Of all the red we tried, this one smelled the most like 'real' wine, although the scent wasn't as strong as its alcoholic counterparts.
Our tester said, "For those who want to steer away from wines that taste sweet, I'd recommend the Eisberg Merlot. The flavour isn't as strong as some of the other wines I tried, it's much more subtle. At the same time, it lacks the flavour of tannins that the McGuigan and Not Guilty wines have."
Best non-alcoholic white wines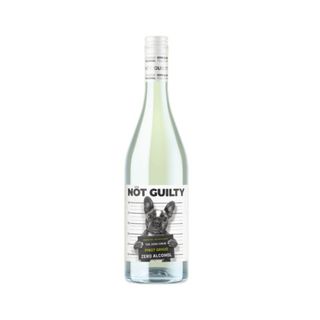 Best non-alcoholic white wine overall
Pair with: Light pasta dishes, salads and chicken
Pinot Grigio is known to be a crisp, dry wine, often with a hint of citrus fruit, and this non-alcoholic version's refreshing fruit flavour is not far off the real thing. Our tester said that of all the whites we tested, this was the most refreshing.
"I can really imagine sipping this white wine at a barbecue or summer party, it's so light and refreshing. It had quite a citrusy flavour, though the fruity flavour wasn't as overpowering as some of the other whites I tried, which was a bonus."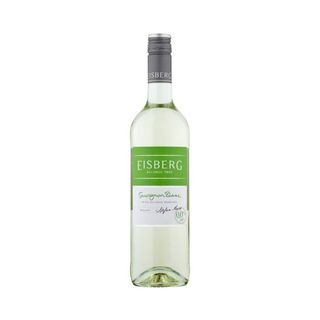 Eisberg Alcohol Free Sauvignon Blanc
Best non-alcoholic sauvignon blanc
Pair with: Chicken and seafood dishes
Eisberg solely produces alcohol-free wines, so they really are the experts in the field. Using a cutting-edge vacuum distillation system, the complex aroma profile of the wine is maintained, giving this non-alcoholic Sauvignon Blanc its tropical fruit flavour.
It was the palest in colour of the white wines we tested, and also the most floral. "This alcohol-free sauvignon blanc was also very refreshing, and it had a really distinctive sharp smell of gooseberries. Flavour-wise, I could taste hints of honeydew melon and apple, which was very pleasant."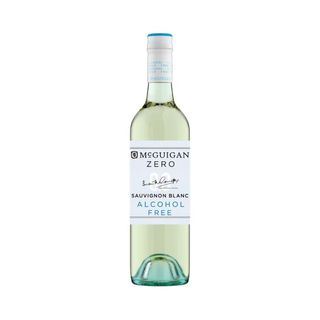 Mcguigan Zero Sauvignon Blanc
Best steely wine
Pair with: Chicken and light salads
This non-alcoholic offering from McGuigan has generous gooseberry and citrus aromas with passionfruit and lime flavours. It also has a crisp, clean finish and its zesty flavour makes this wine another refreshing option.
Our tester said: "For those who like a steely white wine, I would definitely recommend this sauvignon blanc from McGuigan. It's sharp and has a very heavy zesty flavour, so if you're not a fan of sweet wines then this might be for you."
It's a slightly grassy wine too, which is typical of its alcoholic sauvignon blanc counterparts.
Best non-alcoholic rose wines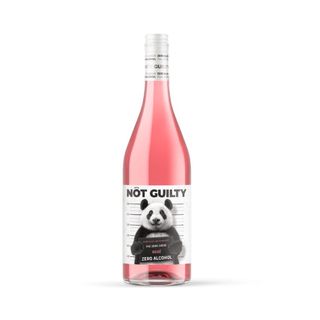 Not Guilty Alcohol Free Rosé
Best non-alcoholic rosé wine overall
Pair with: Duck, rare lamb and white cheeses
Not Guilty have come out on top in our guide to the best non-alcoholic wines, winning the categories for red, white and rosé. Launched by the owner of McGuigan - Australian Vintage - Not Guilty is new to the alcohol-free wine scene but has quickly made an impact.
This rosé provides 'citrus and rose petal aromas, mixed with fresh strawberries', and our tester found it to be a refreshing drink. "I expected this wine to be very sweet given its dark colour, but it was pleasantly refreshing. This was another zesty flavoured wine, and my favourite non-alcoholic rosé."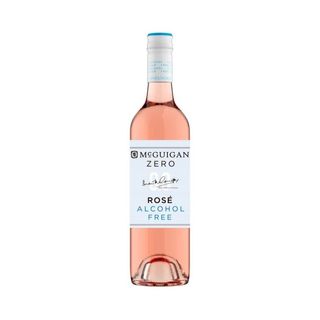 Best dry rosé
Pair with: Salads and fish
Aromatic and vibrant, the scent of garden flowers combine with fresh strawberries and citrus fruits in this non-alcoholic rose wine. It contains no artificial sweeteners or additives, making it doubly good for your health and a truly guilt-free option, and we recommend this particular bottle for fans of a dry rosé.
Our tester said of this alcohol-free bottle, "Crisp and dry, this non-alcoholic rosé really surprised me. It still had that bite you'd expect from a regular rosé, and you can really taste the refreshing berries without the overpowering sweetness. It's vegan-friendly too, which gets a thumbs-up from me."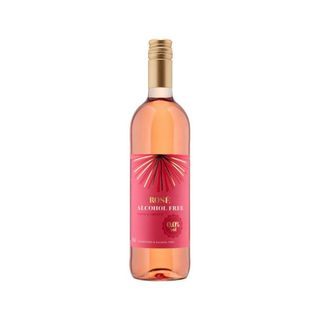 Sainsbury's Alcohol Free Rosé
Best sweet rosé
Pair with: Spicy dishes and salads
This sweet non-alcoholic wine is a fresh and fruity drink with summer berry favours. It's paler in colour than the other rosés on our list, and despite its fruity flavour our tester wasn't a fan of the smell.
"This wine had a slightly chemical aroma that I wasn't particularly fond of, but the flavour was good. A very fruit-forward wine from Sainsbury's, there was a definite strawberry flavour to this one."
As a fruitier option, this non-alcoholic wine pairs well with spicy food, but would also go down a treat at a barbecue in the summer months.
Best non-alcoholic sparkling wines