Charred summer BBQ food could lead to fertility problems, new research reveals
If you are hoping to conceive it might be work giving barbecued food a miss as new research suggests it is damaging to your fertility.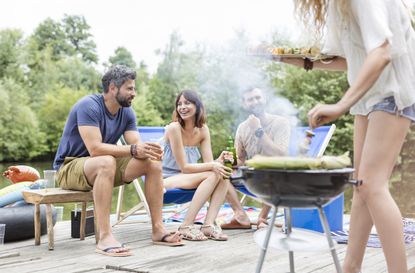 New research is warning that women should be especially cautious when tucking into barbecue food this summer that has been blackened during cooking as it could lead to fertility problems.
With the sun finally here people all over the UK will be desperate to light up their barbecues this weekend.
Despite tasting delicious, it probably won't surprise you that many BBQ recipes are not good for your health.
However, if you're trying to start a family it might be worth avoiding barbecued food for good, as a new study has found that it could be damaging women's fertility.
Even the healthy barbecue recipes like these lime and coriander chicken burgers, could potentially be damaging if the chicken gets that infamous BBQ charred finish.
So, if you're trying to conceive it might be worth considering excluding barbecued foods from your fertility diet.
Researchers from Melbourne's Hudson Institute of Medical Research found that women who consumed sugary, processed and blackened foods struggled to conceive.
The Sydney Morning Herald report that the researchers examined the uterus cavity of 17 thinner women and 16 women who were diagnosed as obese.
The results showed that the obese women had 'very significantly elevated' levels of a sugar by-product called advanced glycation end products (AGEs).
Although AGEs can be produced naturally in the body, they are also the result of eating sugary, processed, and blackened foods.
They lead to infertility because it can lead to inflammation that affects the cells in the lining of the womb. This makes it more difficult for an embryo to implant itself onto the womb, thus the chances of conceiving are very slim.
Blackened barbecue foods can damage your fertility according to a new study
Dr Jemma Evans, one of the study's lead researcher said: 'We also found that AGEs interfere with placental development, which may contribute to pregnancy complications.'
There is lots of research surround what you should eat during your pregnancy but Dr Evans work is thought to be one of the first to layout how specific toxins in the womb can compromise fertility.
Many foods eaten at a barbecue are thought to be hazardous for pregnant women as they could be harbouring bacteria which is dangerous for the baby's development.
Processed meats and salads which have been left out uncovered are among such foods.
A study published in the journal Nutrition back in 2012 also found that babies of mums who ate barbecue food weighed over 200g less than babies whose mums did not eat barbecue food.
These researchers concluded that prenatal consumption of grilled meat could lead to problems during the foetus's development.
Jessica currently works as a Senior Food Writer at Future. She writes food and drink-related news stories and features, curates product pages, tests, and reviews equipment, and also develops recipes that she styles on food shoots. An enthusiastic, self-taught cook Jess adores eating out and sharing great food and drink with friends and family. She has completed the Level 1 Associate course at the Academy of Cheese and is continually building on her knowledge of beers, wines, and spirits.