Calories in summer drinks: The best and worst for your diet
Ever wondered how many calories that iced tea or coffee really contains? We've ranked some of the most popular summer drinks from best to worst in terms of nutritional information so you can make an informed choice the next time you pop to a coffee shop!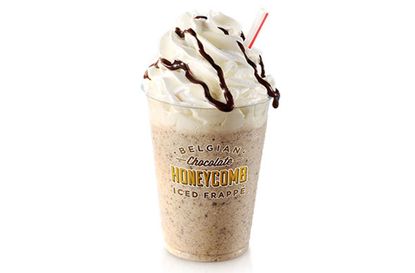 Goodto Newsletter
Parenting advice, hot topics, best buys and family finance tips delivered straight to your inbox.
Thank you for signing up to GoodTo. You will receive a verification email shortly.
There was a problem. Please refresh the page and try again.
Ever wondered how many calories that iced tea or coffee really contains? We've ranked some of the most popular summer drinks from best to worst in terms of nutritional information so you can make an informed choice the next time you pop to a coffee shop!
Ever wondered how many calories that iced tea, coffee or frappuccino really contains?
One of our favourite summer activities is trying out the seasonal specials at our go-to high street coffee shops. But with their fruity flavours and light, refreshing taste, it's easy to forget that these drinks even contain calories at all - let alone the staggering 360 calories that's hiding in one of these cups!
And it's not just the calories - another thing to watch out for with your summer drink choices in the sugar content, as even the healthiest sounding drinks can pack upwards of half your recommended daily allowance. In fact, one of the drinks we reach for most often has the same amount of sugar as 11 Jammie Dodgers. Yes, you read that correctly, ELEVEN - and if that's not food for thought, we don't know what is...
To save you squinting through the Starbucks nutrition chart every time you reach for a green straw, we've ranked some of the most popular summer drinks from worst to best in terms of nutritional information, so you can make an informed choice the next time you pop in and get tempted by the range of sweet summer offerings.
To make things fair, we've based all of the stats on a 'medium' sized serving of the drink - so for instance, for Starbucks calories, that would be a Grande, whilst in terms of Costa nutrition, it would be a Medio - unless the drink only comes in one size (and we'll let you know if this happens!)
Before you get completely disheartened, we promise it's not all bad news - some of the nicest drinks on the menu make surprisingly smart choices if you're watching your weight, so no matter what your goals are, you'll have something delicious to sip on during those scorching summer days. Click through the gallery to find out the best and worst summer drinks for your diet - we think you might be in for a shock or two!
McDonald's Belgian Chocolate Honeycomb Iced Frappe
360 calories, 16g fat, 42g sugar
We get it - you're not ordering this McDonald's drink as a healthy option. But when you consider that it contains more calories and almost as much sugar as a Dairy Milk McFlurry, you've got to ask yourself if it's even a drink at all!
We'll be sticking to this one on treat days only - it's definitely not one to order on a regular basis. The only saving grace is that all of McDonald's summer drinks come in one size only, so you can't make it even bigger!
Starbucks Strawberries and Creme Frappucino
348 calories, 12.6g fat, 53.9g sugar
Strawberries are the ultimate taste of summer, and we've reached for this sweet Starbucks frappuccino on many a sunny day.
However, the sugar content of this drink is simply astounding - more than half of your recommended daily intake, and the equivalent of eating 11 Jammie Dodgers. Yes, ELEVEN.
McDonald's Raspberry Ripple Iced Cooler
272 calories, 9.3g fat, 37g sugar
Don't be fooled into thinking that this is healthy just because it's fruity - the top three ingredients in McDonald's one-size Raspberry Ripple cooler are milk, cream and sugar, and the nutritional info certainly reflects this!
At almost 300 calories, it's not the best pick if you're trying to watch what you're eating.
Costa Mango and Passionfruit Cooler
234 calories, 0.5g fat, 55.8g sugar
You'd be forgiven for thinking that this was essentially just nice posh frozen squash, but a quick peek at the Costa nutrition info reveals that the extremely high sugar content says otherwise - in fact, it's the drink with the most sugar in this entire round up.
For a slightly healthier alternative, you could try Costa's peach or lemon iced tea, both of which contain less calories and sugar, but are still as deliciously fruity.
McDonald's Frozen Strawberry Lemonade
199 calories, 0.1g at, 34g sugar
This zesty drink just about sneaks under the 200 calorie mark, so it's not the worst summer drink you could opt for - but with 34g sugar, it's certainly not the best.
Even a medium orange Fanta from McDonald's comes in at 114 calories and 28g sugar - significantly less than this frozen option.
Starbucks Raspberry Blackcurrant Frappuccino Blended Juice
192 calories, 0.1g fat, 42.8g sugar
Another high sugar summer drink - are you sensing a pattern here?
This raspberry blackcurrant Starbucks Frappuccino might pack less calories and fat than its creamier cousins, but it's still not one you should drink on a regular basis, despite being labelled as a relatively innocent sounding 'blended juice'.
Starbucks Green Tea Frappuccino
190 calories, 0.5g fat, 32.9g sugar
Freshly brewed green tea contains no calories, no sugar and no fat, but when it's blended into a Frappuccino, the numbers quickly spike.
It's certainly not the most calorific Frappuccino on offer, but most of the flavour comes from vanilla syrup, not the matcha, so it's less virtuous than you might expect. Even when they come in liquid form, Starbucks calories still count!
Starbucks Caramel Frappuccino Light
134 calories, 0.1g fat, 29.2g sugar
You hear the word caramel, you think decadent, but this caramel coffee number isn't as bad for you as we initially thought.
Just make sure you order the Caramel Light Starbucks Frappucino specifically, as the same size caramel cream version contains a whopping 306 calories, even when made with skimmed milk.
Costa Peach Iced Tea
131 calories, 0.1g fat, 31.8g sugar
Still not great on the sugar front, but with relatively low calories and a mere trace of fat, this peach iced tea is a reasonably sensible option every now and then.
If you prefer Costa's lemon iced tea, the calorie count does go up - but only by four!
Costa Ice Latte
129 calories, 0.7g fat, 22.9g sugar
Not into fruity summer drinks? It's good news, as classic iced tea and coffee nearly always comes out as better for you nutritionally.
This latte from Costa is ideal for a quick caffeine fix on those sweltering summer days, and is still sweet enough to satisfy any sugar cravings without going overboard.
Costa Spinach, Pineapple and Mango Superday Smoothie
105 calories, 0.5g fat, 21.1g sugar
It's important to remember that smoothies only count as one of your five-a-day no matter how many you drink, but this green smoothie does still count, according to the Costa nutrition info.
At just over 100 calories, you could do much worse than this medley of spinach, pineapple and mango - and it only comes in one size, meaning you can't over order.
Caffè Nero Crushed Raspberry Lemonade
94 calories, 0.1g fat, 22.5g sugar
Caffe Nero have launched this new raspberry lemonade for summer, as a twist on their classic lemonade recipe.
It's under 100 calories and contains barely any fat, you just need watch your sugar intake alongside it - hey, we all know how tempting the cake counter can be...
Starbucks Cappuccino Freddo
67 calories, 0.1g fat, 11g sugar
Sadly we're not talking Cadbury chocolate Freddos here, but this icy coffee from Starbucks is still pretty tasty - and good for you!
The cold milk foam topped with a slightly sweetened espresso coffee is one of the better choices from the summer drink menu, but still feels indulgent enough to be a treat.
Starbucks Iced Shaken Hibiscus Tea Lemonade
49 calories, 0g fat, 11.1g sugar
Tea blends are a great way to cut calories and fat but still enjoy a fruit-flavoured summer drink. Starbucks have hit a brilliant balance with their hibiscus tea lemonade, which is under 50 calories and contains no fat at all.
If you want to go even healthier, you can order the plain iced hibiscus tea without the lemonade, which contains zero calories - talk about guilt-free!
Caffè Nero Shaken Over Ice Black Tea & Peach
8 calories, 0g fat, 0.1g sugar
You can't say fairer than this! This iced tea is one of the lowest calorie and fat options on Caffè Nero's entire menu, and a great choice for sipping in the sun.
Cheers!
Parenting advice, hot topics, best buys and family finance tips delivered straight to your inbox.
Trusted, informative, and empathetic – GoodTo is the ultimate online destination for mums. Established in 2007, our 15-year-strong archive of content includes more than 18,000 articles, 1,500 how-to videos, and 7,000 recipes.