Clever cuppas
Want to lose weight, destress or improve your health? Try these herb teas for an easy boost...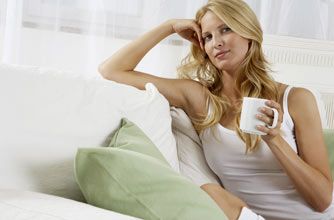 Want to lose weight, destress or improve your health? Try these herb teas for an easy boost...
Menopausal? Try honeybush leaf
Honeybush leaf, which tastes mildly sweet and refreshing, was traditionally used to treat coughs. Recently it's also been found to alleviate menopausal symptoms. A typical cup of honeybush tea also contains magnesium, iron, calcium and many more essential minerals. TRY Pukka's Morning Time with rooibos, honeybush, red ginseng and roasted maca. £2.19 for 20 sachets. Go to www.pukkaherbs.com to order and for stockists or call 0845 375 1744.
Matcha green tea to boost your metabolism
Matcha is 100% ground green tea leaves, which the Japanese have been drinking for years for its health benefits. It has 137 times the antioxidant content of a regular cup of green tea and can boost your metabolism by 30-40%, helping you to lose weight and elevate your mood. Try Teapigs Matcha Green Tea, £25 for 30g www.teapigs.co.uk to order and for stockists.
Tulsi for improved immunity
Also referred to as 'Holy Basil' tulsi has the potential to raise your spirits. The aromatic Indian herb can also boost your immune system - and help ward off winter colds. Some experts claim it has many anti-ageing and antibacterial properties. TRY Pukka's Three Tulsi Tea, combining organic green, purple and lemon tulsi, £2.19 for 20 sachets.
Blackcurrant & Lavender for a clear head
It's the deep purple colour of blackcurrants that indicates their high level of disease-fighting antioxidants, which scientists believe can help protect against brain disorders such as Alzheimer's and dementia. Lavender's also known to help lift your mood. Try Twinings Blackcurrant & Lavender, £7.50 for 25 tea pillows, from Waitrose.
Sip on sage for stress relief
Sage acts as a tranquilliser to relieve stress and feelings of anxiety. Sipping small amounts of cold sage tea (no more than three cups a day) can help relieve headaches. You can gargle with cold sage tea to treat a sore throat or mouth ulcers. Sage & Coltsfoot can ease symptoms of respiratory infections. Try Neal's Yard Coltsfoot & Sage, £3.90 for 50g. www.nealsyard remedies.com to order or for stockists.
Your everyday cuppa's top too!
The Tea Advisory Panel say there are good reasons to keep enjoying your daily cup of traditional tea... At least two cups a day may reduce the risk of endometrial and skin cancers. Four cups a day can cut the risk of a heart attack. Four cups of tea with milk a day also provides 21% of your daily calcium intake.
Where to next?
- The benefits of tea and coffee - The health benefits of tea - The benefits of tea: video advice