Dawn French reveals she's ditched her diet after seven and a half stone weight loss because she doesn't want to 'lose her boobs'
She's admitted that there's 'no magic wand'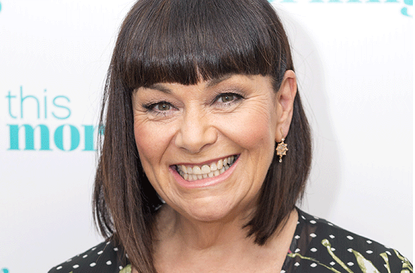 Dawn French's weight loss has never been portrayed as anything but a product of hard work and dedication.
For the comedienne who was the face of Terry's Chocolate Orange, and once joked: 'There are two types of women... those who like chocolates and complete bitches', it's no secret that the path to weight loss has not been easy.
However, Dawn's transformation has been wowing us since 2011, when she first started slimming down, and has left us in awe of her dedication ever since.
Now, she's told The Sun she's 'ditched her diet' over fears that she might lose her assets if she sheds any further weight.
'I'm happy with my boobs. I do not want to lose them, she told the paper. 'I would never surrender them to anyone.'
But despite her declaration, the funny woman's fans have consistently been left wowed by her new look - most recently thanks to a picture she shared on Twitter, sporting a patterned top from clothing brand Sixteen47.
'Wow Dawn!! Looks great, what happened to the rest of you,' one follower exclaimed, whilst another added: 'OMG! I love it! You look AWESOME!'
'Oh my word! Where've you gone?' a third agreed. 'Looking great! The top's ok 👌🏻'
Dawn's weight loss appeared to begin shortly after the breakdown of her 25-year marriage to Lenny Henry, which the couple formally confirmed in April 2010. However, the former Vicar of Dibley star has made it clear that her motivation was always her health, rather than anything related to her relationship.
'When you're over 50 you have to pay attention to your health a bit,' she said to The Mirror in 2012. 'I want to be there for my kid [daughter Billie, whom she and Lenny adopted in the early nineties].
Dawn French's weight loss was clear for all to see on the red carpet in June 2016
'I have quite a lot of exciting adventures that I want to do, and I had just ballooned a bit more than I wanted to. I've never disliked myself, and my weight has had nothing to do with my self-esteem. I still refuse to dislike my old body.
'For me, whatever age or size I've been, I have rather liked myself. The shell is not the thing at all.'
The 4ft 11in star added that she'd never been 'a scales-gazer', but estimated that she'd shed around seven and a half stone in the previous two years, having been a reported 19 stone at her heaviest.
Dawn pictured in October 2010, shortly before she began her weight loss journey
In 2014, Dawn admitted to audiences at her one-woman show, 30 Million Minutes, that she'd needed to undergo a hysterectomy after a cancer scare, which has also contributed to her desire to slim down.
'When I was due to have my hysterectomy the doc told me that if I could lose some weight before the op, they would be able to do it via keyhole, and I would recover in three weeks or so,' she explained.
'Otherwise it would be big open surgery, and three months to recover. So, I set about dropping a few stone.'
Dawn also revealed to audiences how she shed the pounds so quickly, saying: that there had been: 'No magic wand, just tiny, joyless low-cal eating and lots more walking for weeks and weeks.
'It was grim. I lost seven-and-a-half stone. I could have the keyhole surgery. Great. That's all it was, practical.'
Dawn with Jennifer Saunders at the beginning of her career
To maintain her weight loss, Dawn now follows a healthy diet and exercise programme - although she told The Mirror that her sweet tooth made it much harder to ditch edible treats than it did vices like alcohol.
'I'm not a big drinking person and hardly ever have alcohol. Perhaps it's not sweet enough for my sweet tooth,' she pondered.
'I have chocolate in the house but I avoid it because I like it too much and I'm weak willed. So it is best for me to see it as 'against the law'. Except at Christmas time.'
She also said to The Telegraph in 2014 that her weight does fluctuate, as eating remains a source of comfort for her.
'It's a lovely thing to do. We love tasting things. You don't get to be spherical without liking eating things.
'I'm less than I was. I suppose if you get very fat like I did you might be choosing to destroy some good stuff you've been given in terms of your health. That's something you can address.'
Trusted, informative, and empathetic – GoodTo is the ultimate online destination for mums. Established in 2007, our 15-year-strong archive of content includes more than 18,000 articles, 1,500 how-to videos, and 7,000 recipes.