Denise Welch reveals her mental health issues started after becoming a mum
'I've suffered from depression since I had my eldest son, Matthew, which is 28 years.'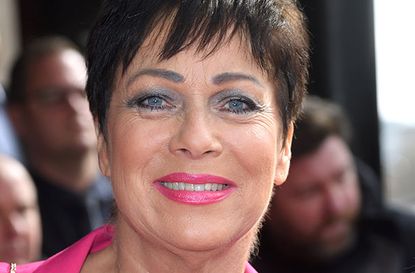 Denise Welch has opened up about her ongoing battle with her mental health, admitting she would have 'given anything' to have the opportunities that are available now when she was first diagnosed.
The Loose Women star has battled depression for nearly 30 years and has now joined forces with mental health charity Mind and the Heads Together campaign to encourage others in a similar position to seek help.
Speaking exclusively to OK! magazine, Denise explained that she first started suffering with mental health symptoms when she became a mum, saying, 'I've suffered from depression since I had my eldest son, Matthew, which is 28 years.'
The 58-year-old described what it was like for her when she first started speaking out about the issue.
'When I first started speaking out about how I felt, and how I feel sometimes, I was a lone voice in the wilderness. Nobody else on the telly was speaking out.
'I would have given anything to turn on the TV or open a magazine or newspaper, to see a celebrity to be talking out about how they weren't defined by a mental illness, how they live with an illness, their coping strategies. There was nobody.'
Denise revealed that even her management didn't want her to admit she was struggling, 'My agent at the time was saying to me: "You don't want to be talking about this, people will think you're mad!"'
'I thought: "No, no no! I've had absolutely no more control over getting this mental illness than I would over a physical illness. If I can get it, anyone can get it".
'It just made me determined. I haven't been aware that I've lost a job. If I have lost a job, I wouldn't want to be working with those people anyway.'
The actress admitted she's 'kinder' to herself now which helps her deal with her mental health struggle.
'I live with a mental illness, it is who I am. I am kinder to myself now than I used to be, which has been helped in part because more people are talking about it, normalising it. If I've played a small part in that, then that's great!'
Denise has been a fantastic advocate for mental health in recent years, previously speaking out about suffering a 'breakdown'.
Speaking to Best magazine at an event for homelessness charity Centrepoint, the TV star said that the kind of 'mental breakdown' she'd experienced could happen to anyone - and even result in a life on the streets.
'For many homeless people, their breakdowns are untreated, and their lives fall apart... It can happen to anybody,' she explained.
Denise, who has also struggled with alcohol addition in the past, said: 'I no longer compound my illness with alcohol - I won that battle five years ago - but I still have episodes.'
Denise pictured with husband Lincoln Townley in 2016
Denise is mum to two sons, Lewis and Matthew, the latter of whom is the frontman of Brit Award winning band The 1975, and has penned a song about her mental health struggles.
'That song is about my depression,' Denise confirmed of the track She Lays Down back in January 2017.
'It's a beautiful song. I didn't know he was going to write it. He wanted it to be completed before I heard.'
Although she admitted that the song is 'tough' to listen to because it's so heartfelt, Denise added that the response to it had been overwhelming.
'I've had so many messages on social media about how that has been the soundtrack to people's lives,' she continued.
'It's helped a lot of people. He takes his responsibility as a songwriter incredibly seriously, and for that I'm very proud.
'My episodes are much fewer and the gaps in between are longer. I'm much kinder to myself in my episodes.
'I have an incredibly supportive family.'
Trusted, informative, and empathetic – GoodTo is the ultimate online destination for mums. Established in 2007, our 15-year-strong archive of content includes more than 18,000 articles, 1,500 how-to videos, and 7,000 recipes.