'It doesn't feel like the platform' Fearne Cotton explains why she'll never show depression on social media
'It would feel too jarring and strange to put a picture of yourself crying on it'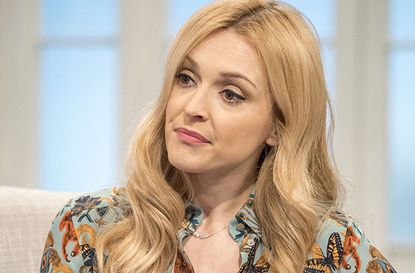 Fearne Cotton has opened up about her battle with depression and how she chooses to portray her life on social media.
In an interview with Woman's Hour, the presenter and radio host admitted that her Instagram followers will never see images that depict her battle with depression as 'it doesn't feel like that's the platform to do it.'
Speaking to host Jane Garvey, the mum of two said that it would be 'too jarring' to put a photo of herself crying on social media, as the page is deliberately edited to show a 'fantasy' rather than real life.
The comments came as a response to Jane after she suggested that there was a 'huge contrast' between the images Fearne posts on social media and how she's actually feeling, suggesting she might be doing 'both herself and other young people a disservice.'
Fearne replied: 'I don't think I would have ever wanted to put any episodes of depression on there because it doesn't feel like that's the platform to do it.
'Social media has never felt the right place to communicate that properly. It would almost be something a bit bizarre. There's almost something quite fantasy about social media.
'It would feel too jarring and strange to put a picture of yourself crying on it. I don't know how you would depict that moment in your life.'
This isn't the first time Fearne has opened up about her mental health. In a recent interview with The Mirror, the mum revealed that although she's suffered with depression, she now focuses on her family to keep her feeling positive.
Fearne recalled how a few years ago she began to notice a change in herself, including tiredness and a lack of enthusiasm that made her realise something was wrong.
'I had a real lack of energy. I felt so drained and my lust for everything that I love wasn't there any more.
'I'm very optimistic by nature, I wake up in the morning and I'm very excited about my day, I'm so pumped and enthusiastic about the smaller things in life and that was dead.
'Everything was a drag and felt heavy. I felt anti-social, cut-off, alienated and they were massive warning signs. Everyone has that lightbulb moment that they need to do something differently, but for me it was feeling stuck.'
At the time the 35 year old had what many would consider to be a dream job, working as a presenter on Radio 1 and meeting some of the most talented people in the world.
But unfortunately, as is common with symptoms of depression, she began to find being around people and her work environment difficult and 'draining'.
'It was a tough time,' she said. 'But it was probably quite helpful, getting out the house, communicating with people, even if it is on a surface level and I think that slowly does help you.'
'My job became a hindrance and a help. It was very draining, but at the same time it was possibly helping me in the right direction. Having one thing that feels quite normal, when everything else is chaotic, is quite healthy.'
It was then that the Celebrity Juice star realised she needed help, turning to her doctor and eventually being prescribed anti-depressants.
'It was definitely a relief when the doctor identified what was happening to me. It took it away from being my fault.'
'I was prescribed anti-depressants. I decided it would get my head above the clouds for a moment. I'd never taken them before so it felt like it be worth a go.'
After taking medication for just a few months, Fearne felt she had the support to reassess her life and take control of her situation in order to stop taking the medication.
Fearne and her husband Jesse
She explains that on reflection her main struggle was trying to be 'perfect' - something many mums can relate to. The presenter recognised that you can't do everything all the time, and that her priorities are now work and family.
'Letting go of "perfect" was important. I was trying to do so many things and putting so much pressure on myself - and why? Perfect doesn't exist. I cut back a lot on work, and focused a lot more on family.'
'My priorities now are work and family, so going out and socialising are non-existent.'
Trusted, informative, and empathetic – GoodTo is the ultimate online destination for mums. Established in 2007, our 15-year-strong archive of content includes more than 18,000 articles, 1,500 how-to videos, and 7,000 recipes.