15 of the healthiest vegetables: These are the vegetables you need to be eating
Not all veg is created equally – our experts explain which ones you need to be filling your plate with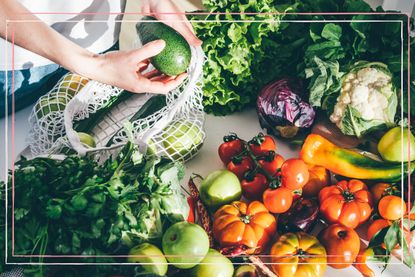 (Image credit: Getty/Canva)
'Healthiest vegetables' might seem redundant and a bit of a minefield when you're considering how to eat more veg. But according to the experts, there are certain vegetables which are better for us than others, due to their nutrient content.
'What one vegetable is low in, another maybe a good source of, and this is why variety is so important,' says Sarah Jones, nutritionist for Discover Great Veg. 'The natural compounds (phytochemicals) that give vegetables their colour are beneficial to our health as they act as antioxidants and can protect from harmful disease. This is why we are encouraged to 'eat a rainbow'.'
And, of course, knowing how to keep fruit and vegetables fresher for longerand what those all-important 5-a-day portion sizes look like is important for making sure you're getting the most out of your diet. Here, our experts explain the healthiest vegetables you need to be eating and why...
Healthiest vegetables
1. Spinach
Spinach has a whole host of benefits, says Penny. 'It can improve your eyesight as well as help prevent cancer. This is thanks to its high source of zeaxanthin and carotenoids, which can help flush out the free radicals from your body that can make you prone to some types of cancer.'
In fact, one study published in the journal Molecular Nutrition Food Research found that eating spinach could help reduce colon cancer by up to 50 per cent.
'Spinach is also great for helping maintain good vision and, as it is rich in iron, it can help restore energy and improve the quality of your blood. It's also high in nitrates, which help improve blood flow, so it may support your heart health by helping reduce blood pressure,' adds Penny. Therefore, it makes a great addition to your menu if you're on a low blood pressure diet.
2. Kale
Kale is a nutritional powerhouse due to its high concentration of vitamins and minerals. Like all leafy greens, it is also low in calories and fat, and a great source of fibre.
'Kale is particularly rich in vitamin C and vitamin A, which are important for supporting a healthy immune system. Kale also contains a high concentration of lutein – an antioxidant that can keep our eyes healthy,' says Sarah. 'It is a good source of plant-based calcium which is needed for strong bones and teeth, as well as vitamin K, which the body needs for blood clotting and helping wounds to heal.'
3. Leeks
Leeks are a member of the allium family along with onions, garlic, and shallots. They are a good source of the B vitamin folate.
'Not only is this needed to produce healthy red blood cells, but folate is also vital in pregnancy to reduce the risk of birth defects, such as spina bifida, in unborn babies,' says Sarah. 'Leeks also provide good sources of vitamin B1 and B6, which help the body break down and release energy from food.'
Additionally, leeks contain Fructooligosaccharides (FOS) – a type of fibre which can encourage the growth of friendly gut bacteria. Looking for how to improve gut health? Load up on leeks!
4. Asparagus
Asparagus is another rich source of folate, as well as vitamin C which helps to protect cells and maintain healthy skin, blood vessels, bones and cartilage. Asparagus is also high in vitamin E, says Sarah. 'This is important for keeping skin healthy, vision clear and supporting a healthy immune system.'
Its rich content of the plant compounds called polyphenols can also help to reduce inflammation in the body, which may cause weight gain, chronic fatigue and insomnia.
5. Brussel's Sprouts
You might turn your nose up at this festive favourite, but Brussel's sprouts are incredibly good for you. 'They're low in calories but high in fibre, vitamins K and C, and minerals such as manganese and selenium,' says Penny.
The vitamin K and manganese in sprouts is really important for blood clotting and bone metabolism, while selenium helps to make DNA and protect against cell damage and infections.
'Sprouts are also high in fibre – needed for a healthy digestive system, and antioxidants, which promote overall health and help prevent damage to cells,' adds Penny. Fill up on sprouts as part of a high-fibre diet – yes, even outside of Christmas!
6. Broccoli
Broccoli can help lower the risk of cardiovascular disease. It also contains the phytochemical known as sulforaphane. A study published in the Journal of Oral and Maxillofacial Pathology found that as a result of this, broccoli can help improve overall health and reduce the risk of some types of cancer such as breast cancer, colon and oral cancer.
7. Celery
'Although celery is 95% water, it contains numerous vitamins and minerals important for heart health, including potassium and calcium,' says Sarah.
She adds: 'Celery is also a good source of protective plant compounds called flavonoids, which have anti-inflammatory and protective effects on the cardiovascular system.' A diet rich in flavonoids can help protect against chronic diseases including cancer and cardiovascular disease.
8. Garlic
Not only is garlic full of flavour – it packs a powerful health punch, too. Garlic has been used throughout history for its medicinal properties. 'It contains sulfur compounds, which are thought to be the reason for its health benefits – such as boosting the immune system and reducing the number of colds we experience each year,' says Penny.
Garlic also contains antioxidants, which can help reduce cell damage and ageing. A study by the University of Missouri found that the nutrient – FruArg – in garlic can help protect against age-related neurological diseases such as Alzheimer's and Parkinson's.
9. Carrots
Carrots don't just help you see in the dark, they can help regulate blood pressure and boost brain function, too.
'It's true that carrots are great for eye health – this is thanks to their rich content of vitamin A,' says Penny. Vitamin A not only helps your eyes to produce pigment needed to see a full spectrum of light, it also helps keep the eyes nourished. People with low levels of vitamin A are more likely to experience night blindness – also known as nyctalopia.
'Carrots are also good for helping to regulate blood pressure as they have lots of potassium. It helps balance out sodium levels and take pressure off the heart. They can also help you feel less bloated after eating lots of salty food,' says Penny.
10. Mushrooms
'Mushrooms are one of the few non-animal sources of vitamin D. This vitamin is only found in a small number of foods, mainly oily fish, red meat and eggs. It helps our bodies absorb calcium to maintain and build strong bones,' says Sarah.
'Mushrooms also provide a rich source of selenium – an essential mineral that helps the immune system to work properly. It also helps to prevent damage to cells and tissues.'
11. Butternut squash
Technically a fruit, but treated as a vegetable, butternut squash has an impressive nutritional profile. 'It is a good source of fibre and potassium and also provides the important antioxidants vitamin A, C & E, which help protect against cell damage and boost immunity,' says Sarah.
It is particularly high in beta-carotene, which is essential for eye and vision health.
12.Cavolo nero
Cavolo nero, sometimes knows as 'Italian kale', is a dark leafy green, packed with nutrients and flavour. It is rich in vitamin C, which is important for supporting a healthy immune system. It also provides vitamin K and vitamin A.
'Cavolo nero is another significant source of the B vitamin, folate, which is important during pregnancy. And, like kale, it is a good source of lutein, needed for good eye health. It also contains high levels of fibre and calcium, as well as manganese, copper, iron, and many other elements,' says Sarah.
13. Onions
A great addition to many dishes to boost flavour, onions are packed with nutrients which can help protect you from a variety of diseases such as heart disease and cancer. Thanks to their content of the polyphenol known as quercetin, chowing down on onions can help reduce high blood pressure and triglyceride levels – this is the amount of fat you have in your blood. When you have too much, you can be at risk for heart attack, stroke and pancreatitis.
If you're going through the menopause, loading up on onions can also help protect your bone density, found a study published in the journal Menopause. When looking at perimenopausal and postmenopausal women 50 years and older, researchers found that those who consumed onions once a day or more had an overall bone density that was 5% greater than individuals who consumed onions once a month or less.
14. Swiss chard
Part of the same family as spinach (the Amaranthaceae botanical family), Swiss chard is rich in vitamin A and vitamin K. It also contains vitamin C and magnesium, as well as the antioxidants beta-carotene, lutein, and zeaxanthin.
Together, these help to maintain regular functioning of the heart, lungs and kidneys, keep bones, teeth and cartilage strong, as well as regulating muscle and nerve function.
15. Broad beans
This humble veg is rich in protein and fibre, as well as folate and B vitamins which are needed for nerve and blood development, as well as energy and cognitive function.
Trying to lose weight? Filling up on these healthy greens could help! One cup (170g) of boiled broad beans contains just 187 calories, but they provide 36 per cent of your daily fibre requirement.
Which vegetables should you eat every day?
Eating a wide range of vegetables is good for our health. The specific nutrients found in vegetables vary between types, but all varieties offer health benefits.
'Eating at least five portions of vegetables per day, from a variety of sources, will ensure you get all the vitamins, minerals, fibre and antioxidants your body needs to thrive,' says Sarah.
'Incorporating red (tomatoes, red peppers), orange (carrots, sweet potato), yellow (swede, butternut squash), green (spinach, kale, cavolo nero and leeks), purple (aubergines, red cabbage) and white/beige (parsnip, celeriac) vegetables will ensure a wide range of nutrients and health benefits.'
Another group to include is legumes, which includes broad beans, peas, chickpeas and soybeans. 'They are packed with vitamin C, iron, Vitamin B6, magnesium and potassium. So, it's really no wonder parents want their children to eat their peas!' says Penny.
Which vegetables have no nutritional value?
All vegetables have a degree of nutritional value, however, there are some which contain less than others. 'Sweetcorn is full of simple sugar carbohydrates and has no indigestible fibre. This means it doesn't help to keep you regular but can actually cause blood sugar spikes quickly,' says Penny.
While we all feel like an iceberg lettuce is a must on our shopping list, Penny points out that it has almost no nutritional value – it has less than one gram of fibre per cup and hardly any vitamins. She suggests swapping it for a different leafy green, such as kale.
Aubergine – when cooked – can actually become less healthy for you. 'They act like sponges as they soak up all the fat, calories and salt from the cooking process, which makes them not that healthy for you,' says Penny.
And, while we all love the versatile spud, the way we cook potatoes can reduce their nutritional value. 'It's not that they are awful by themselves as they do contain potassium and vitamin C, but it's the way we often cook them as they are often fried, mashed with butter or covered in salt,' says Penny.
It's a good idea to swap them with sweet potato – they're high in antioxidants for a healthy gut and brain, as well as that vision-boosting vitamin A.
Sarah Jones is a qualified nutritionist with a BSc in Food Science from Cardiff University and an MSc in Nutrition from Kings College, London. In her early career she worked as the company nutritionist for Waitrose & Partners and has worked as a consultant nutritionist for many clients, including Discover Great Veg.
Penny is a fitness, wellness and nutrition expert, and the director of Moddershall Oaks Country Spa Retreat and founder of MADE, a 360 degree wellness centre. She is accredited by the Royal Society for Public Health (RSPH) and certified by the Association for Nutrition (AfN).
Video of the Week
Rose Goodman joined Future Publishing in 2020 and writes across Goodto.com, Woman & Home, Woman, Chat and Woman's Own magazines. Prior to pursuing her career as a writer, Rose obtained a degree in psychology and went on to work in adult mental health for five years at Addenbrooke's Hospital, Cambridge, specialising in eating disorders. She is fully trained in first aid, medical emergency response and motivational interviewing – a directive, patient-style counselling approach to address ambivalence in recovery. She graduated with a MA in creative writing from the University of Brighton in 2017. In her spare time she enjoys writing poetry and attending literary events, and offers weekly support to those living with homelessness. Rose has a passion for raising awareness around mental illness and the importance of prioritising our wellbeing.